El Sol De Breda / The Sun Over Breda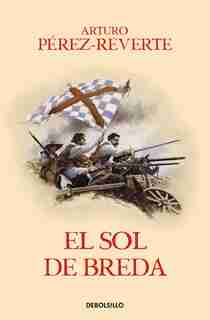 Find In Store
Prices and offers may vary in store
En esta tercera entrega de «Las aventuras del capitán Alatriste» se escenifican las batallas y el asedio de la ciudad de Breda en 1625 por los tercios españoles en Flandes.

Flandes, 1625. Alistado como mochilero del capitán Alatriste en los tercios viejos que asedian Breda, Íñigo Balboa es testigo excepcional de la rendición de la ciudad, cuyos pormenores narrará diez años más tarde para un cuadro famoso de su amigo Diego Velázquez. Siguiendo a su amo por el paisaje pintado al fondo de ese cuadro, al otro lado del bosque de lanzas, veremos a Íñigo empuñar por primera vez la espada y el arcabuz, peleando por su vida y la de sus amigos. Estocadas, asaltos, batallas, desafíos, encamisadas, saqueos y motines de la infantería española, jalonarán su camino a través de un mundo devastado por el invierno y por la guerra.

«Al lento batir de los tambores, las primeras filas de españoles movíanse hacia adelante, y Diego Alatriste avanzaba con ellas, codo a codo con sus camaradas, ordenados y soberbios como si desfilaran ante el propio rey. Los mismos hombres amotinados días antes por sus pagas iban ahora dientes prietos, mostachos enhiestos y cerradas barbas, andrajos cubiertos por cuero engrasado y armas relucientes, fijos los ojos en el enemigo, impávidos y terribles, dejando tras de sí la humareda de sus cuerdas de arcabuz encendidas...»

ENGLISH DESCRIPTION

Enlisted as aide of Capitán Alatriste in the Spanish regiments, Íñigo de Balboa tries to survive in a world where he needs to get very close to his enemy in order to kill him with his sword. He witnesses a historic moment, the surrender of Breda, that he would retell later to his friend Velázquez who depicts it in a famous painting.
Title:
El Sol De Breda / The Sun Over Breda
Product dimensions:
256 pages, 7.5 X 4.94 X 0.56 in
Shipping dimensions:
256 pages, 7.5 X 4.94 X 0.56 in
Publisher:
PRH Grupo Editorial
Appropriate for ages:
All ages