Eleven Days
Mass Market Paperback

|

May 4, 1999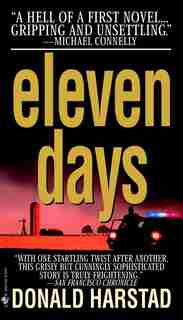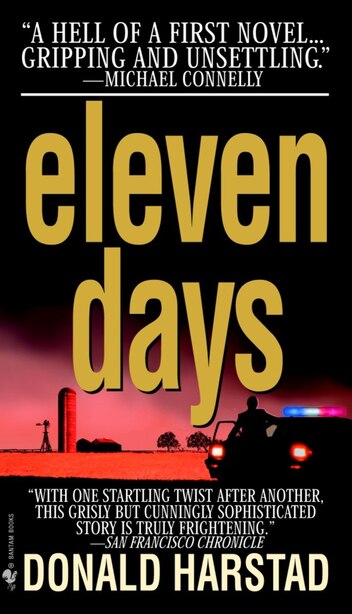 Prices and offers may vary in store
In a mesmerizing debut, cop-turned-author Donald Harstad uses real-life events to paint a jarring picture of crime in America''s heartland--where two-stoplight towns no longer offer refuge from modern-day brutality.

Life in Maitland, Iowa, is usually predictable, even for a cop. But all that changes the day Deputy Sheriff Carl Houseman''s dispatcher receives the terrifying 911 call. The day cops find the mutilated bodies at a remote farmhouse. The first of eleven days Carl will never forget.

As hotshot investigators fly in from New York, Carl and his fellow cops use old-fashioned detective work to piece together clues. But to turn suspicions into suspects, Carl must search among his closest friends to find a killer who has shocked and bewildered cops who''d thought they''d seen it all. And before it''s over, Carl will be forced into an unrelenting spiral of chaos, coming face-to-face with evil he never dreamed could exist in Maitland...or anywhere else.
Title:
Eleven Days
Format:
Mass Market Paperback
Product dimensions:
368 pages, 6.9 X 4.19 X 0.75 in
Shipping dimensions:
368 pages, 6.9 X 4.19 X 0.75 in
Published:
May 4, 1999
Publisher:
Random House Publishing Group
Language:
English
The following ISBNs are associated with this title:
ISBN - 10:0553581481
ISBN - 13:9780553581485
Look for similar items by category:
Preview Your Review
Your Review Has Been Submitted
NO, I do not recommend this product.
Educational/Developmental Value:
Thank you. Your review has been submitted and will appear here shortly.
Read from the Book
Friday, April 19, 199623:52 hoursThe call came into County Communications from an unidentified source, believed female, possibly under fifty.  No callback number was given and no further contact was noted."Sheriff''s Department.""My God, my God, help us here, help us here, please .  .  .""Who is calling and what is wrong?" The dispatcher was Sally Wells--no extra chatter at all and very calm.  She was new and part-time, but she learned fast."Help us, they''re killing everybody!  Help!""Where are you and who is calling?""Just get help"--indecipherable--"killed Francis, he killed him, help us here!""Where are you?""The Francis McGuire farm!  Help!""Where is the farm?""Jesus Christ, help us up"--indecipherable--"didn''t mean it.  Oh God, oh God, I don''t know, please help.  Please .  .  .""Stay on the line!" Sally held fast and with the phone to her ear contacted the available patrol cars."Comm, three and five .  .  .  10-33 .  .  .  Possible homicide.  Francis McGuire, I think that''s the farm near William''s Hollow.  I, uh, think it''s in progress, subject on line.  Repeat, this is a 10-33.""Comm.  Three.  Which side of the hollow, north or south?" I said in as soothing a voice as I could manage."Three, stand by," Sally said with relief.  "Ma''am, are you north or south of the Hollow?""Jesus God, I don''t know.  I don''t know!  Help!""One moment.  Hold tight.  Three.  Unable to advise."Five, Mike Conners, came on.  "I think they''re on the south side, just before the bridge--about five miles out of Maitland, second or third gravel to the right.""10-4, five.  Comm, check the caller." I made the turn to take me to the Hollow.Sally went back to the phone, and it became apparent that the complainant had heard the radio traffic."It''s the second turn, the second turn, oh God, hurry!""She says the second turn, three.""Tell ''em to hurry!" (Indecipherable) "told me"--indecipherable--"again!  He''s just dead. Can''t--" With that, the line went dead.  I was only about ten miles from William''s Hollow, while Mike was about twenty-six miles out.  Unfortunately I was north, and the directions were from the south."Comm, three.  I''m in from the north.  Find out from what location is the second or third gravel, or which gravel after I cross the bridge going south.""10-4, three.""And look the farm up in the phone book and call it back.""I''m doing that," Sally snapped.While she got better directions from Mike in car five, I continued south on the county paving.  The roads in our part of Iowa are only twenty feet wide and are exceptionally curvy and hilly. They''ve managed to pack about 1,300-odd miles of them into the county''s 750-square-mile border, and with no sign of a spring thaw, I could count on slipping and sliding the whole way."Comm, three.  Get 10-78 going." 10-78 was the backup code.  If we had a multiple homicide in progress, two duty officers on highway patrol could only do so much."10-4, three.  For your 10-43, I''m getting no answer at the McGuire residence."Mike was going to have to travel about nine miles on gravel roads that had the consistency of crushed ice before he would even hit the frozen paved ones.  I would beat him to the scene by fifteen minutes or more.  The backup in this case meant the one city officer on duty in Maitland, who was between Mike and me.  I figured another fifteen minutes response on his side.  Anybody else was going to be in bed.  I hoped we didn''t need them.Mike and I were both running with lights at full beam and with sirens blaring, both to alert anyone on the scene that we were on the way and to frighten away any deer on the road in front of us.  Hitting a two-hundred-pound deer at over a hundred miles per hour might not kill you, but you would be wasted at the point of impact.  The manual says to go to a serious crime "as fast as possible, considering the conditions."  Which meanst hat if you wreck the car, it''s your butt, buddy, not the county''s.  If I went by the book on this one, I''d hit the McGuire farm a week from Thursday.  I made the first nine miles in just under six minutes."Comm, three''s at the bridge.  Confirm that it will be the third gravel on my left.""10-4, three.  Third left past the bridge.  Also, three, the hospital received a call like ours and they''ve dispatched an ambulance.""10-4, comm.  Be sure to tell the paramedics to wait to come in until we''ve cleared them.""10-4, three.  As soon as they''re in the unit."I was going to acknowledge, but I was skidding past the third left turn.  I softly nudged a snowbank, backed up about twenty yards, and made the turn onto the slushy gravel road."Comm, how far down this road?"There are 2,200 farms in the county.  I couldn''t possibly know where they all were."Three, this is five, second farm on the right, it''s down a long lane.  I don''t think there''s a name on the mailbox, and you have to go over a little hill before you can see the farm from the road. I''ve been there about, uh, three times .  .  .  think the house is on the right of the drive, bunch of other buildings on the left, and they''re pretty close together."My "10-4" was a little strained.  I was just going over the knoll that cut the view from the roadway."Comm, three is 10-23." I was actually still about a hundred yards from the house, but didn''t know if I''d have time to say anything from there on in.  In those last hundred yards, I reached down and turned on my walkie-talkie, turned off my siren, unbuckled my seat belt and cleared it from interfering with my personal gear, and unsnapped my holster.  By that time I was skidding to a stop.  I grabbed my flashlight and got out of the car as quickly as I could. The house was on my right.It was a frame house.  Two stories.  Needed paint pretty bad.  It had a front porch and what appeared to be a back porch and just about every light in the house was on.  No sign of movement inside.They tell you at the academy that if you''ll need it, the only place for your weapon is in your hand.  I drew my revolver, a .44 magnum, and pointed it down and to my right as I approached the house. There was a bluish yard light, similar to a streetlight, illuminating the yard in a roughly circular pattern.  My car was behind me, and without remembering doing it, I had correctly pointed the headlights toward the scene.  The beams cast my shadow on the front porch, distracting my attention from cataloging what I was up against.  My heart leapt every time I picked up my own movement, so I started with the left, at the barn and a couple of outbuildings.  Interior light in the barn.  The others were dark.  No movement.  Neither good nor bad.  If there''s nobody there, there''s no movement.  If somebody is aiming a shotgun at you from concealment, they probably won''t move, either. I put that possibility out of my mind and proceeded toward the house, careful not to slip on the uneven sheets of ice that led to the front porch."Twenty-five, comm."On my walkie-talkie.  It scared the crap out of me, as the speaker was just by my left ear.  I turned it off.  Twenty-five was the Maitland backup officer, Dan Smith, and since I could hear him on my portable, he was probably within two miles of my position.I made it to the landing of the screened porch and was able to see into the kitchen at about chest level for anyone standing in there.  Nobody was.  I would have to go onto the porch to look into the house.  I didn''t really want to do that.  But I did.  I stepped up onto the second of four steps and opened the screen door.  The interior of the porch was a real mess, cluttered to the point that I was not sure I could negotiate a path.  Garbage--empty boxes, broken glass, tools, tires, a chain saw--surrounded a small dog to my left who just sat there staring.  He didn''t move or make a sound.  It was the first thing that really worried me."Police officer.  Anybody in there?"No response.  I said it as loudly as I could without yelling. Tried again.  Nothing.  I approached the door, stepping as carefully as I could over the mess.  I could see through the right-hand window, into the kitchen.  Also a wreck, with a table tossed in a corner, its broken leg doubled back underneath. 
From Our Editors
In quiet and predictable town, Deputy Sheriff Carl Houseman receives a 911 call he'll never forget. Cops find mutilated bodies at a remote farmhouse and Carl works to turn his suspicions into suspects in the first of 11 horrible days. As hotshot detectives jet in from around New York, Carl finds himself sifting through his group of friends to find a killer that the cops would never suspect. Eleven Days is cop-turned-author Donald Harstad's first novel.
Editorial Reviews
"A hell of a first novel... Gripping and unsettling." --Michael Connelly"With one startling twist after another, this grisly but cunningly sophisticated story is truly frightening." --San Francisco Chronicle"Downright explosive! The descriptions of the police work rival Wambaugh''s best." --Publishers Weekly"Harstad...advances the scary (and perversely entertaining) notion that people are just as cuckoo in the heartland as they are in the wicked city." --The New York Times Book Review