Empathy in Patient Care: Antecedents, Development, Measurement, and Outcomes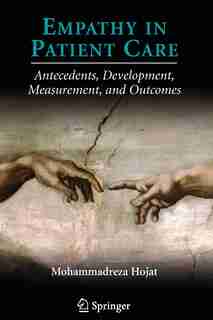 Find In Store
Prices and offers may vary in store
Human beings are designed by evolution to form meaningful interpersonal relationships through verbal and nonverbal communication. This principle is the same whether the individual is male or female; an infant, a child, an adolescent, or an adult; or healthy or sick. The theme that empathic human connections are beneficial to the body and mind underlies all 12 chapters of this book, in which empathy is viewed from a multidisciplinary perspective that includes evolution; neuropsychology; clinical, social, developmental, and educational psychology; and health care delivery and education. Some theoretical aspects of antecedents, development, and outcomes of empathy are discussed, and relevant studies and empirical findings are presented in support of the theoretical discussion.
The following comments have been made about this book by experts and scholars:
"Dr. Hojat wisely provides an agenda for future research ranging from selecting prospective medical students for their empathy to evaluating the neurobiological components of empathy and compassion. Hojat''s utopia wisely provides goals which medical practitioners and teachers can ponder and try to reach for in their daily activities. We are in his debt."
Howard Spiro, M.D., Emeritus Professor of Medicine, Yale University School of Medicine (Excerpted from the book''s foreword)
"This book is unique in combining an encyclopedic overview of empathy with a fine-grained, precise way of measuring it. Clinicians, researchers, students, and educators will find in this book both a resource for work already done and a blueprint for what still needs to be done."
Herbert Adler, M.D., Ph.D., Clinical Professor of Psychiatry and Human Behavior, Jefferson Medical College
"This book should be essential reading for all those engaged in medical education. The author writes clearly and covers the broad area of empathy, with theoretical depth and practical suggestions based on his own research and that of others. He is a foremost leader in this field and his book sets a standard for all to follow."
Marvin Zuckerman, Ph.D., Emeritus Professor of Psychology, University of Delaware
"This book is a scholarly achievement in the field. All will benefit from its comprehensiveness."
Joseph Gonnella, M.D., Emeritus Dean and Distinguished Professor of Medicine, Jefferson Medical College
"This book is an outstanding contribution to the scholarly and clinical understanding of empathy. Most importantly, it combines conceptual rigor with an empirical foundation. Dr. Hojat has devoted himself to developing ways of measuring empathy, and in this book he combines his own findings with an encyclopedic knowledge of other relevant empirical work. This book will be important for any serious student of empathy, including medical educators who are seeking to truly transform professional training."
Jodi Halpern, M.D., Ph.D., Associate Professor of Bioethics and Medical Humanities, University of California, Berkeley. Author of "From Detached Concern to Empathy: Humanizing Medical Practice."
Title:
Empathy in Patient Care: Antecedents, Development, Measurement, and Outcomes
Product dimensions:
296 pages, 9.25 X 6.1 X 0 in
Shipping dimensions:
296 pages, 9.25 X 6.1 X 0 in
Published:
October 29, 2010
Publisher:
Springer-Verlag/Sci-Tech/Trade
Appropriate for ages:
All ages