En Forma Y Sin Kilitos De Más / In Shape And Without Extra Pounds: Come Sano, Mejora Tus Hábitos Y Recupera Tu Vitalidad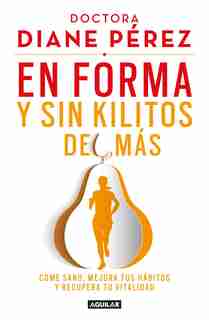 Un libro indispensable para cambiar tus hábitos alimenticios, mejorar tu salud, prevenir las enfermedades derivadas de la mala alimentación y mantenerte en forma.Son muchos los elementos que tienen que ver con el sobrepeso, y si no tomamos cartas en el asunto fácilmente llegamos a la obesidad y a la larga lista de padecimientos que la acompañan: desde la temida diabetes hasta numerosos trastornos articulares que merman nuestra calidad de vida y, por supuesto, nuestra autoestima cuando vemos reflejado en el espejo un cuerpo poco estético.
La buena noticia es que bajar de peso y permanecer delgados es tan fácil o tan difícil como nosotros determinemos. En este libro ofrezco consejos muy sencillos para que los apliques en tu vida, pequeñas modificaciones que te traerán grandes resultados cuando acudas a la báscula.
Insisto: ¡no es un libro de dietas! No es la dieta de la doctora Diane Pérez, es un análisis bien documentado, investigado, de lo que muchos vivimos —en cuanto a comida y hábitos— todos los días, y que actúa en contra nuestra.
Mi propósito es plantear una forma de vivir mejor, para sentirnos con más energía y perdiendo los kilos que no necesitamos. Con estos sencillos consejos, fáciles de implementar, permaneceremos siempre delgados. Y lo mejor de todo: no sólo veremos beneficios en nuestra calidad de vida, sino en la de toda la familia al lograr hábitos saludables para ser felices. No está de más decir que todas las recomendaciones de este libro han sido probadas y los resultados, ampliamente satisfactorios. Ahora te toca a ti, querido lector, comprobarlo.

ENGLISH DESCRIPTIONEat Healthy, Adopt Better Eating Habits, and Recover your Energy
There are many elements that go hand-in-hand with being overweight, but if we do not recognize them and take them seriously, we could easily become obese and suffer from the long list of ailments that accompany it.

The good news is that losing weight could be as easy or as difficult as we make it. In this book Diane Perez offers very simple tips to apply in your life, small changes that will bring you great results when you step on the scale. Now, this is not a diet book, it is a well-documented, and well-researched analysis of our foods, our habits, and what works against us.

The purpose here is to propose a better way of living, to feel more energetic and lose the extra pounds. With these simple tips that are easy to put into practice, we will always remain slim. And best of all, not only will we see benefits in our quality of life, but also in that of the entire family by achieving healthy habits that make everyone happy. All the advice and tips in this book have been tested and have had satisfying results. Now it is your turn, dear reader, to prove it.
Title:
En Forma Y Sin Kilitos De Más / In Shape And Without Extra Pounds: Come Sano, Mejora Tus Hábitos Y ...
Format:
Paperback
Product dimensions:
184 pages, 9.04 X 5.94 X 0.54 in
Shipping dimensions:
184 pages, 9.04 X 5.94 X 0.54 in
Published:
April 25, 2017
Publisher:
PRH Grupo Editorial
Language:
Spanish
The following ISBNs are associated with this title:
ISBN - 10:6073149832
ISBN - 13:9786073149839
Look for similar items by category: