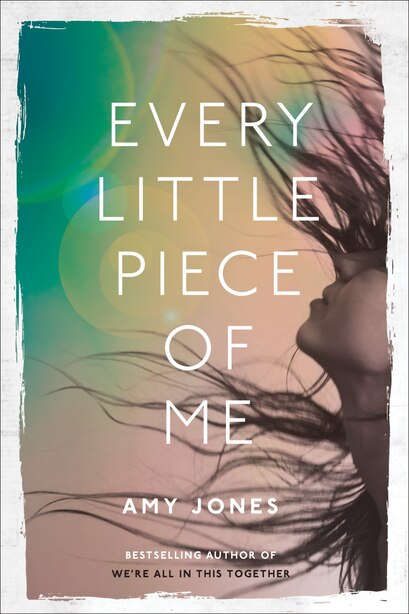 Every Little Piece Of Me
Paperback

|

June 4, 2019
Pricing and Purchase Info
$24.95
list price
save 21%
Prices and offers may vary in store
From the bestselling author of We''re All in This Together comes a novel about family, friendship, fame, and the cost of living in the public eye -- because when everyone suddenly knows your name, it''s easy to forget who you really are.

"The first time they met, Mags saved Ava''s life. The second time they met, Ava saved Mags''s."
Ava Hart is the most reluctant cast member of a reality TV show based on her big city family''s (mostly staged) efforts to run a B&B in small-town Nova Scotia. Every family has its problems, but Ava has grown up seeing her family''s every up and down broadcast on national television, after the show becomes an unexpected success for reasons that will take a heavy toll on the Harts.
Mags Kovach is the charismatic lead singer of a struggling Halifax rock band hoping to be the Next Big Thing. For years she''s managed to contain her demons and navigate the uglier aspects of being a woman in the music world, but after a devastating loss, she turns her anger on the only person she can: herself.
As their private tragedies continue to set social media and tabloid headlines on fire, their every move subjected to an endless stream of public commentary, it will be their unexpected friendship that will save them. They will push back against the roles they''ve been forced to play, and take back control of something they thought they''d lost forever -- the right to their own stories.
Title:
Every Little Piece Of Me
Format:
Paperback
Product dimensions:
400 pages, 8.25 X 5.83 X 1.12 in
Shipping dimensions:
400 pages, 8.25 X 5.83 X 1.12 in
Published:
June 4, 2019
Publisher:
McClelland & Stewart
Language:
English
The following ISBNs are associated with this title:
ISBN - 10:0771050674
ISBN - 13:9780771050671
Look for similar items by category:
Preview Your Review
Your Review Has Been Submitted
NO, I do not recommend this product.
Educational/Developmental Value:
Thank you. Your review has been submitted and will appear here shortly.
Read from the Book
MagsNovember 2014"Barometer"Mags hadn't expected the club to be so crowded. The band's previous shows in New York had been sparsely attended. But Align Above's new album had dropped a few weeks before, and tonight there was an electricity in the air, something that she couldn't explain. In the green room she drank half a fifth of whiskey and smoked three joints before stumbling on stage in a haze, her body hot and cold at the same time, her skin sweaty and goose-pimpled.     "I'm fine," she told Emiko, her manager, who held Mags's face in both her hands and stared into her eyes like she was trying to see into the future. "This is what I need. This is what I do."     She sang. She knows she must have, because people were cheering— so many people, the audience a big blur of colour in front of her, pulsing with vague outlines of human forms. Adrift, she locked eyes with a beautiful Asian boy while she was singing "Barometer"— a song she had written about Sam, so new she had only ever played it live once before— and she was surprised to see that he was singing along, gazing at her with such naked adoration that it made her shiver. "You will rise, I will rise, we will rise, like a barometer," she sang, and his mouth moved with hers, almost as though he was claiming her voice somehow, making the words his own in a way that momentarily startled her, her hand dropping from the mic, her voice fading out before the end of the line.     After the show, she found him in the hallway outside the green room, waiting for her. He was just a kid, a scruffy teenager with doe eyes and expensive sneakers, a forelock of hair sweeping down across his brow. But she could feel the relentless pull of the pit, that gaping maw of a comedown she ran from at the end of every show, so she pressed herself up against him, the contours of his body meeting hers in a way that was familiar and yet unfamiliar, like wearing someone else's shoes.      "Do you have somewhere we could go?" she asked, lips inches from his ear, which fluttered almost imperceptibly as she breathed against it.     "I have my own place," he said, and she could feel the newness of those words in his mouth, how good it felt for him to say them.     They were in the Uber by the time she started second-guessing herself, realizing too late he wasn't even close to what she wanted. But it wasn't until they got to his apartment and she saw all the video cameras that she knew she'd made a huge mistake.     "I'm not a pervert or a weirdo, I swear," he said, his doe eyes clouding over with worry as she inched toward the door. "It's this stupid reality show I'm on. They leave the cameras set up all the time."     "Reality show?" Mags was sobering up, and all she could see were blinking lights, red and green and blue, cables tangling across the floor like tussling snakes. She suddenly felt as though the entire world was watching her, as if they could see through the eye of the lens right into the depths of her soul.     "They're not on right now, I promise," the boy said. "See?" He picked up a cable attached to a camera and showed her the dangling end. Mags realized the blinking lights were all in her head. "There's a schedule. They're only on when the crew is here."     Mags stepped toward the camera tentatively, as if it were a wild animal she wanted to feed from her hand. She touched the top of the lens, which was coated with a fine layer of dust, and blew the dust away gently. "That doesn't seem very real," she said.     The boy laughed nervously. "It's not," he said. "There's nothing real about reality television, trust me."     She moved around the room, feeling the boy's eyes on her. At least the reality show explained the apartment—sparsely but tastefully furnished, with high ceilings and exposed brick, a pool table at one end of the living room and an entire row of expensive guitars lining the opposite wall. She wandered over and picked one up, strumming it before realizing it was a vintage Gibson Les Paul Standard Sunburst. And it was signed.     "Eric Clapton," the boy said, shrugging. "I got it at an auction last year."     Mags ran her fingers over the strings. It probably cost more than all of Align Above's equipment combined. But the boy didn't seem to care—he hadn't rushed over to grab it from her, hadn't kept it under lock and key. "Do you actually play this?" she asked.     "What's the point of a guitar if you don't play it?" He took it from her and began strumming softly. Oh no, thought Mags, please don't. But then he started singing, his voice soft and earnest, and she could do nothing but sit there, helplessly listening, not knowing whether she should laugh or cry. At least it wasn't one of her songs— from what she could tell, it was something he had written himself, probably during a period when he was listening to a lot of melancholy stuff, Bon Iver or The National. When he stopped singing, she smiled at him, and before he could launch into his next number, she kissed him, the guitar pressed between them, the strings mashed up against her belly.     Later, Mags got up from the boy's bed in the dark and walked naked to the bathroom, keeping the water cool as she splashed it over her face, avoiding her own red eyes in the mirror. Walked back through the apartment, head jumbled, running her hands over the exposed brick, heading toward the balcony to see those lights of Tribeca, wondering what it must be like to live here, to live this life.     Before Mags made it halfway across the living room she saw her, through the glass doors of the balcony— a woman wearing only a T-shirt and underwear, climbing up onto the parapet, her pale skin scraping across the concrete as she stood up on the ledge. Mags grabbed a blanket from the couch, scratchy and wool but big enough to cover herself, and rushed to the balcony, the wind hurtling itself at her as she hauled open the doors, all rust and smog.As soon as the doors opened she realized she had no idea what to do. She tried to remember how high up they were— four storeys, five? Surely high enough.     "Hello," Mags said quietly.     The woman turned to face her, and Mags realized she was still a girl, really, barely out of her teens. There was something vaguely familiar about her. Her eyes were a startling blue, her hair white-blonde and cut close to her head in a haphazard way that made Mags think she had done it herself. Her T-shirt had a picture of a fairy on it, possibly a cartoon character from a television show Mags had never seen. Even as she balanced there on the parapet, she stood with her back straight, her hand on her hip, her head angled at a perfect, fashion-model 45 degrees as she regarded Mags through mildly inquisitive eyes.     "It's you," the woman said. She dragged both her hands down her thighs as though she were drying off sweaty palms. For a moment, Mags thought she was going to reach out to shake her hand, but instead she crossed her arms over her chest, cutting off the head of the cartoon fairy. "What are you doing here?"     Mags didn't say anything for a minute, afraid the truth might push this woman over the edge. "Are you planning on jumping?" she asked instead.     The woman dipped her toe off the ledge, her eyes drawn to the street below. Then she pulled her toe back and turned to face Mags again. "Are you naked under that blanket?"     Mags glanced down at her round calves and bare feet sticking out of the bottom of the blanket, which hung just above her knees. "I guess when I saw you climb up on that ledge, finding clothes wasn't exactly my first priority."     Narrowing her eyes, the woman crossed her arms tighter over her chest. "You slept with Val," she said.     Val. Mags knew the boy's name, but it was so much easier to think of him as "the boy," as if he were the only one. But now. Val. She nodded.     "Good for you. My brother loves you, you know. The show tonight was the only thing he could talk about for weeks."     "He's your brother?" Mags asked.     "We're both adopted," the woman said. "Everyone knows this. You know this." She paused. "Or maybe you thought I was his girlfriend."     "No," said Mags, realizing she hadn't. But she didn't want to talk about Val anymore. And she was sick of talking about herself. Sick of herself in all kinds of ways. Maybe just sick. "Can we get back to talking about why you're standing on that ledge?"     "I'm pretty sure I'm going to jump," the woman said, without drama, without pathos. I'm. Going. To. Jump.    "Pretty sure?"     "Very sure." She spread her arms wide,
Bookclub Guide
Discussion Questions for Every Little Piece of Me1. The novel weaves together the compelling stories of two wilful young women who are often forced to conform to other people's rules at great personal cost. In what ways is Every Little Piece of Me engaging with current conversations about what it means to be a woman in the world?2. How did the shift in time between the book's prologue and the first chapter affect your reading experience? Did you make any assumptions at the beginning of the novel that were later overturned? Were there moments that surprised you in the trajectories of the characters?3. In the opening chapters, David and Bryce seem like loving, doting parents. But once they sign on for Home Is Where the Hart Is without the consent of Ava, Val, and Eden, their role in their children's lives quickly begins to shift. What motivates David and Bryce as parents? What responsibility do they bear for the people Eden, Val, and Ava become in their teenage years?4. Mags is an orphan who, after falling out with her sister, Frankie, finds a tenuous home with Sam, whose own parents are far removed. Through her involvement with Sam, Mags becomes part of another "family" unit—the band. What parallels can be drawn between the relationships within the band and the sibling relationships depicted in the narrative? Which scenes in particular suggest similarities or points of divergence?5. Antonio is an adult and Ava is in her early teens when they first meet, and he has a powerful influence on her life and career. Yet Ava often defies Antonio, and she is not without agency in the events that unfold between them. Is Ava a victim of Antonio's? Why or why not?6. The symbol of the deer, or the hart, threads throughout the novel. What does the hart represent? What do Mags's encounters with the deer, in the van and during the rainstorm, portend?7. Ava and Eden play fictionalized versions of themselves on television. For Mags, singing is a transcendent experience, and when she's on stage she's "nowhere and everywhere all at once." All three women have complicated responses to the public attention they receive from their success. Describe their respective relationships with fame. Also, given what we know about Sam, Paul, Zac, Val, David, and Bryce, what distinctions is the novel making between the effects of fame on men versus on women?8. Ava initially resists participating in Home Is Where the Hart Is, and then feels resentment and envy at Eden's burgeoning fame when she plays by the rules of reality television. Through Mags's involvement with the band, she quite literally finds her voice; and yet, as the front woman of Align Above, Mags struggles to be truly seen by the public and by her fellow bandmates. At different times in the narrative, both Ava and Mags find themselves unwilling participants in the stories that are being told about them. Are their perceptions of themselves as such accurate? Why or why not?9. How do social media feeds, email memos, and other online content function in the book? If these voices are like a twenty-first-century Greek Chorus, what are they saying about the fears, hopes, and judgments of the average person?10. In their own ways, both Ava and Mags become influencers. What has the greatest influence over Ava and Mags, respectively? How do external forces shape their stories?11. Mags is in the throes of grief when Jack Francis interviews her. How does the narrator's description of the interview differ from the account in the National Chronicle article? What are the similarities in the dynamic between Mags and Jack and that between Ava and Antonio?12. Jack Francis and his article are a microcosm of the larger societal forces that have generated Mags's and Ava's particular notoriety. Arguably, Mags intends their visit to Jack Francis's house to be empowering. How did you react to what they discover in his office and their response to it? What are the possible outcomes to their radical act?13. The last social media post in the book is authored by Mags and Ava. What is suggested by their video post, and by their disabling of the comments function?14. Near the end of the novel, Mags and Ava are completely isolated from their families—blood relations or otherwise. What do they learn from each other about being sisters, and about being themselves?15. What do you think Ava is planning to say to Eden at the conclusion of the book, and what do you imagine Eden would say in response?16. What does the future hold for Mags and Ava? In the last chapter, why does Ava know that "she doesn't have much time"? What do you think is her final destination?
Editorial Reviews
Named a Best Book for Summer by the Globe and Mail, Chatelaine, and NOW MagazineNamed a Book of the Month Pick by the CBC and Loan Stars"Amy Jones will make you laugh out loud—until she breaks your heart. . . . An engrossing satire of celebrity culture and its impact on the identities and family lives of those who fall victim to it. . . . Every Little Piece of Me is a joyous read about two women carving out a freedom for themselves in a world desperate to pin them down." —Halifax Magazine "Amy Jones opens up a window of understanding into the lives of celebrity girls ''gone wild'' that is entertaining, thoughtful and moving. . . . Her complicated female protagonists are authentic and satisfying. Jones'' piercing portrayal of the effects of fame stays with the reader long after the story has ended. . . . This fast-paced, entertaining story provides new insight into privacy, fame, notoriety, and people''s need to own their personal stories." —Winnipeg Free Press"Jones''s savvy novel has everything you''d want from a summer read. It''s a deep dive into the entertainment business, and its account of personal loss has a strong emotional punch." —NOW Magazine"[Jones is] an author with a big heart and equally generous sense of humour. . . . Every Little Piece of Me [is] a celebration of women''s relationships." —Toronto Star"Addictive. Jones creates two compelling, complicated female characters in Ava and Mags, and keeps the narrative zipping along with clear, concise prose and a knack for memorable episodes. These clear talents are why I can''t wait to see what else she writes." —Globe and Mail"Jones is a wicked prose stylist. . . . Hugely entertaining . . . Every Little Piece of Me makes you think and makes you laugh. Which is sometimes exactly what you need." —Quill & Quire (starred review)"The best novels shine a light on the truth about what it means to be human, revealing both the frailties and strengths that exist within all of us. Amy Jones's Every Little Piece of Me is one of these, a rare gem of a novel that burns toward a startling conclusion, revealing the essence of family, love, loss, and friendship as it does. I enjoyed so much about this novel, but what stood out most was Jones's compassion for her characters—and for all of us. This is a story to help us navigate the confusing strangeness of an all-access world, and it's a story that should lead us to an important realization that meaningful connection could be what saves us from ourselves. Fresh, modern, furious and timely, this is one of the most relevant and unforgettable books I've read in a long time." —Marissa Stapley, author of The Last Resort   "This adrenaline rush of a novel succeeds in reminding us of the humanity forgotten behind all our flickering screens. It's easy to fall in love with Ava and Mags and their connection to each other, to relate to their vulnerabilities, and to cheer on their strengths. Jones has written a refreshing, whip-smart story about the toxicity of our 'always on,' always online, reality TV culture. A novel with real heart." —Stacey May Fowles, author of Baseball Life Advice