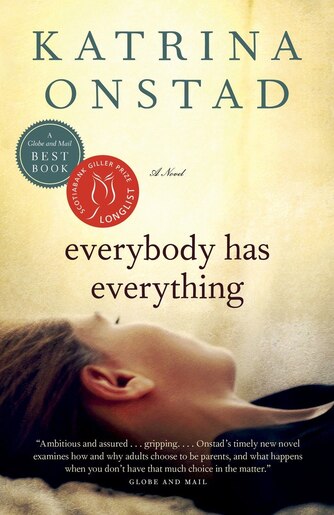 Everybody Has Everything
Paperback

|

April 2, 2013
Pricing and Purchase Info
$17.99
Prices and offers may vary in store
A Globe and Mail Best Book of the Year, and longlisted for the Giller Prize, Katrina Onstad''s second novel is an emotionally riveting exploration of what happens in the marriage of an urban professional couple when they suddenly and unexpectedly become the parents of a toddler. 

"Tenderly observed and elegantly drawn," (Vincent Lam) the vivid, utterly believable characters in this perceptive and poignant novel experience the challenges and joys of modern love in all its many permutations.

After a car accident leaves their friend Marcus dead and his wife Sarah in a coma, Ana and James are shocked to discover that they are the legal guardians of a 2½-year-old. Finn''s crash-landing in their lives throws into high relief deeply rooted, and sometimes long-hidden, truths about themselves, both individually and as a couple. Ultimately, they must face a question that remains virtually taboo in contemporary life: Can everyone be a parent?
Title:
Everybody Has Everything
Format:
Paperback
Product dimensions:
336 pages, 8 X 5.2 X 0.84 in
Shipping dimensions:
336 pages, 8 X 5.2 X 0.84 in
Published:
April 2, 2013
Publisher:
McClelland & Stewart
Language:
English
The following ISBNs are associated with this title:
ISBN - 10:0771068638
ISBN - 13:9780771068638
Look for similar items by category:
Preview Your Review
Your Review Has Been Submitted
NO, I do not recommend this product.
Educational/Developmental Value:
Thank you. Your review has been submitted and will appear here shortly.
Bookclub Guide
1. How do you understand the meaning of the novel's title?2. Consider the epigraph the author has chosen. What do you think she hopes you to take from it? How does is relate to the novel?3. There are many poetic and musical references in the novel, and one song in particular plays a key role in the narrative. What do the various quotations tell us about the different characters in the novel who recall or recognize them? What do you think the author wishes to say through the use of that one key song? About Ana's life, about James's life, about life more generally?4. Is this a particularly "urban" novel? Why or why not?5. "How did you know?" Ana asks Sarah on page 57, about wanting to have a child. Whose side of the ensuing exchange made the most sense to you? Why could Ana not be honest with Sarah about when, or if, she herself "knew"?6. How does James's behaviour upend (or conform to) conventional notions of masculinity? At work? At home? With Finn? In what ways does Ana challenge the concept of femininity? How do these shifting gender roles affect the story?7. At certain points, both Ana and James find themselves acutely aware of their age. What triggers this awareness in each of them? What does this awareness mean to each of them?8. Neither Ana's nor James's mother quite fits the picture of an "ordinary mother." Can you see people you know in either of them? In what ways?9. Is it still a social taboo for a woman to resist motherhood? How does Ana experience society's attitudes toward women who aren't mothers? Is it possible for a female character to be sympathetic if she rejects motherhood?10. How does the sudden presence of a child in James and Ana's relationship foment marital discord, and flirtations with infidelity – or does it? To what extent is their marriage affected by parenthood?11. What do you make of Ana's flirtation with Charlie? What attracts her to him?12. The final scene of the novel involves James telling Finn (and Ana) a story. How does this closing story-within-a-story relate to the novel as a whole?13. What do you think the next chapter in life will be for Ana, for James, for Finn, for Sarah?
Editorial Reviews
Longlisted - 2012 Scotiabank Giller PrizeShortlisted - 2013 Toronto Book AwardA Globe and Mail 100 Best Book of 2012A NOW magazine Top 10 Book of 2012"More ambitious and assured that Onstad's debut, but just as gripping. . . . Onstad's timely new novel examines how and why adults choose to be parents, and what happens when you don't have that much choice in the matter. . . . Ana and James are thoroughly convincing and their agony and triumphs compelling in this impressive sophomore effort." —The Globe and Mail "A literary excursion into the poignancy and murkiness of loss, parenting and marriage. . . . This is sharp, edgy writing. . . . Onstad mines the emotions of flawed and wounded characters. . . . Impressive . . . intelligent, ambitious and unsettling. . . . Most definitely memorable." —Winnipeg Free Press "Unsparingly honest. . . . Never sentimental but always compassionate, this compelling book is hard to put down." —Hello magazine "Everyone will recognize the all too common yearnings and failings of two people trying to figure out what will make them happy . . . " —Chatelaine  "This new book is very good, to get that out of the way: Onstad's writing is always vigorous, funny and mean-because-it's-true. . . . Onstad perfectly gets at her characters, and their so-called "status life": . . . the rhythms of rich, white city parents, who used to be young and who have problems that are at once real and magical. Writing all of it like this, so cruel and right, makes it feel even worse than it is, but by its very telling, a little bit better." —National Post "Revelations are both joyous and heartbreaking, and Onstad handles both aspects well. . . . The characters' motivations, self-revelations, and discoveries are carefully elucidated, such that the reader is able to form connections not just with Ana and James, but with the supporting characters as well. . . . Onstad delicately builds up layers and peels them away . . ." —Quill & Quire"[A] radiant novel powered by gorgeous writing, a quietly propulsive plot, and an uncannily accurate rendering of the way love, lust, rage, and reconciliation ebb and flow in the life of a couple." —Real Simple "With concise, elegant prose, the author presents an audacious look at a question no one is supposed to ask, namely, can everyone be parents? Or, more important, should they?" —Library Journal (Starred Review)"Tenderly observed and elegantly drawn, Onstad''s characters are true to the deep worries and tangential shifts of fate which often define modern life; they remind us of that life''s ability to soothe, to hurt, and to heal." —Vincent Lam, author of the Giller Prize-winning Bloodletting and Miraculous Cures and The Headmaster's Wager "Utterly rich, vivid and filled with urgency. I couldn''t take my eyes off of these characters." —Kaui Hart Hemmings, author of The Descendants "Everyone will recognize the all too common yearnings and failings of two people trying to figure out what will make them happy . . ." —Chatelaine "Onstad makes a significant leap into the deep end with this story. . . . Brave work from a writer who gets better with every book." —NOW magazine"Everybody Has Everything is about many things – family, friendship, responsibility, loss – but at its heart, it's about what happens when the person you love suddenly veers off in another direction. It is unflinching yet tender, gripping and lyrical and devastating. I can't stop thinking about it." —Lauren Fox, author of Still Life with Husband and Friends Like Us