Exploring Our Dimensional Being: Connecting Humanity, Earth & the Cosmos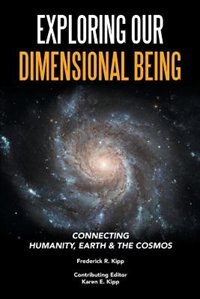 In-Store Availability
Prices and offers may vary in store
Throughout our lives, most of us have been conditioned to view the essence of our human being and the greater realm of creation itself as somehow mysterious and unknowable. In many ways, it seems as if we have relegated our lives to dense matter as the central focus of our identity. Exploring the possible inner or metaphysical realities can provide an orientation and detail necessary for greater understanding of ourselves and the dimensional spheres of life that connect us.
My life's work has included studying the underlying structures that support all physical manifestation as well as the beings that live within and work to sustain them. I believe that all inner and outer life forms and entities are dimensionally connected. We are continuously interacting with them unconsciously through various levels of our being, the collective consciousness of humanity, our planet, and the celestial bodies in the universe. My experience has been that the lack of awareness of our own greater being is what hinders our ability to comprehend the universe multidimensionally. In my view, before entering our present dense physical forms as humans, we have progressed through many developmental cycles, as did our Earth, solar system, and universe.
This book documents what I have learned about the universal creative process and dimensional human evolution from our source beginnings to the present. I have tried to integrate the various accounts of the scientific, mythological, religious, and metaphysical versions of cosmology, cosmogenesis, and cosmogony. Exploring the inner realms of possible connections between humanity, Earth, and the cosmos has been a complex undertaking and journey into uncharted territory. My research, life experiences, and clairvoyant perspectives regarding the dimensionality of all life are the basis for the writing of this book.
Title:
Exploring Our Dimensional Being: Connecting Humanity, Earth & the Cosmos
Format:
Paperback
Product dimensions:
302 pages, 9 X 6 X 0.68 in
Shipping dimensions:
302 pages, 9 X 6 X 0.68 in
Published:
February 23, 2017
Publisher:
Xlibris
Language:
English
The following ISBNs are associated with this title:
ISBN - 10:1524585777
ISBN - 13:9781524585778
Look for similar items by category: