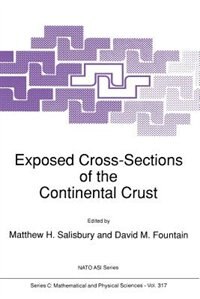 Exposed Cross-Sections of the Continental Crust
Paperback

|

September 26, 2011
Pricing and Purchase Info
$103.95
Prices and offers may vary in store
In the Fall of 1988, 64 geologists and geophysicists from 11 countries met in Killarney, Ontario, on the north shore of Lake Huron to examine evidence that suggests that the continental crust is exposed in cross-section at several key locations on the Earth''s surface. The meeting, which was held under NATO auspices as an Advanced Study Institute, was a landmark event in that it was the first time that many of the lead scientists working on these complexes in relative isolation around the world had'' ever gathered together to compare results. The present volume is a compendium of the invited lectures given on the principle sections, plus an array of supporting papers on these and other sections as well as on related topics such as crustal emplacement mechanisms, deformation and rheology. Nearly all of the best known sections are represented, including the Ivrea Zone, Calabria, the Kapuskasing Zone, Fiordland and many others. It is our hope that this Volume will serve as a reference for Earth scientists who are trying to understand levels of the crust not normally exposed to view, as well as a point of departure for new research and a teaching aid to new entrants in this relatively new field of study.
Title:
Exposed Cross-Sections of the Continental Crust
Format:
Paperback
Product dimensions:
9.25 X 6.1 X 0 in
Shipping dimensions:
9.25 X 6.1 X 0 in
Published:
September 26, 2011
Publisher:
Springer Netherlands
Language:
English
The following ISBNs are associated with this title:
ISBN - 10:9401067880
ISBN - 13:9789401067881
Look for similar items by category:
Preview Your Review
Your Review Has Been Submitted
NO, I do not recommend this product.
Educational/Developmental Value:
Thank you. Your review has been submitted and will appear here shortly.
Table of Contents
Phanerozoic Sections.- The Ivrea crustal cross-section (northern Italy and southern Switzerland).- The exposed crustal cross section of southern Calabria, Italy: structure and evolution of a segment of Hercynian crust.- An exposed cross-section of continental crust, Doubtful Sound Fiordland, New Zealand; geophysical and geological setting.- Uplift and exhumation of middle and lower crustal rocks in an extensional tectonic setting, Fiordland, New Zealand.- A crustal cross-section for a terrain of superimposed shortening and extension: Ruby Mountains-East Humboldt Range metamorphic core complex, Nevada.- Progress in tectonic and petrogenetic studies in an exposed cross- section of young (~100 Ma) continental crust, southern Sierra Nevada, California.- Characteristics of a continental margin magmatic arc as a function of depth: the Skagit-Methow crustal section.- The evolution of the Kamila Shear Zone, Kohistan, Pakistan.- Crustal formation at depth during continental collision.- Precambrian Sections.- A Field Guide to the Kapuskasing Uplift, a cross section through the Archean Superior province.- Major thrust faults and the vertical zonation of the middle to upper Proterozoic crust in central Australia.- The late Archean high-grade terrain of south India and the deep structure of the Dharwar Craton.- An oblique cross section of Archean continental crust at the northwestern margin of Superior Province, Manitoba, Canada.- Two transects across the Grenville Front, Killarney and Tyson Lake areas, Ontario.- Crustal Composition and the Role of Fluids.- Basaltic composition xenoliths and the formation, modification and preservation of lower crust.- Average composition of lower and intermediate continental crust, Kapuskasing structural zone, Ontario.- Fluid-rock interactions in the Ivrea Zone and the origin of high lower crustal conductivities.- Electrical conductivity: the story of an elusive parameter, and of how it possibly relates to the Kapuskasing Uplift (Lithoprobe, Canada).- Faults, Crustal Deformation and Emplacement Mechanisms.- Deformation sequence in the southeastern Kapuskasing structural zone, Ivanhoe Lake, Ontario, Canada.- The exhumation of cross sections of the continental crust: structure, kinematics and rheology.- The fluid crustal layer and its implications for continental dynamics.- Geophysical Structure and Properties of the Crust.- Geophysical interpretation of astrogravimetric data in the Ivrea Zone.- The nature of the Kapuskasing Structural Zone: results from the 1984 seismic refraction experiment.- Exposed continental crust: seismic results to be tested.- The structure of the crust and uppermost mantle offshore Britain: deep seismic reflection profiling and crustal cross-sections.- Intracrustal detachment and wedging along a detailed cross section in Central Europe.- Overview.- Strategy for exploration of the buried continental crust.- Exposed cross sections of the continental crust - synopsis.