Field To Feast: Recipes Celebrating Florida Farmers, Chefs, And Artisans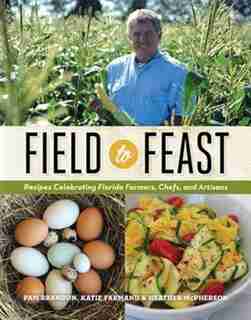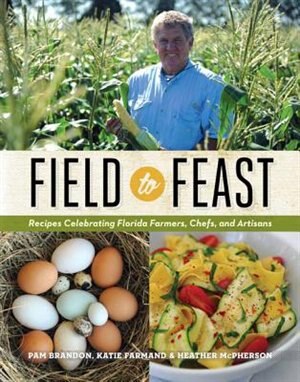 Find In Store
Prices and offers may vary in store
"We're putting Field to Feast on our shelf alongside Marjorie Kinnan Rawlings Cross Creek Cookery and Jeanne Voltz's The Florida Cookbook because it's destined to become a classic. Moreover, it's exactly the book we've been looking for: a thorough, up-to-the-minute work that tells the diverse, wide-ranging story of food in Florida (a state without equal for its sheer number of distinct culinary regions) from the perspective of the people who know it best, the small farmers and chefs who've made it such an exciting place to cook and dine today."- Matt Lee and Ted Lee, authors of The Lee Bros. Simple Fresh Southern
"Go roaming the back roads, as these three writers did, and you'll be astonished by how much there is to discover. Brandon, Farmand, and McPherson have written a wonderful guide to the farmers, artisans, and kitchen magicians whose collective wares will broaden and elevate your vision of what grows in the Sunshine State-and how accessible it is to us all."-John Egerton, author of Southern Food: At Home, On the Road, In History
"These three authors have shown the world a Florida that boasts a rich tapestry of local foods and traditions and respect for place and land. This is a gorgeous book, and a good one to cook from, too."-Deborah Madison, author of Seasonal Fruit Desserts from Orchard, Farm, and Market
In a state better known for miles of sandy beaches, tourist attractions, and space shuttles, it is often overlooked that Florida offers more to savor than merely seafood and citrus. Name an ingredient and you're likely to find it here. Talk to chefs in Miami, Orlando, Jacksonville, or Tampa, and they're likely to reveal their favorite local farmer, beekeeper, or rancher.
As the eat-local and slow food movements grow in popularity, people are paying more attention to what they eat and where it is grown. Farmers are reaching out with community supported agriculture programs, packing up their harvest for shareholders and making the state's culinary riches even more accessible to everyday cooks.
Pam Brandon, Katie Farmand, and Heather McPherson travelled thousands of miles, tasting some of the freshest ingredients along the way. They found world-famous chefs who eagerly share their enthusiasm for fresh, seasonal ingredients. And they sought out the best recipes to highlight those flavors. In Field to Feast they share such treasures as chef Renee Savary's crispy roast duck, a grown-up grilled cheese from Jodi Swank, and Reda Larson's divine peanut butter pie.
The result is a cookbook like no other; a delicious celebration of Florida food and cooking that'll lead you from the kitchen to the farmers' market and home again.
Pam Brandon is a food and travel writer and managing editor of Edible Orlando magazine. She is the author of numerous books, including Culinary Confessions of the PTA Divas. Katie Farmand is a food stylist and Orlando-based recipe developer. She is editor of Edible Orlando magazine, has served as the food editor for Victoria and Teatime magazines, and is the author of the blog The Thin Chef. Heather McPherson, past president of the Association of Food Journalists, is a food editor and restaurant critic for the Orlando Sentinel, where she writes four weekly columns on food and dining trends.
Title:
Field To Feast: Recipes Celebrating Florida Farmers, Chefs, And Artisans
Product dimensions:
352 pages, 9.13 X 7.12 X 1 in
Shipping dimensions:
352 pages, 9.13 X 7.12 X 1 in
Published:
October 19, 2012
Publisher:
University Press of Florida
Appropriate for ages:
All ages