Fix Bayonets!: A Royal Welch Fusilier at War, 1796-1815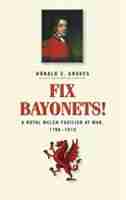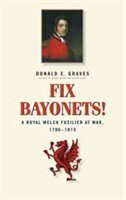 Find In Store
Prices and offers may vary in store
Thomas Pearson, a Somerset country parson's son, was commissioned in the 23rd Foot, Royal Welch Fusiliers, in late 1796. In a fascinating military career that spanned nearly 47 years he fought on three continents, was wounded five times, received two battlefield promotions and achieved the rank of general.
Fix Bayonets! follows this hard-biting soldier and the Royal Welch Fusiliers in action in the deserts of Egypt, the dikes of the Netherlands, the jungles of the West Indies, the mountains of Spain and the vast forests and rivers of North America. Through Pearson's true-life adventures we learn about war, wine, women and song in a fascinating epoch and meet a cast of famous and infamous characters, including King George III, Napoleon, the Duke of Wellington, James Madison, Winfield Scott, MarŽchals Soult and MassŽna, Lord Nelson and Major General William ("Auld Grog Willie") Stewart.
The centrepiece of Fix Bayonets! is a blow-by-blow account of the bloody battle of Albuera in May 1811. Albuera was the high point of Pearson's combat career - he went into it as a junior major in his brigade and came out as the brigade commander because he was the only officer above the rank of captain still on his feet.
Fix Bayonets! also contains detailed accounts of the War of 1812 battles of Crysler's Farm, Chippawa, Lundy's Lane and Fort Erie. Thomas Pearson fought in them all (and was wounded in two). He not only taught the aggressive young American General Winfield Scott how to conduct a delaying action but came to have a high regard for his Yankee enemies, describing them as "the bravest men I have ever seen" - high praise from a veteran officer who had fought against some of the toughest soldiers of the time.
Fix Bayonets! will appeal to those interested in Napoleonic military history, including the War of 1812, musket period tactics, and the meaning and the cost of courage.
Title:
Fix Bayonets!: A Royal Welch Fusilier at War, 1796-1815
Product dimensions:
512 pages, 9 X 6.4 X 1.45 in
Shipping dimensions:
512 pages, 9 X 6.4 X 1.45 in
Published:
October 15, 2006
Publisher:
Robin Brass Studio