Flatiron Five Tattoo Boxed Set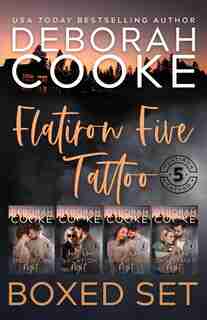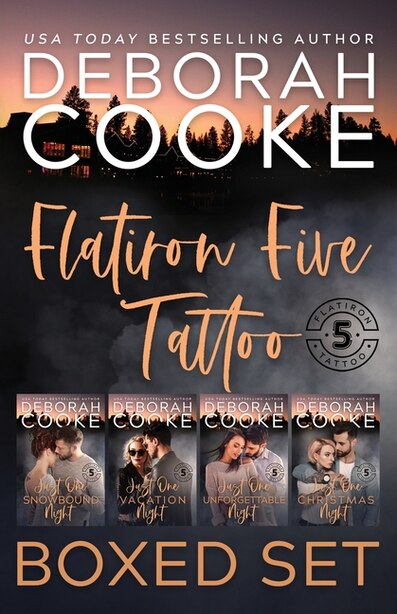 Find In Store
Prices and offers may vary in store
The Flatiron Five Tattoo Boxed Set includes all four emotional contemporary romances in the Flatiron Five Tattoo series.
Three friends on a girls' weekend in New York City attend Chynna's gala opening of her Flatiron Five Tattoo shop - where Liv wins a free tattoo rumored to bring true love to the recipient. Liv doesn't believe in magic (or maybe even love) but her friends encourage her to accept her prize tattoo from the legendary artist. When they get back to Honey Hill, Maine, that little tattoo heart starts to work its magic...
In Just One Snowbound Night, Liv takes a chance and seduces Spencer, her best friend's brother. It's just one night of temptation before she leaves for England, but Spencer immediately realizes the identity of his secret lover-and wants more than one night with Liv. When they're stranded in his cabin by a snowstorm, can he convince her to take a chance on forever?
In Just One Vacation Night, Reyna is sure that once will be enough with Kade, the cop on vacation in the sleepy town of Honey Hill, Maine. But Kade knows Reyna is the woman he's been waiting for-and he's prepared to do whatever is necessary to earn her trust. Reyna finds herself falling but her past returns to haunt them both. Can Kade banish Reyna's ghosts?
In Just One Unforgettable Night, Lexi surrenders to a night with Gabe, only to discover that he's the mystery lover who changed her life years before. Gabe has been waiting for her to realize their shared past-this time, he wants a shot at forever and doesn't care how many secrets have to be revealed to make it happen. Can Lexi and Gabe create a life together in this second-chance romance?
In Just One Christmas Night, Chynna attends Lexi and Gabe's Christmas wedding in Honey Hill, never expecting a hot hook-up with an irresistible stranger. Chynna knows she was lucky to have known a great love once, even though she still mourns her husband's loss, and is sure she'll never love again. Will she be able to move past her pain to fall in love again? Will Trevor, who has always focused on his career, be able to make room in his life for a partner?
Is Chynna's full moon tattoo really magic-or does it open the recipient's eyes to the love that was waiting all along? Come to Honey Hill, Maine, where love makes happily-ever-after possible, with the help of a heart tattoo.
Title:
Flatiron Five Tattoo Boxed Set
Product dimensions:
604 pages, 8.5 X 5.5 X 1.34 in
Shipping dimensions:
604 pages, 8.5 X 5.5 X 1.34 in
Publisher:
Deborah A. Cooke
Appropriate for ages:
All ages