Fun Cute And Stress Relieving Llama Coloring Book: Find Relaxation And Mindfulness By Coloring the Stress Away With Beautiful Black and White Llama Cartoon Characters and Mandala Color Pages For All Ages. Perfect Gag Gift Birthday Present or Holidays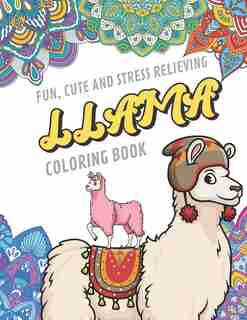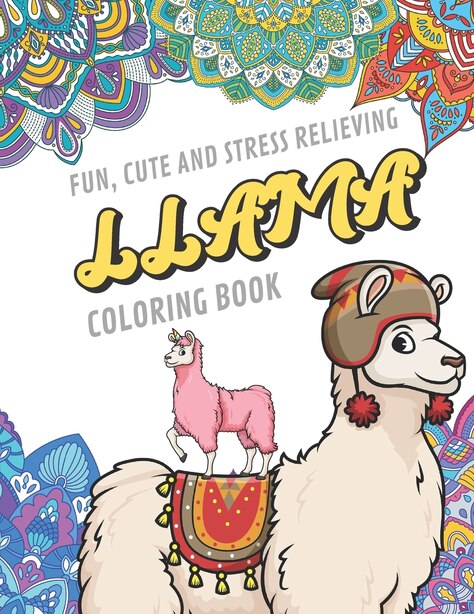 Find In Store
Prices and offers may vary in store
LLAMA COLORING BOOK - MAKES FOR A PERFECT GIFT FOR KIDS AND ADULTS!
This book was created for those who love to relax and color, while also appreciating one of the most popular and adored pets and animals in the world today... which is the llama of course! We are talking about a fun loving animal that was once quite popular in the wild, but is now mainly found in local zoos and farms, and in the Middle East. However, this coloring book is unlike any other animal and pet coloring book. Instead, it's all about coloring in llamas in their fun everyday lives while also having a wonderful mandala pattern design behind each of them.
Forget visiting your favorite local farm or zoo, and take a moment to slow things down and bring some relaxation and imagination into your daily life by coloring in our amazing assortment of llamas who are just looking for some color in their lives. These adorable animal character designs and cartoons are filling up every page of the book and just waiting for you to color them in with your favorite pens, pencils, crayons or markers. Even better, you won't just be coloring in cute and cuddly farm animals, but also the detailed and original selection of mandala patterns that each is placed on as well. There are billions of animals in the world today, but when they are in full black and white again an creative mandala patter design, they are so much better!
To make this humor filled and farm friendly animal inspired color book even better, it's not only loaded with a complete set of original coloring pages of your favorite llamas, it also has 30 original and custom created mandalas to color in as well. Some animals and characters might seem similar but they aren't. And even better, all of the mandala design patters will always be unique, which provides you with a completely different look and feel every time.
Another added bonus within this coloring book, is that each page is on a sheet of it's own, so you won't have to worry about color bleeding through to the other site. On the back of each page you will also find a faint "OriginalColoringPages" message and logo design to keep the inspiration going as you make your way through each of the unique designs and pages in the book.
Coloring Pages Include the Following Designs:
Sleepy time with llama and his magical star sleeping hat
Time to get some food and eat up as much grass as possible
It's party time! Mr Llama already has his hat and party outfit on
Someone is ready to party today. Llama already has his heart glasses on
Is that a unicorn or a llama? You will just have to see for yourself
and more
Details of the Coloring Book:
SIZE: 8.5x11
PAPER: Black and White Coloring Pages
FEATURES: Character Designs with Mandala Background
PAGES: 66 Pages
COVER: Soft Cover (Matte)
Order your copy today!
Title:
Fun Cute And Stress Relieving Llama Coloring Book: Find Relaxation And Mindfulness By Coloring the Stress Away With Beautiful Black and White Llama Cartoon Characters and Mandala Color Pages For All Ages. Perfect Gag Gift Birthday Present or Holidays
Product dimensions:
66 pages, 11 X 8.5 X 0.14 in
Shipping dimensions:
66 pages, 11 X 8.5 X 0.14 in
Publisher:
Amazon Digital Services LLC - Kdp
Appropriate for ages:
All ages