Fundamentals Of Biomechanics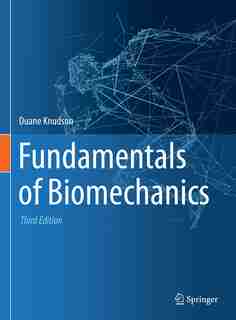 Fundamentals of Biomechanics, 2nd edition, presents a clear, conceptual approach to understanding biomechanics within the context of the qualitative analysis of human movement. The philosophy is to blend up-to-date biomechanical knowledge (with extensive referencing for student study) with professional application knowledge. This true application of biomechanics in real-world settings is missing in previous biomechanics texts.
The text provides real-world examples of the application of biomechanics several ways. Like other texts, human movement examples and problems are discussed to help teach biomechanical variables and concepts. This text, however, goes beyond this physics class with sport example approach. First, nine principles of biomechanics are developed throughout the book to link theoretical knowledge with practical/professional principles and application. These nine generic application principles are based on the laws and concepts of biomechanics, so they can be applied to all human movements. There principles help PETE majors address standard 2 on applying movement concepts and principles in physical education (NASPE, 1995). Most biomechanics texts that have tried to develop principles for application have created many specific observations about many categories of human movement, so students tend to get lost. Second, the last section of the book develops the application of biomechanics in qualitative analysis of several movements in four professional areas: physical education, coaching, strength & conditioning, and sports medicine. These guided tours of the application of biomechanics to solve human movement problems are similar to the extensive interdisciplinary qualitative analysis tutorials in Knudson & Morrison (2002).
Title:
Fundamentals Of Biomechanics
Format:
Hardcover
Product dimensions:
10.98 X 8.27 X 0 in
Shipping dimensions:
10.98 X 8.27 X 0 in
Published:
December 19, 2020
Publisher:
Springer Nature
Language:
English
The following ISBNs are associated with this title:
ISBN - 10:303051837X
ISBN - 13:9783030518370
Look for similar items by category: