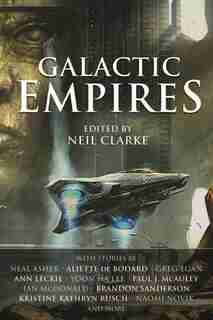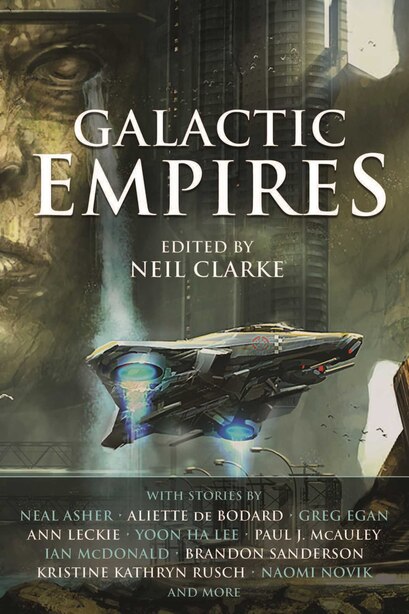 Find In Store
Prices and offers may vary in store
"Over all this anthology is mostly hits, remarkably few misses. Highly recommended."—N.K. Jemisin, New York Times Book Review

Neil Clarke, publisher of the award-winning Clarkesworld magazine, presents a collection of thought-provoking and galaxy-spanning array of galactic short science fiction.

From E. E. "Doc" Smith's Lensman, to George Lucas' Star Wars, the politics and process of Empire have been a major subject of science fiction's galaxy-spanning fictions. The idiom of the Galactic Empire allows science fiction writers to ask (and answer) questions that are shorn of contemporary political ideologies and allegiances. This simple narrative slight of hand allows readers and writers to see questions and answers from new and different perspectives.

The stories in this book do just that. What social, political, and economic issues do the organizing structure of empire" address? Often the size, shape, and fates of empires are determined not only by individuals, but by geography, natural forces, and technology. As the speed of travel and rates of effective communication increase, so too does the size and reach of an Imperial bureaucracy. Sic itur ad astraThus one journeys to the stars."

At the beginning of the twentieth century, writers such as Kipling and Twain were at the forefront of these kinds of narrative observations, but as the century drew to a close, it was writers like Iain M. Banks who helped make science fiction relevant. That tradition continues today, with award-winning writers like Ann Leckie, whose 2013 debut novel Ancillary Justice hinges upon questions of imperialism and empire.

Here then is a diverse collection of stories that asks the questions that science fiction asks best. Empire: How? Why? And to what effect?

Table of Contents:
- Winning Peace" by Paul J. McAuley
- Night's Slow Poison" by Ann Leckie
- All the Painted Stars" by Gwendolyn Clare
- Firstborn" by Brandon Sanderson
- Riding the Crocodile" by Greg Egan
- The Lost Princess Man" by John Barnes
- The Waiting Stars" by Aliette de Bodard
- Alien Archeology" by Neal Asher
- The Muse of Empires Lost" by Paul Berger
- Ghostweight" by Yoon Ha Lee
- A Cold Heart" by Tobias S. Buckell
- The Colonel Returns to the Stars" by Robert Silverberg
- The Impossibles" by Kristine Kathryn Rusch
- Utriusque Cosmi" by Robert Charles Wilson
- Section Seven" by John G. Hemry
- The Invisible Empire of Ascending Light" by Ken Scholes
- The Man with the Golden Balloon" by Robert Reed
- Looking Through Lace" by Ruth Nestvold
- A Letter from the Emperor" by Steve Rasnic Tem
- The Wayfarer's Advice" by Melinda M. Snodgrass
- Seven Years from Home" by Naomi Novik
- Verthandi's Ring" by Ian McDonald

Skyhorse Publishing, under our Night Shade and Talos imprints, is proud to publish a broad range of titles for readers interested in science fiction (space opera, time travel, hard SF, alien invasion, near-future dystopia), fantasy (grimdark, sword and sorcery, contemporary urban fantasy, steampunk, alternative history), and horror (zombies, vampires, and the occult and supernatural), and much more. While not every title we publish becomes a New York Times bestseller, a national bestseller, or a Hugo or Nebula award-winner, we are committed to publishing quality books from a diverse group of authors.
Product dimensions:
636 pages, 9 X 6 X 1.7 in
Shipping dimensions:
636 pages, 9 X 6 X 1.7 in
Published:
January 17, 2017