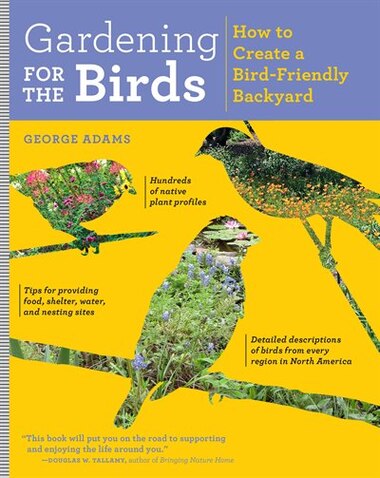 Gardening for the Birds: How to Create a Bird-Friendly Backyard
Paperback

|

July 2, 2013
Pricing and Purchase Info
$37.95
list price
save 18%
Prices and offers may vary in store
"This book will put you on the road to supporting and enjoying the life around you."—Douglas W. Tallamy, author of Bringing Nature Home

You may already have a bird feeder in your yard, but you can attract a far wider range of species, and they will stay longer, if you create a bird-friendly landscape. Gardening for the Birds shows you how. With profiles of hundreds of native plants, extensive seasonal bloom and fruiting charts, and techniques for creating a balanced ecosystem, this book helps you turn any space—from a small, urban terrace to a large suburban yard—into a home for a fascinating variety of birds. Close-up profiles of birds from across all regions of North America teach you their nesting, breeding, and feeding habits.
Title:
Gardening for the Birds: How to Create a Bird-Friendly Backyard
Format:
Paperback
Dimensions:
444 pages, 9.63 X 7.75 X 0.88 in
Published:
July 2, 2013
Publisher:
Timber Press
Language:
English
The following ISBNs are associated with this title:
ISBN - 10:1604694092
ISBN - 13:9781604694093
Look for similar items by category:
Preview Your Review
Your Review Has Been Submitted
NO, I do not recommend this product.
Educational/Developmental Value:
Thank you. Your review has been submitted and will appear here shortly.
Read from the Book
Introduction Birds have inspired mankind through the ages, bringing joy, song, and color to our gardens while taking away only insect pests. You and your family can have countless hours of pleasure from birds, plants, and the natural environment when you create a bird-friendly garden as your own backyard sanctuary. Your garden will become a source of entertainment and a restful escape from the pressures of the outside world. When you landscape your yard with carefully chosen regional native plants to provide food, shelter, and nesting sites for birds, you'll find that an increased variety of birds will visit—species that might not usually be regarded as garden birds or attracted to a bird feeder. You will be providing a variety of food niches in your garden, and you will also be creating an environment that will encourage biodiversity, from the tiny organisms we are barely aware of, to captivating butterflies, moths, and dragonflies. Even if you only have a small place for planting, choosing plants that are beneficial to birds will add to the overall availability of habitat for our local bird populations. A great benefit of creating a bird-friendly landscape is enjoying your garden while watching a bluebird dropping in for a worm in a freshly dug patch, a phoebe snapping at insects, or a hummingbird probing nectar-rich flowers while robins sing in the trees. Simply put, when you create a garden with attracting birds in mind, you will be providing an open invitation for spectacular birds to make your garden their home. To attract birds to your garden, the backbone of your landscaping plan should be local native plants. By putting in native plants and using an organic, sustainable approach to gardening, you establish a balanced ecosystem in your yard. A greater variety of birds and butterflies will visit and linger, insect pests will be kept under control by insect-eating birds (reducing the need for harmful insecticides), and the wonder of nature will be part of your everyday living environment. The ultimate aim of this book is to give you the tools to set up a sustainable ecosystem in your own yard. There, the natural order of things can flourish and you can count the local birds among your companions.   It is easy to turn an ordinary landscape into an extraordinary backyard filled with lively, colorful birds. In this book, I explain how. First, I introduce you to the basics of planning and creating a bird-friendly garden. I discuss the elements that all birds need—food, water, shelter, and nesting sites—and give you plenty of practical suggestions for providing them in your yard. You'll find details on creating a hummingbird garden, and how to use wildflowers to provide for butterflies and seed-eating birds. I've also included flowering and fruiting calendars to help you select plants for a continuous supply of nectar, fruit, and seeds. And I offer tips for the best native nesting and shelter plants and how to build nest boxes. Next, in part 2, I guide you through understanding how your yard fits into the larger environment of your region and what plants will grow well in your geographic area. I discuss the importance of native plants in attracting birds, and give you helpful information on planning and creating a garden that will be full of likely bird habitats. To help you get your garden up and growing, I include many how-to tips: on soil care, planting, plant care, and plant feeding. And to make this section even more useful, I clarify how to choose and use plants in the garden to attract the most diverse range of birds. You'll also find suggestions on working with small garden spaces, and how to protect your garden from pests and unwanted visitors. The Plant Directory, part 3, is a detailed guide to important North American native plants that provide food, shelter, and nesting sites for local birds. The native trees, shrubs, vines, perennials, annuals, ground covers, and grasses I describe are all beautiful landscape plants that appeal to the gardener as much as to the birds. Many of them may already occur naturally in your area. Each plant is discussed and many are illustrated in a color photograph. You'll find a list of birds attracted to the plants. Then I give the best plant species for attracting birds, with descriptions, distribution, cultivation information, and hardiness zones for each. Part 4, the Bird Directory, provides discussion of many of the delightful birds you may want to attract to your backyard garden. I have featured a broad selection of the most beloved birds from coast to coast, from the eastern bluebird to Anna's hummingbird. Each entry has a photo of the bird and one of my original drawings of the bird with a favorite native plant. You'll find a description of the bird and its habits, what its song sounds like, plus its preferred habitat, breeding behavior, nesting style, and feeding habits. A range map is provided for each bird, along with its migration and winter range and its breeding range, so you can see if it lives or spends time in your area. A list of plants for food and shelter tells you good plant choices to attract each bird. At the back of the book, I've also provided a metric conversion chart. And if you want to learn more about birding and gardening to attract birds, I have included a resources section as well as a reading list. Joining some of the organizations listed in the resources is not only a great way to learn more; it's a wonderful way to meet other native plant enthusiasts and fellow bird fans. By establishing a bird-friendly ecosystem around your home, arresting color, birdsong, and antics of our native birds will add to the splendor of native trees, shrubs, and wildflowers to create a spiritually uplifting garden environment. You will also be making an important contribution toward the preservation of North America's distinctive natural heritage.  
Editorial Reviews
"Adams' how-to involves the use of native plants as the central structure both for building a cozy bird-welcoming ecosystem and aiding the preservation of North America's distinctive natural heritage. He provides steps for planning, which include providing food, shelter, water, and nesting sites and planting wildflowers. . . . an engaging and inspiring comprehensive guide." —Booklist   "Helpfully detailed and brightly illustrated information about horticulture and garden design strategies. . . . this book will draw birders to gardening; gardeners to birding; and non-gardeners and non-birders to both. The charts are easy to read and the information about birds and bushes is accessibly organized, offering a sublime adventure for the average gardener." —Publishers Weekly "A beautiful and comprehensive guide. . . . packed with hundreds of color photos of American birds—fiery cardinals, tawny sparrows, blazing bluebirds—and the vast array of attractive plants they prefer for feeding and nesting." —Chicago Tribune "Adams has written this informative guide to help make even the simplest backyard more hospitable to birds." —Better Homes and Gardens "If you'd like to create welcoming habitat for the birds most likely to occur in your area, this is the ultimate guide to help you make the best plant selections for doing so." —American Gardener "If you own only one book about attracting birds—Gardening for the Birds has all the useful information you will need to create your own bird sanctuary in your own garden." —Birds and Blooms "Among the best we've seen. . . . Adams describes how to develop a landscape plan, lists the best native plants for five regions of North America, and plots blooming times for hummingbird and butterfly flowers." —BirdWatching "Gardening for the Birds is packed with interesting, useful information about both birds and the native plants they depend on, but it's truly beautiful too. The photographs are excellent, the layout is gorgeous, and there are impressive pen and ink illustrations by the author himself. I would go so far as to say that everyone interested in wildlife gardening should have this book! I have not seen a more thorough treatment of the subject by anyone for the home gardener, and the presentation is a quite a treat as well." —A Charlotte Garden "This is a very good book about gardening for birds. . . . a fine choice if you're at all interested in attracting birds by gardening for them." —The Metropolitan Field Guide "Whether you're a gardener who's new to birding or a birder who's new to gardening, I think you'll find Gardening for the Birds: How to Create a Bird-Friendly Backyard a valuable resource and one of those go-to book on your gardening, or is it birding, bookshelf." —Native Plants and Wildlife Gardens