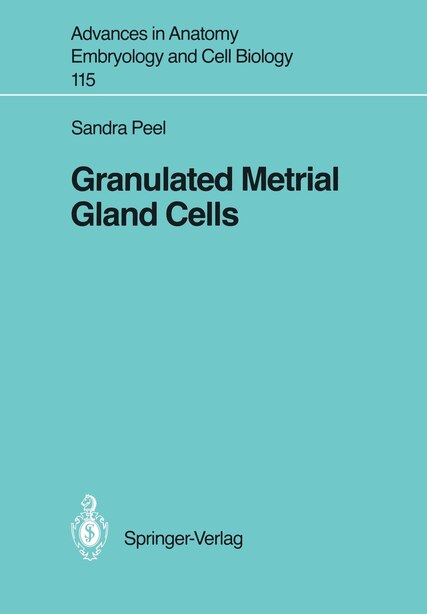 Granulated Metrial Gland Cells
Paperback

|

April 24, 1989
Pricing and Purchase Info
Prices and offers may vary in store
1. 1 Historical Aspects and Terminology Granulated metrial gland (GMG) cells are readily identified by their cytoplasmic granules and were observed a number of years before the term "metrial gland" was introduced. A series of papers by Duval in 1891 provided a comprehensive description and a critical review of earlier studies of the placenta of rodents, but it was not until 1902 that the first convincing illustrations of GMG cells appeared in the literature (Jenkinson 1902). Jenkinson described "maternal glycogen cells" in the pregnant mouse uterus and noted that they contained cytoplasmic granules which stained with a variety of dyes. From his detailed description of the appearance and distribution of these maternal glycogen cells it is clear that he had observed what are now called granulated metrial gland cells. In 1911 Ancel and Bouin used the phrase une glande myometriale endocrine to describe a structure appearing between the muscle layers of the uterus at the insertion site of the placenta in rabbits. They described one of the cell types present in the glande myometriale as having the characteristics of glandular cells and noted their content of safraninophilic cytoplasmic granules. A glande myometriale endo­ crine was also described in the pregnant rat uterus by Weill (1919). He reported that the cellules granuleuses contained acidophilic inclusions and despite the absence of any illustrations in his paper it is apparent that he also had observed GMG cells.
Title:
Granulated Metrial Gland Cells
Format:
Paperback
Product dimensions:
117 pages, 9.61 X 6.69 X 0 in
Shipping dimensions:
117 pages, 9.61 X 6.69 X 0 in
Published:
April 24, 1989
Publisher:
Springer Berlin Heidelberg
Language:
English
The following ISBNs are associated with this title:
ISBN - 10:3540503900
ISBN - 13:9783540503903
Look for similar items by category:
Preview Your Review
Your Review Has Been Submitted
NO, I do not recommend this product.
Educational/Developmental Value:
Thank you. Your review has been submitted and will appear here shortly.
Table of Contents
1 Introduction.- 1.1 Historical Aspects and Terminology.- 1.2 Scope of This Review.- 1.3 Temporal Events.- 2 Granulated Metrial Gland Cell Structure.- 2.1 Cell Shape and Nuclear Form.- 2.2 Cytoplasmic Appearance and Content.- 3 Distribution of GMG Cells in the Normal Uterus.- 3.1 Mice.- 3.1.1 Virgin Mice.- 3.1.2 Pre-implantation Stages.- 3.1.3 Post implantation Stages.- 3.1.3.1 Day 5-7.- 3.1.3.2 Day 7½-9.- 3.1.3.3 Day 10-13.- 3.1.3.4 Day 14 to Parturition.- 3.1.3.5 Postpartum.- 3.2 Rats.- 3.2.1 Virgin Rats and Pre-implantation Stages.- 3.2.2 Post implantation Stages.- 3.2.2.1 Day 6-8.- 3.2.2.2 Day 9-12.- 3.2.2.3 Day 13-16.- 3.2.2.4 Day 17 to Parturition.- 3.2.2.5 Postpartum.- 4 Distribution of GMG Cells in Deciduomata.- 4.1 Mice.- 4.2 Rats.- 5 Origin of GMG Cells.- 6 Fate of GMG Cells.- 6.1 Degeneration in Situ.- 6.1.1 Mice.- 6.1.2 Rats.- 6.2 Migration of GMG Cells.- 7 Granulated Metrial Gland Cells in Relation to Other Cells in the Uterus.- 7.1 Fibroblasts.- 7.2 Decidual Cells.- 7.3 Smooth Muscle Cells.- 7.4 Macrophages.- 7.4.1 Morphological Appearance.- 7.4.2 Monocytic Origin.- 7.4.3 Endocytotic Activity and Lysosomal Enzyme Content.- 7.4.4 Fc Receptors.- 7.4.5 Antigenic Markers.- 7.4.6 la-Positive and Antigen-Presenting Cells.- 7.5 Mast Cells.- 7.6 Leucocytes.- 7.7 Plasma Cells.- 7.8 Lymphocytes.- 7.8.1 Lymphocytes as Candidates for GMG Cell Precursors.- 8 Control.- 8.1 Influence of Semen, Spermatozoa and Products of Conception.- 8.2 Influence of Ovarian Hormones.- 8.2.1 Ovariectomy During Pregnancy.- 8.2.2 Ovariectomy Followed by Progesterone Treatment.- 8.2.3 Deciduomata and Ovarian Hormones.- 8.2.4 In Vitro Studies.- 8.3 Influence of Other Factors.- 9 Function of GMG Cells.- 9.1 Nutrition.- 9.2 Protein Synthesis.- 9.3 Steroid Synthesis.- 9.4 Endocytosis.- 9.5 Vascular Monitoring.- 9.6 Immunological Function.- 10 Summary.- 11 Addendum.- References.