Groping for Truth - My Uphill Struggle for Respect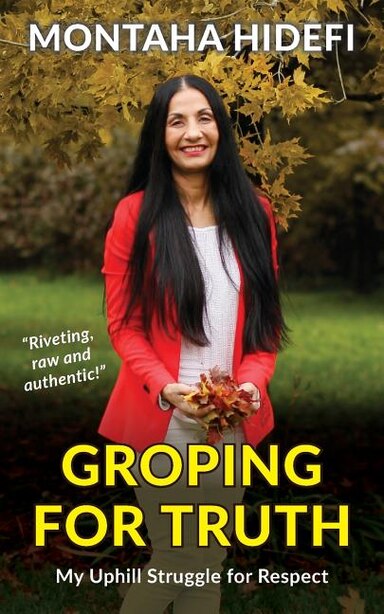 Buy In Store
To check store inventory,
Prices and offers may vary in store
Montaha Hidefi's Groping for Truth - My Uphill Struggle for Respect, is a gripping #MeToo movement-inspired memoir that recaps the staggering story of sexual harassment and violence she endured throughout her life. The abuse began at the hands of her own mother and people from her community and then followed her around the globe. The author's pain is palpable as she recollects the rollercoaster of emotions of a childhood shattered by physical abuse and mental manipulation and decades of unwelcome sexual advances, groping and assault - even attempted murder. She shares her journey of grappling with the pain and internal demons that resulted in phobias and rebellion against old traditions.
This is the story of the transformation of a mistreated young girl and battered woman who refused to succumb to the cycle of violence and used the scars of childhood abuse as motivation to create a better life. Through sheer determination, Montaha pursued higher education and rose to the level of global executive, a victory over her abusers. It's an inspiring story of love and perseverance in the quest for respect as a female in a male-dominated society.
"Reading how violence can have a big influence on a child's life, this book could really change how people treat their children." Yasmine Elkhalil, stay-at-home mom, avid reader, Dubai, UAE
"Such a rough time the author endured at a young age. I can't imagine, well I can now, because she described it so well, I felt like I was there." Peggy van Allen, designer, colour anthropologist, Chicago, USA
"This book reads beautifully. I love the tone. The depth of detail is rich and evocative. The pacing moves along, yet pauses where it needs to, when the author explores the past. The emotion is so strong and palpable that the author carries the reader right along with her." Levin Chin, designer, researcher, Basel, Switzerland
"It is a very powerful read. It brings the reader right into the author's childhood. I just wanted to pick up the child and hug and protect her. Physical abuse is bad enough, but the emotional abuse was heartbreaking." Renata DeForest, massage therapist, Guelph, Canada
"What popped into my head first after reading this was that it had so much detail that it genuinely made me feel like that little girl growing up in Venezuela." Teresa Goguen, avid reader, Guelph, Canada
"An amazing story and emotional roller coaster to read this book " Karl Rijkse, research and development, Grand Haven, USA
"Wow, great story I love the way the author described her feelings. It made me feel all those emotions. It is very sad and disturbing what she had to go through." Natasha Vukoje, CPA, CGA, Guelph, Canada
Title:
Groping for Truth - My Uphill Struggle for Respect
Product dimensions:
156 pages, 8 X 5 X 0.33 in
Shipping dimensions:
156 pages, 8 X 5 X 0.33 in
Published:
December 6, 2018
Appropriate for ages:
All ages
Look for similar items by category: