Hand Sewing Magic: Essential Know-How for Hand Stitching--*10 Easy, Creative Projects *Master Tension and Other Techniques * With Pro Tips, Tricks, and Troubleshooting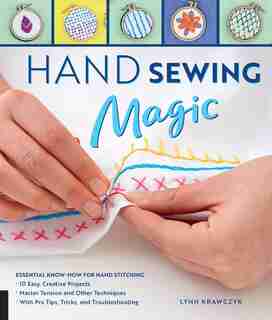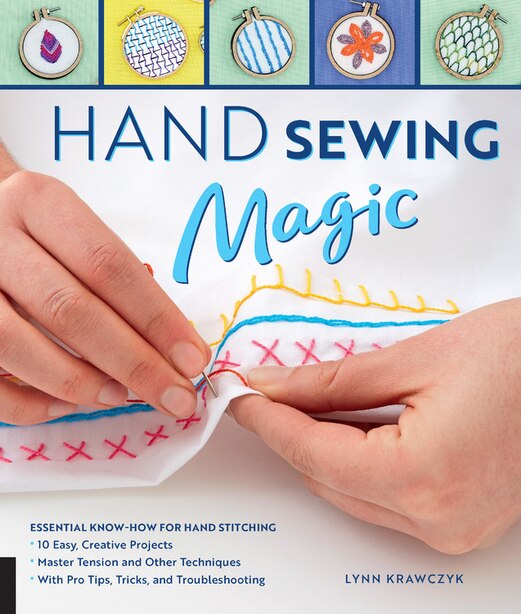 Find In Store
Prices and offers may vary in store
​Hand Sewing Magic is an essential reference for all things stitching, including how-tos for dozens of stitches, sewing and mending basics, stunning embroidered embellishments, and fun, creative projects.

Discover the pleasures of slow stitching as Lynn Krawczyk shows you how to enjoy the meditative and mindful process of stitching by hand. Stitching and embroidery are great ways to add color, texture, and interest to all kinds of textiles, and you'll see how easy it is to develop a distinctive style.

After mastering a variety of stitches, apply them to imaginative projects, such as a boro sketchbook cover, a stuffed toy bunny, a wabi sabi neck scarf, and an embroidered square bowl.

Even experienced sewers and embroiderers will learn how to transfer patterns, ideas for organizing and caring for thread, differences in thread types, and great troubleshooting tips.

Hand Sewing Magic is a modern, all-in-one guide for hand stitchers of all levels of skill and experience, and for all applications. In this unique guide book you will:
Get an in-depth overview of essential tools and materials, including thread, needles, fabric, and other key supplies.
Explore a comprehensive visual dictionary of 35 stitches, plus dozens of variations, including basic mending, stylish decorative embellishments, and unique art stitching.
Discover key techniques, such as starting and ending threads, the correct way to use an embroidery hoop, stitching curved shapes, color shading, and more.
Gain confidence in your stitching and embroidery skills as you try new techniques.
Learn essential tips and tricks from influential and innovative stitchers, including Joanne Sharpe, Allison Aller, and Catherine Redford.
Use stitches and techniques in unique ways for 10 simple and stunning projects. 
With Hand Sewing Magic, you'll make the most of your hand stitching and give all your projects a beautiful handmade look.
Title:
Hand Sewing Magic: Essential Know-How for Hand Stitching--*10 Easy, Creative Projects *Master Tension and Other Techniques * With Pro Tips, Tricks, and Troubleshooting
Product dimensions:
144 pages, 10.13 X 8.63 X 0.5 in
Shipping dimensions:
144 pages, 10.13 X 8.63 X 0.5 in
Published:
December 4, 2018