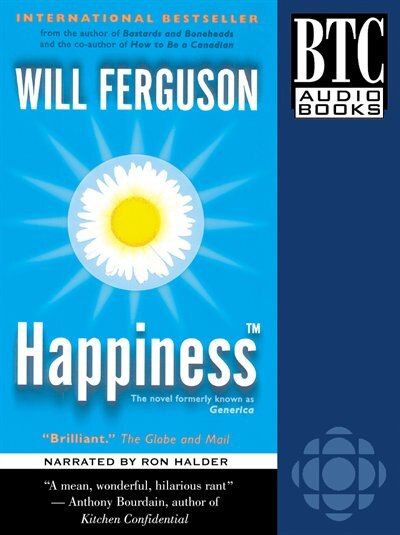 Buy In Store
Prices and offers may vary in store
In this audiobook of his satirical, fast-paced novel, Will Ferguson, the author of the critically acclaimed Hokkaido Highway Blues, skewers American society's obsession with self-improvement. When an enormous self-help manuscript arrives on the desk of Edwin de Valu, a stressed-out, overworked, and underpaid editor at New York's Panderic Press, its fate seems destined for the bin. Edwin's cynicism about self-help books, coupled with his filthy mood that morning, results in his dismissing Tupak Soiree's What I Learned on the Mountain in the most ignominious fashion: he doesn't even bother to reply. However, during an editorial meeting Edwin is confronted by a questioning publisher, one desperate for the next big thing. Without thinking, and in need of something to report, Edwin begins to extol the virtues of What I Learned on the Mountain, and the excitement around the table is palpable.
With every reason. Tupak Soiree's doorstopper becomes a very unique thing: a self-help book that actually works, and it launches a chain of events that will have enormous consequences not just on Edwin's life but for the world at large. Suddenly, everyone CAN be happy, CAN lose weight and stop smoking, and CAN get rich quick. Edwin fears that the bliss he has unleashed on the world may indeed be a curse.
One by one his friends and family take up the cult of "Happiness" (a word now trademarked by Panderic Press). Soon Edwin begins to see that any system of blind acceptance is ultimately destructive. He realizes that he is the unlikely champion that fate has chosen to fight the menace of Happiness™.
Happiness ™ is a masterpiece of comic fiction, a must for anyone who has retched on Chicken Soup for the Soul but deep down felt the need for some spiritual and emotional guidance. Or as Tupac Soiree says: LIVE! LOVE! LEARN!
Format:
Audio Book (Cassette)
Product dimensions:
1 pages, 5.51 X 4.27 X 1.35 in
Shipping dimensions:
1 pages, 5.51 X 4.27 X 1.35 in
Publisher:
Goose Lane Editions
Appropriate for ages:
All ages
Look for similar items by category: