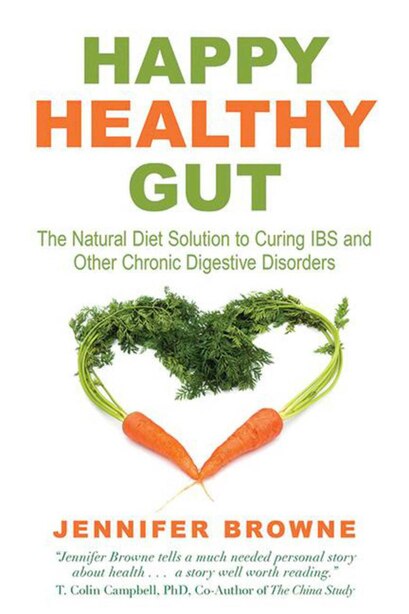 Happy Healthy Gut: The Plant-Based Diet Solution to Curing IBS and Other Chronic Digestive Disorders
Paperback

|

January 5, 2016
Pricing and Purchase Info
$24.99
list price
save 8%
Prices and offers may vary in store
Millions of Americans deal with daily digestive malfunction and attribute it to genetics or faulty wiring. Jennifer Browne reveals the common denominator present in almost all chronic digestive angst: food. What we choose to fuel ourselves with has a direct impact on every part of our bodies, starting with the digestive system. Browne urges us to take responsibility for our own health and make conscientious decisions regarding the cause and effect foods have on our digestive tracts. Written in frank, humorous layman's terms and sharing her own personal success story along with others', Browne passionately educates her readers on why a plant-based diet is the only prescription necessary for a happy, healthy tummy. Discover the direct correlation between digestive trauma and factory farming; the incredible benefits of juicing, fermenting, and sprouting food; the reason why GMOs lead to IBS; and what ingredients really just translate to "sugar" or "lab-created chemical." Happy Healthy Gut is an easy read that is truly important and highly informative for anyone who has ever dreamed of a perfectly functioning digestive system.
Title:
Happy Healthy Gut: The Plant-Based Diet Solution to Curing IBS and Other Chronic Digestive Disorder...
Format:
Paperback
Product dimensions:
272 pages, 9 X 6 X 0.9 in
Shipping dimensions:
272 pages, 9 X 6 X 0.9 in
Published:
January 5, 2016
Publisher:
Skyhorse
Language:
English
The following ISBNs are associated with this title:
ISBN - 10:1634506731
ISBN - 13:9781634506731
Look for similar items by category:
Preview Your Review
Your Review Has Been Submitted
NO, I do not recommend this product.
Educational/Developmental Value:
Thank you. Your review has been submitted and will appear here shortly.
Editorial Reviews
"Jennifer Browne tells a much needed personal story about health.Few disease clusters are so confusing fas are the gastrointestinaldiseases—often vague diagnoses and lots of misery. A good personalstory along with some respectable science is very much in order.Here's a start well worth reading."—T. Colin Campbell, PhDProfessor Emeritus of Nutrition Biochemistry, Cornell UniversityCo-Author of the best selling The China Study"Happy Healthy Gut is a necessary read for all. Jennifer Browne notonly provides effective solutions for those suffering from digestivedisorders, but provides the link between gut health and optimalhealth, encouraging everyone to feel their absolute best! Brownefilters through all the crap (pun intended) and provides insight andeducation in a way that's approachable, direct and fun to read!"—Peggy Kotsopoulos, Registered Holistic Nutritionistand author of Must Have Been Something I Ate"Digestive disease is the source of suffering and debilitation formillions and millions of people, leaving so many feeling hopeless,afraid, and alone. Happy Healthy Gut provides a healthy, easysolution along with humor, comfort, and a ton of practical tips.Jennifer Browne reaches out to the reader as an empathetic friend,empowering and charming us, and infusing inspiration and hope. Asa fellow IBS sufferer who has vastly improved from the whole food,plant-based diet described in this book, I highly recommend it!"—Julieanna Hever, MS, RD, CPT, author of The Complete Idiot'sGuide to Plant-Based Nutrition and host of Veria Living's wellnesstalk show, What Would Julieanna Do?"Inspiring and informative; Jennifer takes you through her digestivejourney, while educating her readers about the digestive system andthe impact a plant-based diet can have on it. I love finding a booksuch as this one, that brings a true recovery story into the spotlight.The masses need to know that we can become responsible for ourhealth, natural remedies do work, and reversing dis-ease is possible!Thanks for sharing your experiences with us, Jen!"—Stephanie Ablett, CNPCertified Holistic Nutritionist and Vegan Food Enthusiastnaturalginger.ca"If you are one of the tens of millions of people who sufferfrom Irritable Bowel Syndrome, then here is hope! A life of pain,frustration, and limitation is not a foregone conclusion. JenniferBrowne has compiled a wealth of information to assist you in usinga plant-strong diet to achieve a vibrantly healthy digestive system.Happy Healthy Gut is informative, inspirational, and immenselypractical. Read it, apply it, and thrive!"—Ocean Robbins, CEO, The Food Revolution Network,co-author, Voices of the Food Revolution