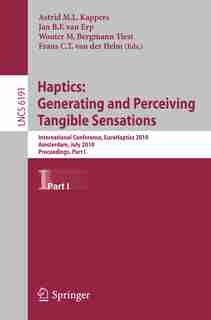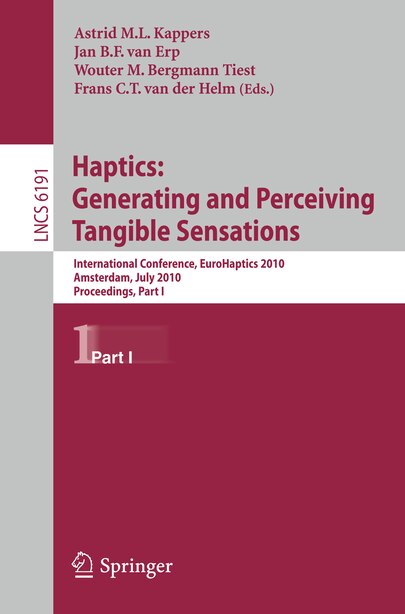 Haptics: Generating And Perceiving Tangible Sensations, Part I: 7th International Conference, Eurohaptics 20
Paperback

|

June 30, 2010
Pricing and Purchase Info
$183.50
Prices and offers may vary in store
Welcome to the proceedings of EuroHaptics 2010. EuroHaptics is the major inter- tional conference and the primary European meeting for researchers in the ?eld of - man haptic sensing and touch-enabled computer applications. We were proud to have received more submissions for presentations, demonstrations and special sessions than ever before. This shows that the topic and the conference''s quality and approach appeal to an increasing number of researchers and companies. We received more than 200 submissions for oral and poster presentations, demos and pre-conference special workshops. A team of 25 associate editors and 241 revi- ers read the submissions and advised the four volume editors. We owe the associate - itors and reviewers many thanks. We accepted 43 submissions as oral and 80 as poster presentations, 7 pre-conference workshops were approved and more than 20 demos could be experienced ''hands-on'' during the conference. The proceedings contain all oral and poster presentation papers. No distinction between the two presentation types was made because selection was not on the basis of submission quality but on relevance for a broad audience. We were proud to add three distinguished keynote speakers to the conference program: Mark Ernst, Rosalyn Driscoll and Patrick van der Smagt. Besidestheauthors,presentersandreviewers,wewouldliketoexpressourgratitude to our supporting organizations, The Netherlands Organisation for Applied Scienti?c Research TNO, VU University Amsterdam, Utrecht University and Delft University of Technology,and to our sponsors,especially ourfour gold-levelsponsors:Force Dim- sion, Engineering Systems Technologies, TNO and Moog.
Title:
Haptics: Generating And Perceiving Tangible Sensations, Part I: 7th International Conference, Euroh...
Format:
Paperback
Product dimensions:
440 pages, 0 X 0 X 0 in
Shipping dimensions:
440 pages, 0 X 0 X 0 in
Published:
June 30, 2010
Publisher:
Springer-Verlag/Sci-Tech/Trade
Language:
English
The following ISBNs are associated with this title:
ISBN - 10:3642140637
ISBN - 13:9783642140631
Look for similar items by category:
Preview Your Review
Your Review Has Been Submitted
NO, I do not recommend this product.
Educational/Developmental Value:
Thank you. Your review has been submitted and will appear here shortly.
Table of Contents
Mass, Force, and Elasticity.- Efficient Bimodal Haptic Weight Actuation.- The Contribution of Proprioceptive and Cutaneous Cues in Weight Perception: Early Evidence for Maximum-Likelihood Integration.- The Shape-Weight Illusion.- Force-Based Calibration of a Particle System for Realistic Simulation of Nonlinear and Viscoelastic Soft Tissue Behavior.- Haptic Perception of Viscosity.- Multi-sensorial Interface for 3D Teleoperations at Micro and Nanoscale.- Classifying Torque, Normal Force and Direction Using Monkey Afferent Nerve Spike Rates.- A New Coupling Scheme for Haptic Rendering of Rigid Bodies Interactions Based on a Haptic Sub-world Using a Contact Graph.- A New Multi-DOF Haptic Device Using a Redundant Parallel Mechanism.- Estimation of Normal and Tangential Manipulation Forces by Using Contact Force Sensors.- Modeling and Experimental Studies of a Novel 6-DOF Haptic Device.- Inertial Force Display to Represent Content Inside the Box.- Perception of Stiffness during Interaction with Delay-Like Nonlinear Force Field.- Improving the Prediction of Haptic Impression User Ratings Using Perception-Based Weighting Methods: Experimental Evaluation.- Vibrotactile Force Perception Thresholds at the Fingertip.- Optimum Design of 6R Passive Haptic Robotic Arm for Implant Surgery.- Creating Virtual Stiffness by Modifying Force Profile of Base Object.- Extended Rate-Hardness: A Measure for Perceived Hardness.- Using a Fingertip Tactile Device to Substitute Kinesthetic Feedback in Haptic Interaction.- The Effect of Bimanual Lifting on Grip Force and Weight Perception.- How to Build an Inexpensive 5-DOF Haptic Device Using Two Novint Falcons.- Revisiting the Effect of Velocity on Human Force Control.- Teleoperation.- A Coordinating Controller for Improved Task Performance in Multi-user Teleoperation.- Mechatronic Design Optimization of a Teleoperation System Based on Bounded Environment Passivity.- On the Impact of Haptic Data Reduction and Feedback Modality on Quality and Task Performance in a Telepresence and Teleaction System.- Stability Analysis of Mobile Robot Teleoperation with Variable Force Feedback Gain.- Transparency of the Generalized Scattering Transformation for Haptic Telepresence.- VerroTouch: High-Frequency Acceleration Feedback for Telerobotic Surgery.- A Turing-Like Handshake Test for Motor Intelligence.- The Influence of Different Haptic Environments on Time Delay Discrimination in Force Feedback.- Perception and Action in Simulated Telesurgery.- Parallel Kinematics for Haptic Feedback in Three Degrees of Freedom: Application in a Handheld Laparoscopic Telemanipulation System.- Mechanical Impedance: A Cobotic and Haptic Actuators Performance Criterion.- Online Intention Recognition in Computer-Assisted Teleoperation Systems.- Evaluation of a Coordinating Controller for Improved Task Performance in Multi-user Teleoperation.- Effects of Force Feedback and Arm Compliance on Teleoperation for a Hygiene Task.- Telepresence Technology for Production: From Manual to Automated Assembly.- High Fidelity Haptic Rendering for Deformable Objects Undergoing Topology Changes.- Novel Approaches.- Basic Properties of Phantom Sensation for Practical Haptic Applications.- Evaluation of Transmission System for Spatially Distributed Tactile Information.- Electro-tactile Display with Real-Time Impedance Feedback.- Life Log System Based on Tactile Sound.- What Is It Like to Be a Rat? Sensory Augmentation Study.- Innovative Real-Time Communication System with Rich Emotional and Haptic Channels.- Tactile vs Graphical Authentication.- Haptics Can "Lend a Hand" to a Bionic Eye.- Analysis of Active Handrest Control Methods.- Roly-poly: A Haptic Interface with a Self-righting Feature.- HaptiHug: A Novel Haptic Display for Communication of Hug over a Distance.- Physical Contact of Devices: Utilization of Beats for Interpersonal Communication.- Tremor Suppression Control for a Meal-Assist Robot.- Reflective Haptics: Enhancing Stylus-Based Interactions on Touch Screens.- A Novel Tactile Sensor for Detecting Lumps in Breast Tissue.- Tactile Sensation Imaging for Artificial Palpation.- Improving Vehicular Window Control with Haptic and Visual Feedback.- Gesture Recognition in the Haptic Creature.