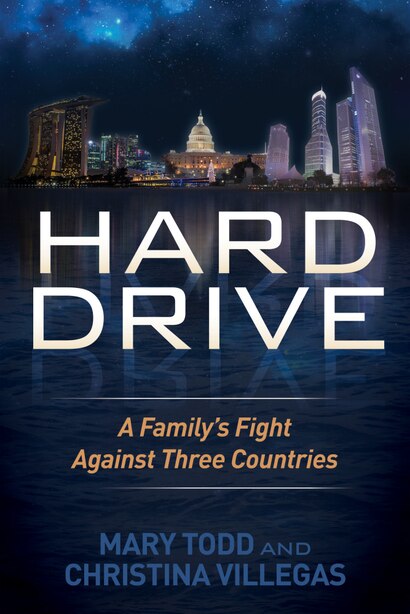 Hard Drive: A Family's Fight Against Three Countries
Paperback

|

September 2, 2014
Pricing and Purchase Info
$17.95
Prices and offers may vary in store
On June 24, 2012, Dr. Shane Truman Todd, a young American engineer, was found hanging in his Singapore apartment, just a week before his scheduled return to the United States. Although Shane had repeatedly expressed apprehension about his work with a Chinese company and fear his life was being threatened, authorities immediately ruled his death a suicide. His family initially didn''t know what to believe. However, upon arriving in Singapore, they realized the evidence suggested not suicide, but murder.

Shane''s family later discovered that what they thought was a computer speaker was actually an external hard drive with thousands of files from Shane''s computer. The information in those files transformed this story from a tragic suicide to an international saga of mystery, deceit, and cover-up, involving three countries. "Hard Drive: A Families Fight against Three Countries" is the captivating story of Shane''s mysterious death and his family''s grueling battle to reveal the truth against powerful forces that have sought to conceal, destroy, or discredit evidence indicating homicide. This story, which is told from the unique perspective of Shane''s mother, Mary, recounts the family''s painful, arduous, and unwavering endeavor to reveal the truth about what happened to Shane Todd in Singapore
Title:
Hard Drive: A Family's Fight Against Three Countries
Format:
Paperback
Product dimensions:
196 pages, 9 X 6 X 0.68 in
Shipping dimensions:
196 pages, 9 X 6 X 0.68 in
Published:
September 2, 2014
Publisher:
Morgan James Publishing
Language:
English
The following ISBNs are associated with this title:
ISBN - 10:1630473367
ISBN - 13:9781630473365
Look for similar items by category:
Preview Your Review
Your Review Has Been Submitted
NO, I do not recommend this product.
Educational/Developmental Value:
Thank you. Your review has been submitted and will appear here shortly.
Read from the Book
The Singapore Police Station, June 27, 2012. Investigating officer (IO) Khal ushered us into a scanty, putrid green room with no windows or pictures hanging on the wall. It felt like an interrogation room for criminals, not a room to console anguished, grieving parents. IO Khal took the chair behind the desk, offering Rick and me the two chairs facing it. There was barely enough room for the fourth chair that was brought from another room for Traci Goins, Vice Consul to the American Embassy. Rajina, the assistant in training, was crammed in the corner and forced to stand for the duration of the meeting, which lasted for several hours. The room was so cramped that when anyone needed to leave, everyone had to stand up and rearrange the chairs to create enough space to open the door. Khal was a twenty-three year old police rookie, with a constant wide, sloppy grin, making it appear as if he were about to blurt out the punchline to a joke, rather than convey the worst news any parent could ever hear. He began the meeting bluntly by asking, "Do you want to know how your son killed himself?" We numbly nodded our heads. Khal began methodically reading from a typed sheet of paper a well-written, detailed description of how they concluded our beloved, first-born son Shane Truman Todd took his own life. The description read more like a novel than a report written by the police: "First he fashioned an elaborate hanging apparatus that included drilled holes into the bathroom wall, bolts, pulleys, and ropes wrapped around the toilet and slung over the bathroom door. On the outside of the closed bathroom door he put the noose around his neck, stood on a chair and dropped to his death." As I listened to the graphic depiction of how my son allegedly killed himself, I was dismayed: "It would take an engineer to design and build something so intricate.someone brilliant like Shane. Is it possible that my son could have taken his own life?" It felt like an out-of-body experience as I contemplated the incredible possibility that I could have missed the signs: "How could my son, a man who loved life, family, and God and who had never been a quitter, so flippantly take his own life without warning?" I was lost in turmoil, struggling between the conviction that I did know my son and anguished wondering if I really didn''t know him at all. Yet, I had to believe the facts that were so meticulously laid out before us. After reading the description of suicide, Detective Khal informed us that Shane had written two suicide notes: "I found the suicide notes in Shane''s apartment on his open computer that was sitting on top of his bed. No one has read them before now. I printed up a copy for each of us. Would you like to read them, and is it all right if I give Ms. Goins and myself a copy?" With our approval, he ceremoniously handed out the notes. As my brain absorbed the words I was reading from the notes, I felt my first sense of joy since learning of my son''s death. The style of writing was completely foreign to me. The notes---addressed "Dear Everyone," "Dear Mom and Dad," "Dear John, Chet, and Dylan," "Dear Shirley," and "Dear Friends" ---were written methodically, without emotion, as if the author was following a checklist of points that needed to be covered. They were void of the tortured despair that a man would express before ending his life. The notes did not contain one memory that held an important spot in our family''s history. There were only two cold sentences to his three brothers, John, Chet, and Dylan, whom he loved beyond measure. The vernacular was not my son''s and one of the memories, "drinking Shirley temples on the beach," never happened. I knew, right then and there, that if my son did not write the suicide notes, he did not commit suicide. It wasn''t until almost a year later that my initial conviction about the notes was scientifically substantiated. With a forceful look, I captured Khal''s eyes and calmly handed the notes back to him: "My son might have committed suicide, but he did not write these notes."
Table of Contents
Chapter 1: The Small Dark Room
Chapter 2: Before Death
Chapter 3: Never the Same
Chapter 4: Black and White
Chapter 5: Strength to Face another Day
Chapter 6: It Is Well
Chapter 7: The Discovery
Chapter 8: The Dream
Chapter 9: The Blatant Lie
Chapter 10: Death in Singapore
Chapter 11: A Law Firm on Every Corner
Chapter 12: The Pro Bono Lawyer
Chapter 13: The Charade
Chapter 14: The NOK Walk Out
Chapter 15: Mr. Dee
Chapter 16: If Shane Didn''t Write the Suicide Notes, He Didn''t Kill Himself
Epilogue
About the Authors
Appendix A: The Alleged Suicide Notes
Appendix B: Ash Massoud''s Analysis of the External Seagate Hard Drive
Appendix C: Dr. Adelstein''s Pathology Report