Hey Ladies, Stop Apologizing ... and Other Career Mistakes Women Make: New 2017-2018 Edition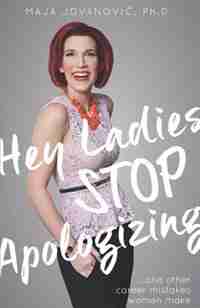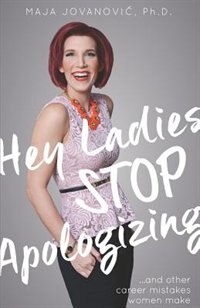 Find In Store
Prices and offers may vary in store
This brand-new 2017-2018 edition now includes even MORE information to push you out of your comfort zone and into action!!!
Do you constantly doubt yourself or your abilities? Do you downplay your achievements or refuse to take credit for a job well done? Do you talk yourself out of doing something just so you won't fail? If so, then you're at the right place.
If you're not ALL IN, ALL THE WAY, ALL THE TIME, then you're nowhere.
Among the problems women face:
We play nice.
We don't ask for what we want.
We don't negotiate.
We apologize. All. The. Time.
We're people-pleasers.
We're over-thinkers.
We suffer from the fraud or imposter syndrome.
We're perfectionists.
We don't self-promote.
My mission is to bring awareness to your bad habits, to push you out of your comfort zone and into action, and to motivate you to reach up, dream bigger, and aspire for leadership positions in all areas of your life.
This is your opportunity to gain confidence and jump-start your life.
Are you ready?
"This pithy and informative text provides women with dozens of activities to help rid themselves of the disease of perfectionism, procrastination, and the obsession with being nice, while also challenging them to improve communication skills and live outside their comfort zones." --Jessica Rose, Hamilton Magazine
See Prof. Maja's interview with Annette Hamm of CHCH's MORNING LIVE at http: //www.chch.com/stop-apologizing/!
ABBREVIATED TABLE OF CONTENTS: 1. THE ALL IN VISION. Lack of Women Leaders. The ALL IN Mindset. Where's Your Fire? What's Your Vision? What Are Your Goals? Never Lower Your Goals. Manage Your Time. Visualize Success. True or False Quiz: Are You Fulfilling Your Potential? 2. BARRIERS. Barrier # 1: Time Scheduling. Punctuality. To-Do List vs. Priority List. Delaying Gratification. Barrier # 2: Procrastination and Perfectionism. Resistance. What Is Self-Compassion? Are You a People Pleaser? The People-Pleaser Quiz. How to Stop Being a People Pleaser. Barrier # 3: Fear. Fear is Holding You Back. Learn From Your Failures. Barrier # 4: Confidence. Rejection. Build Your Self-Confidence. Barrier # 5: Mindset. Body Talk. The Imposter Syndrome. Limit Negativity in Your Life. 3. GOING ALL IN. Change Your Mindset. Stop Ruminating, Start Reframing. How to Stop Over-Thinking. Victim Mindset. Beware of Mediocrity. Always Say "Yes"--to Yourself. Take Credit for Your Work. Embrace Constructive Feedback. Giving Constructive Feedback. Change Your Work Habits. Work at Extraordinary Levels. Always Over-Deliver! 4. COMMUNICATION TOOLKIT. Verbal. Stop Apologizing. Don't Over-Explain. Please Start Asking Questions. Public Speaking Tips. Body Language. Body Language: Do's and Don'ts. 5. SELF-PROMOTION. Self-Promotion Techniques. 6. CAREER STRATEGIES. Technology. Email. Social Media. Networking. Finding a Mentor. Reference Letters. Job-Hunting. Interview Tips. Interview Questions. Interview Follow-up. Negotiation. How to Negotiate Your Salary. How to Negotiate for a Raise or Promotion. 7. CONCLUSION. We Need to Build a Coalition! This Is Not the End.
Title:
Hey Ladies, Stop Apologizing ... and Other Career Mistakes Women Make: New 2017-2018 Edition
Product dimensions:
270 pages, 8.5 X 5.5 X 0.57 in
Shipping dimensions:
270 pages, 8.5 X 5.5 X 0.57 in
Publisher:
Rock's Mills Press