Hijacked: How Your Brain Is Fooled By Food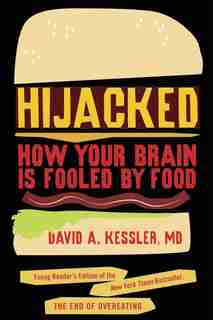 Find In Store
Prices and offers may vary in store
Most people believe that it''s natural to gain a lot of weight as we get older. But this is not true. Kessler knows it''s not true because until about 30 years ago, we did not have a weight problem in North America. In fact, throughout history, the human body weight stayed pretty much the same. People ate the amount of food they needed and no more. Then, in the 1980s, something changed. North Americans started gaining a lot of weight.

     What happened in such a short time to add so many millions of pounds to so many millions of people? Something had changed in North America, but it wasn''t us. It was our food. These processed foods - loaded with sugar, fat, and salt - make it almost impossible for some people to stop eating.

     Many years ago, the food industry managed to figure out that they could sell more food if it had a lot of sugar, fat, and salt in it. Good food should make you feel full and satisfied. But foods that are high in sugar, fat, and salt have the opposite effect on many people. Instead of easing our hunger, these foods make us want to eat more. Even when we''re full, even when we''re not hungry, we feel the need to eat.

     Hijacked helps us understand what it is that we''re eating and helps us train our brains to know when to stop eating and to stop craving food.
Title:
Hijacked: How Your Brain Is Fooled By Food
Product dimensions:
192 pages, 8.6 X 5.7 X 0.84 in
Shipping dimensions:
192 pages, 8.6 X 5.7 X 0.84 in
Appropriate for ages:
All ages