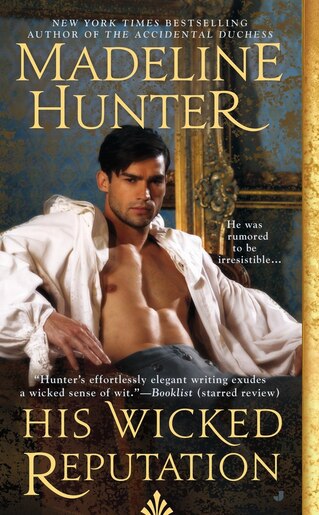 His Wicked Reputation: Wicked Trilogy
Mass Market Paperback

|

March 3, 2015
Pricing and Purchase Info
$9.99
Prices and offers may vary in store
From New York Times bestselling author Madeline Hunter comes the first novel in a Wicked regency romance trilogy about three irresistibly attractive brothers...

Gareth Fitzallen is celebrated for four things: his handsome face, his notable charm, his aristocratic connections, and an ability to give the kind of pleasure that has women begging for more. Normally he bestows his talents on experienced, worldly women. But when he heads to Langdon's End to restore a property he inherited—and to investigate a massive art theft—he lays plans to seduce a most unlikely lady.

Eva Russell lives a spinster's life of precarious finances and limited dreams while clinging to her family's old gentry status. She supports herself by copying paintings while she plots to marry her lovely sister to a well-established man. Everyone warns her of Gareth's reputation, and advises her to lock her sister away. Only it is not her sister Gareth desires. One look, and she knows he is trouble. One kiss, however, proves she is no match for this master of seduction.
Title:
His Wicked Reputation: Wicked Trilogy
Format:
Mass Market Paperback
Product dimensions:
432 pages, 6.75 X 4.17 X 1.12 in
Shipping dimensions:
432 pages, 6.75 X 4.17 X 1.12 in
Published:
March 3, 2015
Publisher:
Penguin Publishing Group
Language:
English
The following ISBNs are associated with this title:
ISBN - 10:0515155160
ISBN - 13:9780515155167
Look for similar items by category:
Preview Your Review
Your Review Has Been Submitted
NO, I do not recommend this product.
Educational/Developmental Value:
Thank you. Your review has been submitted and will appear here shortly.
Read from the Book
CHAPTER 1It was well past noon when the maid delivered the breakfast tray to Hendrika's opulent bedroom. Gareth Fitzallen finished reading the final drafts of a complicated business contract while the servant threw back the curtains and opened the window.Hendrika purred, stretched, and rubbed her eyes. Gareth collected the vellum sheets he had spread over her body, the better to keep them organized. The maid plumped up an assortment of pillows. Hendrika sat up and rested her back against them, exposing her lush, naked body to the maid, to Gareth, and possibly to the family who owned the tall, narrow house across the canal."Do you require anything else?" the maid asked. Her downcast eyes still allowed a gaze that rested on Gareth's bare chest. She glanced up into his eyes for a second through her lashes. Her nostrils flared. The maid was becoming a problem. He did nothing to encourage her, but inevitably Hendrika would see one of the sly smiles or hot looks sent his way.Hendrika shooed the woman away, then poured coffee into the two cups. "What are all these documents?""The shipment to England from Honfleur. We have finalized the terms of the sale. The count's factor and I need only sign. And you, too, of course."Although fair like many of the residents of Amsterdam, Hendrika's eyes could grow very dark when she became thoughtful. They turned black now. "You are sure your brother the duke will guarantee your payment? Elbert would turn over in his grave if he knew I took this cargo from one foreign port to another on credit alone."He set down his coffee on the tray, gently brushed a long lock of her curly blond hair aside, and bent to plant a distracting kiss on the full globe of her breast. "Of all that we have shared this last month, I suspect your late husband would find our partnership in this shipment the least of it."Strong fingers stretched through his hair, then held his head in place, encouraging him to distress Elbert's ghost all the more. She squirmed, almost upsetting the tray, and giggled in the guttural way she had. Then she pushed him away and returned to her breakfast, her breasts now heavy and hard and their tips protuberant. She buttered some bread. "Which jam do you want?""Cherry."Two newspapers had come up with the tray. She took the Dutch one and gave him the one out of Paris. He munched his bread while reading the French political news.Suddenly a grip closed on his arm. Hendrika exclaimed something in Dutch."Gareth, my love," she whispered after taking a deep breath. "Look at this here. Can you read it? Should I translate?"He took the paper. She stroked his arm while he read the short notice she indicated. Five words in he barely noticed her there."Zeus." His own breath caught and held before he exhaled.His half brother Percival, the fourth Duke of Aylesbury, was dead. He had died more than a week earlier. Suddenly. Abruptly. Unexpectedly."This is shocking. He was not a sickly man. Far from it. Young still, too. Only thirty-three.""What is meant, the inquiry is open?" she asked softly."It is just a formality. I must go back, of course. Immediately. I need to help the others, and—""Of course. Of course," she cooed sympathetically.He turned the paper's sheets until he found the schedule of packets from Amsterdam to London. Cutlery and china clinked while Hendrika returned to her meal. He set the paper aside on top of the stack of vellum."We will need to sign these contracts today, now." He gestured to them. "I will send a message to the lawyers and arrange a meeting."She examined her bread while she slathered jam on it. "With your brother dead, is that wise? His name swayed the count to extend credit to you. It swayed me too. That and other things."He stretched out beside her and helped himself to a bite from her bread. "There is now another half brother who is the duke, one who loves me even more. God forbid he drops dead as well; there is yet another in line. We never run out of them. Nothing has changed." He gave her a reassuring kiss.She made the kiss a long one, then looked into his eyes. "But you will leave now, and I do not think you will be back. So I must ensure I am paid one way or another."She dipped her short, blunt knife into one of the little blue and white pots, then smeared the garnet jam around her breast. "Cherry, I think you said you prefer this morning." She took the pot in one hand, and the knife in the other, and gestured for him to remove the tray. Carefully, slowly, she drew circles of jam around her other breast, dabbed two large globs on her nipples, then painted streaks down her body."Here, too, I think." She spread her plump thighs, and painted lower yet. "Oh, yes, and here. You must be your wicked best this morning, so I do not worry about your credit today."He let her finish as she wanted. Then he braced himself above her and began licking the jam, so she would think about nothing at all for a very long time.CHAPTER 2Eva hitched her clumsy bundle higher under her arm. A snapping breeze threatened to unveil the object shrouded in old burlap. She stopped to tuck the coarse fabric closer all around the heavily sculpted plaster frame. When she had chosen this painting, she had failed to consider how hard it would be to hide and carry it.While she fussed with her burden, she kept one eye on a figure moving on the road. Another stranger. With nearby Birmingham's growth, and with all the people displaced by the failed harvests, strangers moving through the countryside hardly merited note. Yet this one raised a tiny alarm, for reasons she could not name. Maybe he moved too slowly for a man with someplace to go. In fact, it looked as if he had actually slowed so he would not pass the house's drive before she reached its end.This was not the first time she found herself wondering about a stranger. Last week there had been another one, this time in town. Only she was sure she also saw him later, on the lane near her house.She scolded herself for inventing ghosts. Her current mission made her nervous, that was all. She should not have this painting, and guilt made her overcautious.She walked on. She glanced back at the house she had just left as she approached the point where its drive met the road. Years ago, before half the trees lining this private lane died, most likely one could not see much besides chimneys from this spot. Now the derelict condition of the building was visible to all. More a large hunting lodge than a proper manor house, it consisted of stone wings attached to a rustic Tudor core. Thirty years ago it might have been considered haphazard in design. Now the tastemakers would think it charming.Each time she visited, more damage could be seen. Today a whole section of garden wall had vanished, its stones no doubt pilfered to build some outbuilding on one of the nicer properties of Langdon's End. She expected to round the bend in the road one day and discover nothing more than a heap of rock.She turned onto the road, fussing with the stupid frame, trying not to keep looking back at the man now walking behind her. Suddenly she heard something that froze her fingers. A horse approached. From the sound of its hooves, it was galloping toward her and nearing the bend in the road ahead that would bring her into view.She quickly examined her burden to make sure nothing showed, then walked forward with long strides, hoping she appeared to be a woman going about her day's perfectly honest, completely legal, not the least untoward business. In seconds a huge black horse, its head strained against its reins and its teeth bared like a stallion out of hell, bore down on her. Hooves clamoring, breath snorting, that devil head grew larger fast.It passed that point where its rider should have slowed upon seeing someone on the road. It just kept coming. Alarmed, she jumped aside to make way, damning the rogue who had carelessly risked her life to his whim. At that the horse reared up. Its front hooves pawed the air, and the beast let out a long, furious whinny.Cool moisture gathered around her feet and ankles. She looked down to see she had stepped right into a deep puddle. She cursed again. Her shoes would probably be ruined."My sincere apologies." The voice came from on high while she lifted one foot to determine the damage. Soaked. Ruined for sure."It is a little late for courtesy," she snapped. She concentrated on placing her feet in such a way as to exit the puddle without stepping in it yet again. The burden she carried did not make it any easier. She could barely see over it. Perhaps if she lifted it above her head . . ."The house distracted me. I know coming upon you so fast was inexcusable, but it appeared no one was about.""If you had been watching the road, you would know it appeared no such way." She looked behind her to point to the other person on the road. Only he was gone. Perhaps he took a shortcut through the woods.Her skirt proved too narrow for the long strides she needed. She had no choice except to slosh through the puddle to its edge.A hand jutted in front of her face, grabbing for the painting. "Allow me to relieve you of this so you do not drop it."She smacked the hand away and made her way to dry grass.The horse panted and quivered, probably deciding whether to take a bite out of her. She looked up its considerable flank and the long legs and handsome boots that gripped it. She looked higher, up the dashing garnet riding coat to the casually tied cravat. Finally her gaze rose to the face of the man who had addressed her.Her fury momentarily left her. It lasted no longer than a three-count, she was sure, but in that tiny pause, not only her anger ceased. Her breath did, too, and the movement of the leaves in the breeze, and perhaps even the revolution of the earth.The rider was beautiful. No other word would do. Handsome would be too vague a description. Attractive would be inadequate. Thick black hair, dark eyes, and eyebrows that arched perfectly, all graced features both regular and precise. The only flaw, a rather wide mouth, could hardly be called a disadvantage, seeing as how it gave the man both expressive possibilities and an undeniable sensual quality.Then again, he did not need the mouth for that. His air and manner, the very way he sat on that horse, announced he would be nothing but trouble for a woman. Of course, most women would find him too delicious to resist. She suspected he knew that. How could he not when fools like she stared gape-mouthed upon seeing him?Those dark eyes scrutinized her as surely as she did him, only with much more amusement than she experienced in her own study. He had probably noticed that three count. She doubted he found it a novel reaction to himself."I have ruined your shoes. I insist that I pay for another pair."It had been his fault and he should pay, but she reacted badly to the offer. She resented that he noticed she could ill afford the loss of the shoes. She hated that he sought to subject her to his charity."The only payment I ask is that you not gallop that horse on this road while you are admiring architecture. You are too easily impressed by the latter, if that house distracted you."He turned to look at the house. "I think it handsome."She rearranged her bundle in her arms. "On the outside, perhaps it would appeal to those who favor sentimentality over sophistication. Inside it is derelict, however. No one has lived there in my memory, and its owner does not maintain it. It is a haven for vagrants and thieves, and the people of the local town would be glad if it burned down. Perhaps one day it will." She hoped not. That house had been very useful to her the last five years.Hitching up her painting again, she began walking down the road. She heard the horse move. Then she felt its breath on her shoulder. She started, and almost jumped aside again."Won't you allow me to help you carry that? Or better yet, give you a ride to where you are going? It looks to be a heavy package, and those shoes must be uncomfortable now."She looked back over her shoulder, up at the stunning face now marked by a winning smile. No, that mouth was no flaw. Masculine and firm, it turned him from merely beautiful to seductive. He gazed down at her warmly. Perhaps a little too warmly. That should have alarmed her anew. Instead little flutters beat inside her. It was all she could do not to blush and mew."No, thank you. I will manage.""You do not have to be afraid. I promise to behave myself. I am utterly harmless."His expression, most amused by his own words, put the lie to his reassurance. Come with me and I will show you the most wicked delights, those teasing eyes promised."I am not afraid of you, sir. Your horse, however, terrifies me. Could you keep back a bit more?"He held back, but still followed. "Are you going to the town? It is some distance. At least a mile.""I would not accept a ride with you, even if I had five miles to walk. Please, be on your way, and I will be on mine."A nod of acquiescence. He turned the black beast, trotted down the lane, then halfway up the drive to the house. He then sat there looking at it. He had given up the game because something interested him more than dallying with her.Eva looked back one more time before the bend in the road took the rider out of her view. He appeared magnificent, with the breeze blowing back his hair so his fine profile cut the sky, his gaze absorbed and pensive. If she were a good artist and not just a middling copyist, she would feature him in a grand composition full of dashing action. Instead, she painted his image on her memory.Her ruined shoes did not bother her on the half mile to her family home. Nor did the clumsy weight of the painting. She smiled all the way. How bad can a poor spinster's day be when the most beautiful man she had ever seen in her life flirts with her?*   *   *How like Percy to let the property go to ruin. Percy had known he would never win in Chancery, so while his lawyers kept the case languishing in court, he had simply let time devalue the object of the contest.Gareth rode out his frustration, galloping hard. By the time he handed the stallion over to a groom at an inn, the worst of his anger was gone.The next day he rode into Coventry much recovered. He had a lot of practice at swallowing disappointment, and had learned early that if he allowed Percy to ruin his mood for days on end, he handed Percy a victory.Besides, Percy was dead. That thought alone made the day sunnier.He dismounted in front of an elegant house of more than average size. No ruin this, but then Percy had never been able to touch what their father had given to Mrs. Johnson. Gareth hoped that Percy's last thought had been one of fury over how neatly Father had worked that out.Mrs. Johnson received him in her delicate drawing room. He strode over, bent, and kissed her. Her arm encircled his shoulders so the kiss became an embrace."It is so good to see you, Gareth. I assume you have heard the news."He settled into a chair. "I returned as soon as I read about it, Mother. Terrible news. Just terrible."His mother maintained a sober face, but her eyes sparkled at his ironic tone. "Yes, terrible. He was still so young. Why, what, thirty-three? So sudden and unexpected too.""A tragedy.""Have you been back to Merrywood yet?""I thought I would see you first. I will head there in the morning."She reached over and patted his arm affectionately. He rarely had to explain much to his mother. They were of like minds, just as surely as they were of like visage. His eyes, his nose, even his mouth came from her. Had Allen Hemingford, the third Duke of Aylesbury, been less sure of her he might have suspected Gareth was not his bastard at all. Instead, he had accepted his mistress's claim, and fulfilled his contract to her.That contract, worked out when she was eighteen, had not only provided this house, a carriage, servants, and an income for life. Being shrewd, she had also insisted her children by the duke be provided for, and be allowed to have the surname Fitzallen in the ancient way—bastard of Allen. Percy had never been able to interfere with the income Gareth received, either. The house near Langdon's End was a different matter. Aylesbury had left that to him in a codicil to his will. Percy had contested the legacy before his father was cold.Not that the income came close to his mother's. On it, he could live as a gentleman bachelor with a decent degree of fashion. As it was, however, almost all of it went to the lawyers pleading his case in Chancery.So he had found ways to augment it. Fortunately, he inherited his mother's shrewdness, and doing so had not been too difficult after finishing the education also provided in that contract. An eye for art had helped.Other gentlemen might not invite him to their parties and would never introduce their sisters and daughters to him, but his blood meant they might trust him to find a buyer when they had a collection to sell. With the economy in shambles these days, a great deal of art was changing hands. It was the sort of occupation that did not reek of trade, since he did it all as a favor for everyone involved."You just returned, you said." Mrs. Johnson spoke while she served the coffee one of her servants had brought. She was entitled to four of them. There had been a Mr. Johnson for a short while. Perhaps as long as a week, Gareth guessed, before the man took the healthy payment made to him and sailed to America.When the duke had met Amanda Albany, she was unmarried. An innocent. What the duke wanted was not done with unmarried girls. So he arranged a marriage for her, with an army captain by the name of Johnson. Only it was not Johnson's nuptial bed to which young Amanda Albany had gone that wedding night."I disembarked less than a week ago. Why? Does it matter?""It may. I have been in correspondence with old Stuart. You remember, the footman with the limp. He and I have remained friends since Allan died. He says there is some question about Percival's death. The coroner has left the entire matter open, and investigations are being made by the magistrate.""Has anyone laid down information that would imply something untoward happened?""No, but eyebrows are up. A sudden digestive infirmity with extreme pain and quick death—well, my eyebrows would be up too."Hence the notice in the paper in Amsterdam, that inquiries were under way. "You worried that they would look to me, didn't you?""The enmity between the two of you has been long, and the business over that legacy might encourage them to wonder.""Have no fear. I was out of the country. I can prove it."Her expression lightened. She suddenly looked younger than her forty-eight years. Also intelligent and formidable. She would have made the duke a splendid duchess had he not already married Percy's mother, and had Amanda Albany not been a butler's daughter.Her change in mood implied she had worried a bit about his doings recently. It is a hell of a thing when your own mother thinks you capable of murder. Then again, given the right circumstances, she probably was also."I expect Lancelot and Ives will be at Merrywood," she said. "What with the title's transition to Lance and the settling of the estate.""I hope so. I want to see them." Since Lance now became duke, presumably he would be involved in the inquiries. Ives would take a hand in the estate settling, being a lawyer.He did not lie in saying he wanted to see his half brothers. Unlike the relationship he had with Percy, Gareth had gotten on well enough with them over the years. And, of course, Lance would now decide about that case in Chancery."There is to be a reinterment next week," his mother said. "A mausoleum was quickly built, to Percival's deathbed orders. Now that it is ready, they are digging him up to put him in it. It is a monstrosity, according to Mr. Stuart. I have a drawing here somewhere. I shall find it, so you can prepare yourself. It is so hideous that one wonders if he was determined to be remembered for something, even if it was being the duke who was buried in the ugliest pile in the family graveyard.""He never had any taste. Father always said so, which drove him mad." He spoke absently, his mind on other things. If magistrates were sniffing around a duke's death, the new duke was not likely to turn his mind to minor matters, like a small property tied up in the courts. Damnation, even in death Percy was going to be an ass."I rode up near Langdon's End," he said, "before coming here."His mother's expression of forbearance chastised him. She thought he should let it go. The daughter of a butler and the mistress of a duke, she did not have a sense of property, even if she had a life interest in this house."He has let it go to ruin. There is no caretaker. It is derelict and turning into a shell. I doubt any furniture remains worth using. I was told thieves have been busy.""Did you enter it?""I am forbidden to, remember? I walked around the outside, however, and looked in a few windows. He knew contesting the will would not hold, so he made sure when I finally got it, the house would be almost worthless.""Perhaps fate has intervened before that happened. Lance has no reason to continue the fight.""Perhaps." He stood. "If you don't mind, I will go above. I have been on the road too many days."He took his leave, but her voice stopped him at the door."Lady Chester wrote to me. Her niece still sighs over you, and wonders when you will return to London."Lady Chester's niece was an attractive woman in an unhappy marriage to a boorish viscount. "When I do, I will call on her, but she will be disappointed if she expects anything more.""You love and leave too quickly, Gareth. No wonder your reputation is not the best.""I would have stayed longer in the lady's bed if she had not started to try to buy me. A man does not allow his lover to keep him if he has any pride. I did us both a favor in ending it.""You were not so particular with Lady Dalmouth.""I was much younger then, and Lady Dalmouth had much to recommend her besides her gifts." Most notably, Lady Dalmouth possessed sexual experience such as few men are honored to enjoy. Randy, resentful, and ready to take on the world, he had been a willing student, and had barely noticed how he had become the lady's whore until the morning she ordered him to change his coat because she did not favor its color that day."Women are kept all the time. I managed to hold on to my pride well enough. I do not see why it should be any different for men if two people share affection."He had hurt her. He had not meant to, but one hour in his mother's presence and he was fifteen again, and she was trying to plan his life."You were not merely the duke's kept woman. You were his true wife and the law be damned. Write to Lady Chester and tell her that I am enthralled with a widow in Amsterdam, so her niece does not expect me to dance attendance if I g
Editorial Reviews
Praise for His Wicked Reputation"Hunter...spins the intrigues of an enterprising bastard son and a resourceful artist to delightful effect...romance and suspense are balanced perfectly."—Publishers Weekly (starred review) "With her usual aplomb, Hunter seamlessly marries seductive wit with smoldering sensuality in her latest impeccably written Regency romance."—Booklist Praise for Madeline Hunter and Her Novels "Smooth, sexy, and sophisticated."—Kirkus Reviews "Hunter...masterfully weaves a sensual web."—Publishers Weekly "There are some writers who are born to write...Stellar."—Examiner.com "Hunter combines desire with mystery and sensuality with adventure, bringing readers the kind of romance that makes their hearts soar."—RT Book Reviews