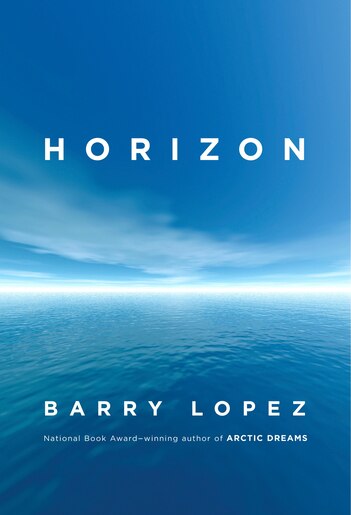 Horizon
Hardcover

|

March 19, 2019
Pricing and Purchase Info
$39.95
list price
save 10%
Prices and offers may vary in store
From the National Book Award-winning writer, humanitarian, environmentalist and author of the now-classic Arctic Dreams: a vivid, poetic, capacious work that recollects the travels around the world and the encounters--human, animal, and natural--that have shaped his extraordinary life. Poignantly, powerfully, it also asks "How do we move forward?"

Taking us nearly from pole to pole--from modern megacities to some of the most remote regions on the earth--Barry Lopez, hailed by the Los Angeles Times Book Review as "one of our finest writers," gives us his most far-ranging yet personal work to date, in a book that moves through decades of his life as it describes his travels to six regions of the world: from the Oregon coast where he lives to the northernmost reaches of Canada; to the Galapagos; to the Kenyan desert; to Botany Bay in Australia; and in the resounding last section of this magisterial book, unforgettably to the ice shelves of Antarctica.
As he revisits his growing up and these myriad travels, Lopez also probes the long history of humanity''s quests and explorations, including the prehistoric peoples who trekked across Skraeling Island in northern Canada; the colonialists who plundered Central Africa; an Enlightenment-era Englishman who sailed the Pacific and a Native American emissary who arrived in Japan before it opened to the West. He confronts today''s ecotourism in the tropics and visits the haunting remnants of a French colonial prison on Île du Diable in French Guiana. Through these journeys, and friendships forged along the way with scientists, archeologists, artists and local residents, Lopez searches for meaning and purpose in a broken world.
With tenderness and intimacy, Horizon evokes the stillness and the silence of the hottest, the coldest and the most desolate places on the globe. It speaks with beauty and urgency to the invisible ties that unite us; voices concern and frustration alongside humanity and hope; and looks forward to our shared future as much as it looks back at a single life. Revelatory, powerful, profound, this is an epic work of nonfiction that makes you see the world differently: a crowning achievement by one of our most humane voices--one needed now more than ever.
Title:
Horizon
Format:
Hardcover
Product dimensions:
592 pages, 9.53 X 6.65 X 1.65 in
Shipping dimensions:
592 pages, 9.53 X 6.65 X 1.65 in
Published:
March 19, 2019
Publisher:
Random House of Canada
Language:
English
The following ISBNs are associated with this title:
ISBN - 10:0307355993
ISBN - 13:9780307355997
Look for similar items by category:
Preview Your Review
Your Review Has Been Submitted
NO, I do not recommend this product.
Educational/Developmental Value:
Thank you. Your review has been submitted and will appear here shortly.
Read from the Book
Author's Note   Horizon is an autobiographical reflection on many years of travel and research, in Antarctica and in more than seventy countries. Some of these travels I financed myself, others I sought grants for or received fellowships to fund. I made several trips on assignment for magazines, and with others I was simply invited to come along. The details, and my expressions of gratitude for those who assisted me over the years, are included in the Acknowledgments. Most of the journeys described here I made in my forties and fifties. I traveled to the Galápagos Islands, however, and to Australia and Antarctica, on several occasions and at different points in my life. The least complicated way to chronicle these experiences, it seemed, was simply to tell the story, not to try to explain any juxtapositions in time. It might help to know, however, that when I traveled to Cape Foulweather in order to encounter the winter storm I was forty-nine; that I was in my early forties and had just published a book about the North American far north, Arctic Dreams, when I flew into the archeological camp on Skraeling Island; and that I was fifty-four when I made the trip to Graves Nunataks in the Transantarctic Mountains. As Horizon is meant to be an autobiographical work, I should emphasize that there was a long learning curve inherent in all this sojourning. I've not tried to be explicit about what was learned (or unlearned) or when, in part because it hasn't always been clear to me what changes might have occurred. The young man visiting the archeological site on Skraeling Island is the same fellow who at the end of the book encounters a stranger on the road to Port Famine, but also not.PrologueThe boy and I are leaning over a steel railing, staring into the sea. The sun is bright, but shade from a roof above us makesit possible to see clearly into the depths, to observe, quiveringthere, what's left of the superstructure of a battleship sunk seventy-twoyears before.My grandson is nine. I am in my sixty-eighthyear.The memorial terrace on which we are standing, alongside my wife,has been erected above the remains of the USS Arizona, a 608-footPennsylvania-classbattleship overwhelmed at its moorings on the morning of December 7, 1941, by Japanese dive bombers. It sank inminutes. The flooded hulk, a necropolis ever since, holds the remainsof many of the 1,177 sailors and marines killed or drowned on the shipthat morning. I'm explaining to the boy that sometimes we do this toeach other, harm each other on this scale. He knows about September11, 2001, but he has not yet heard, I think, of Dresden or the WesternFront, perhaps not even of Antietam or Hiroshima. I won't tell him today about those other hellfire days. He's too young. It would beinconsiderate—cruel, actually—pointedly to fill him in.Later that morning the three of us snorkel together on a coral reef.We watch schools of tropical fish bolt, furl, and unfurl before us, colored banners in a breeze. Then we have lunch by a pool at the hotelwhere we are guests. The boy swims tirelessly in the pool's glittering aqua-tinted water until his grandmother takes him down to the beach. He runs to jump into the Pacific.He can't get enough of swimming.I watch him for a few minutes, flinging himself into the face of wave after wave. His grandmother, knee-deep in the surf, scrutinizes him without letup. Eventually I sit down in a poolside chair with a glass of iced lemonade and begin to read a book I've started, a biography of the American writer John Steinbeck. I glance up once in a while to gaze at sunlight shuddering on the surface of the ocean, or to follow flocks of sparrows as they flee the tables of the hotel's open-air restaurant, where they've been gleaning crumbs. For prolonged uninterrupted minutes I also watch, with a mixture of curiosity and affection, the hotel's other guests, sunning on lounges around the pool or ambling past, completely at ease. The clement air and the benign nature of the light dispose me toward an accommodation with everything here different from myself. When I breathe, I'm aware of a dense, perfume-like scent—tropical flowers blooming in a nearby hedge. Is it bougainvillea?The exuberance of my grandson has also enhanced this sense of tranquility I feel.Most of the guests here are Asian. I recognize in particular the distinctive cast of Japanese and Chinese faces. Strolling through the poolside restaurant in expensive clothes, discreetly signaling a pool attendant for a towel, snapping copies of The Honolulu Star-Advertiser to straighten the pages, they all seem to have the bearing of people familiar with luxury, as I imagine that state.I return to the biography. In the paragraph I'm reading, the writer is describing a meeting Steinbeck once had at his home in Pacific Grove, California, with the historian of mythology Joseph Campbell. The night before this, Steinbeck, the composer John Cage, Campbell, Steinbeck's first wife, Carol, and a few others had all enjoyed dinner together in the Steinbeck home. Campbell has now come out onto the patio to inform his host that he has fallen in love with Carol. He accuses Steinbeck of treating her shabbily, and says that if he won't change his ways then he, Campbell, is prepared to ask Carol to marry him and to return with him to New York.I look up abruptly from the book, recalling that I'd been in summer camp in 1956 with both of Steinbeck's sons, Thom and John. It had been a memorable encounter for me. I was eleven and I met their father at the same time. I marveled at the burly reification of this person who'd written The Red Pony. (I was introduced to his third wife, Elaine, then, too. She was cool. Dismissive.)I pick up again where I've left off, keen to follow this unanticipated triumvirate—Steinbeck, John Cage, Joseph Campbell.Pages later, I am feeling the westering sun burning hot on my right cheek. Another tight flock of sparrows hurtles by my head and suddenly I wonder whether I'd done absolutely the wrong thing that morning at Pearl Harbor, before we'd all gone to see the Arizona. I'd walked my grandson through the interior of a World War II American submarine, explaining the architecture, the periscope in the conning tower, the forward torpedo tubes. He had touched the sleek torpedoes gingerly, a lingering caress, his small hands cupping the warheads.Just then a handsome Japanese woman striding along the pool's edge makes a graceful, arcing dive into the water. An impulsive act. A scrim of water rises around her like the flair of a flamenco dancer's skirt. The pool water shatters into translucent gems.In the beauty of this moment, I suddenly feel the question: What will happen to us?I stand up, a finger marking my place in the book, and search the breaking surf beyond a hedge of sea grape for my grandson. He waves hysterically at me, smiling from the slope of a wave. Here, Grandpa!What is going to happen to all of us now, in a time of militant factions, of daily violence?I want to thank the woman for her exquisite dive. The abandon and grace of her movement.I want to wish each stranger I see in the chairs and lounges around me, every one of them, an untroubled life. I want everyone here to survive what is coming.IntroductionLooking for a ShipA history, one purporting to depict the life trajectory of the grandfather reading by the pool, could easily begin sixty-five years before that moment in Hawai'i, in an embayment of Long Island Sound called Mamaroneck Harbor. Here is a stretch of sheltered water, a surface barely roughened that day by a wind blowing westward from the direction of Crane Island. A boy who cannot yet swim wades steadily farther out into the salt water, under the shepherding gaze of his mother. She's hardly fifty feet away, a dark-haired woman in her middle thirties, her legs tucked beneath her, her belly round with a second child. She's sitting on a wool blanket, embroidering a needlepoint image of field flowers erect in a vase. It's 1948. She's conversing with a friend underneath a large white oak tree on Orienta Point, on the Westchester County coast of New York.The boy halts when he reaches water up to his chin. She watches him steadily now. He wants to go farther, to swim out past Turkey Rock, out farther even, out beyond the Scotch Caps, two islets on the distant rim of the sound. Past that lies a horizon of water. A blank page.He turns for shore, scuttling sideways like a crab in ripples that break over his small shoulders.A few months later, with the approach of a New England winter and following the birth of his only sibling, the boy moves with his family to a valley in Southern California, an irrigated expanse of farmland. Groves of oranges and walnuts, fields of alfalfa. Peach orchards. The irrigated San Fernando Valley. This Mediterranean plain is bounded to the south by the Santa Monica Mountains, to the north by the snowcapped San Gabriels. A different life for him now. A different geography. An unfamiliar climate. Different races of people.One day, a couple of years after the family arrives, the father leaves. He returns to his first wife, living in Florida with their son, and the boy and his mother and younger brother begin together another sort of existence. His mother teaches home economics at a junior high school in Northridge and, at night, dressmaking at Pierce Junior College, near Calabasas. Other evenings she works at home, creating couture clothing for her clients. The father writes from Florida. He promises to send money but never does. The three of them, anyway, seem to have all they need. The boy is curious but wary. A suburban crow. He makes friends with other boys in his neighborhood and with his classmates at Our Lady of Grace, a Catholic grade school in Encino. He gets to know a few of his mother's students, the sons of braceros working in the vegetable fields north and west of their house in Reseda.He learns to ride a bicycle. He rides and rides, as far north in the valley as Granada Hills and west all the way to Chatsworth.Their mother takes the boys out into the western Mojave Desert, to the eastern Mojave and the Grand Canyon, and south to the San Diego Zoo and across the border into Mexico.One afternoon the boy stands on the shore of Topanga Beach, fronting the great Pacific just east of Malibu. He watches comber after comber crash the strand, stepping clear of the waves' retreating sweeps each time, as his mother has asked. He understands that this foaming storm surf has arrived on the beach from someplace else. Here, temperate air embraces him; an onshore breeze softens the burn of the sun's rays on his white skin. Its light splinters on bits of quartz in the sand at his feet.This, too, is new to him, a feeling of being cradled in harmless breezes and caressed by light. Years later, walking alone in faraway places, he will remember and long for this sensation.A friend of his mother, a man the boy hopes will one day become his father, is accompanying the family that day at Topanga Beach. He tells the boy that far off across the water, farther away even than the storm that makes these waves, is the extremely ancient country of China. The boy has no image of China. The tall, long-fingered, long-legged, soft-spoken man in khaki trousers moves through the boy's mind with the hesitating grace of a flamingo. The boy imagines that the man knows many things. He works at the Santa Barbara Botanic Garden and some days takes the boy with him to work. His name is Dara. He points out differences among the plants; he pots with the boy in the greenhouses. He explains how a large flowering plant like a jacaranda grows from a small seed.The boy's most favorite trees now are eucalypts, the tall river red gums and blue gums that flank Calvert Street in Reseda where he lives. He likes the royal towering of them; the shedding boles, slick beneath his hands; the fragrance of the hard gumnuts. He carries a few of these buttons in his pockets wherever he goes. He likes the defiant reach of these trees, how they crowd and rake the blue sky, and how the wind chitters in their leaf clusters. He feels safe hiding in their shadows. Dara tells him that around Los Angeles they're called "skyline trees." He likes that. Originally from Australia, he says, but they grow all over the world, wherever the right conditions can be found. It's the same for the frangipani trees and bougainvillea vines growing at the botanic garden. Those two, along with the eucalypts, says Dara, are now found everywhere "in the colonial subtropics."The boy can't picture Australia, but he is transfixed by the idea that some trees are carried off from their first country and then grow happily in other places.When he lies in bed at night, imagining the future he wants, a strategy he uses to probe the vague precincts of his dreams, the boy envisions the botanic garden and thinks about Dara, how gently Dara's hands handle plants. By now, though, he has also learned about some things less comforting. More threatening. He circumspectly regards the lives of poisonous black widow spiders living in the garage alongside his house, red hourglasses gleaming on the females' tummies. When he talks to adults about the rattlesnake that startled him and his friend Thair while they were walking in the Santa Monica Mountains one morning, hunting for alligator lizards, he enjoys the way adults attend closely to his story.The snake had snapped at them when they teased it. He doesn't tell his listeners that he and Thair beat it with a stick until it was dead.One weekend at Zuma Beach the boy is stung by a wounded Portuguese man-of-war, a large jellyfish, foundering in the surf. An ambulance comes to take him, vomiting and shivering, to the hospital.He trusts the shelter of the towering gum trees and wonders about the power of Portuguese man-of-wars. The two things are now entwined in his mind.He is ashamed of having killed the snake and of his silence about it.
Editorial Reviews
"Horizon is magnificent; a contemporary epic, at once pained and urgent, personal and oracular. . . . This is a book to which one must learn to listen. . . . [Lopez] has given us a grave, sorrowful, beautiful book, thirty-five years in the writing but still speaking to the present moment." —The Guardian "Lopez writes with fervid wonder and fascination about all he's seen and experienced . . . gripped by an urgency to tell 'a coherent and meaningful story' about the threat of humanity's extinction as a result of climate change. . . . [Horizon] makes any travel writing that doesn't share Lopez's sense of responsibility and purpose seem derelict by comparison." —The Atlantic"[Horizon] reflects on a lifetime of travel and exploration to some of the most extreme places on earth. . . . Lopez is a masterful writer, able to mix history and science with personal observation in a wonderful way. Of course, with so much of our world in imminent danger, his message about our place in a damaged world is particularly timely." —rabble.ca"Barry Lopez is a straight-up magnificent writer. To read Horizon is to be transported to wondrous landscapes far beyond the pale, and thereby obtain an astounding perspective on our increasingly uncertain future. Lopez expresses faith that our species can avert annihilation by investing 'more deeply in the philosopher's cardinal virtues': courage, justice, reverence, and compassion—virtues this book possesses in abundance." —Jon Krakauer   "A huge-hearted, wise and sorrowful book by the Philosopher-King of Gaia. A masterpiece." —Joy Williams   "Riveting, seductive, and beautifully written. I don't know of any other writer who so mesmerizingly, so seemingly effortlessly, weaves together art, science and poetry—I found myself underlining sentences on every page. Barry Lopez is one of my literary heroes." —Andrea Wulf   "An essential voice in American writing. Barry Lopez's stories of inquiry and discovery are gloriously riveting, bringing the reader into a research boat, an archaeological site, a night-tent conversation, water forty feet under the edge of an ice shelf. At each place where he turns his eye and mind, something is learned of existence's richness and meaning. A master work. This book is a map to treasures everywhere buried." —Jane Hirshfield    "Nobody journeys like Barry Lopez. He's humble, he's ethical, he's honest, he's curious, he's doubtful, he's properly sad and he's wild. He wakes us up to the worth and the mystery of the world. His great affection for humanity comes up from every patch of earth he visits. This is an epic book that goes from pole to pole, and yet manages to make a distinct 'everywhere' out of each little patch he visits. A glorious book, gloriously told." —Colum McCann   "A celebration and investigation of the impulse to explore, Horizon is itself an exploration—of both the human and inhuman worlds. In his intensity, his clarity, and his capacity for wonder, Barry Lopez is unmatched." —Elizabeth Kolbert   "The world is vast, and so are the heart and the curiosity of Barry Lopez.  His voice is incomparable and necessary. No one else alive, to my knowledge, thinks so carefully about the moral dimensions of landscape." —David Quammen   "A winning memoir . . . Lopez has made a  long career of visiting remote venues such as Antarctica, Greenland, and the lesser known of the Galapagos Islands. From these travels he has extracted truths about the world . . . The author''s chapter on talismans—objects taken from his travels, such as 'a fist-size piece of raven-black dolerite'—is among the best things he has written. But there are plentiful gems throughout the looping narrative, its episodes constructed from adventures over eight decades. . . . Exemplary writing about the world and a welcome gift to readers." —Kirkus Reviews (starred review)   "No one has worked harder to make sense of our present civilization than Barry Lopez, and in these chronicles we get to share the travels that helped shape his extraordinary mind and heart. A great gift to us all." —Bill McKibben