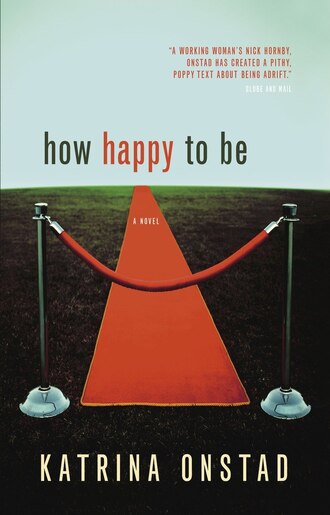 How Happy To Be
Paperback

|

June 5, 2007
Pricing and Purchase Info
$21.00
Prices and offers may vary in store
How Happy to Be captures the life of a disillusioned entertainment journalist as she heads into a downward spiral of ritual substance abuse and empty punditry. Along this path of self-destruction, her past on a West Coast commune, both comic and poignant, keeps intruding. It isn't until her indiscretions catch up with her that she realizes she must face that past if she is to have any chance of finding where her happiness lies.

Onstad's ability to blend satire with a moving story of coming to terms with life's deepest wounds makes
How Happy to Be a wholly satisfying and striking novel.
Title:
How Happy To Be
Format:
Paperback
Dimensions:
304 pages, 8.49 X 5.52 X 0.83 in
Published:
June 5, 2007
Publisher:
McClelland & Stewart
Language:
English
The following ISBNs are associated with this title:
ISBN - 10:0771068999
ISBN - 13:9780771068997
Look for similar items by category:
Preview Your Review
Your Review Has Been Submitted
NO, I do not recommend this product.
Educational/Developmental Value:
Thank you. Your review has been submitted and will appear here shortly.
Read from the Book
After she died, everything tasted worse. unlike my father, my mother had no contempt for the occasional dinner in a tinfoil tray, clean borders between tastes. I would imitate her walk down the frozen food aisle, breath frosting the air, hips sliding, shoulders back. A walk I only later recognized as sexy when I saw it worn by movie stars playing cocktail waitresses.When she was gone, my father kept his eyes on the road and drove his truck straight past the glass spaceship super-market. He parked outside the health food store where walls and food were brown and moist. Pushing through the door was like stepping inside a redwood tree, all flesh and fibre. My dad wandered off by himself to finger the herbal teas and sugar cane, distracted and drifting, as if these foods were the source of all his sadness. He would look up, eyes running, unable to choose. So it was left to me, eight years old, to fill worn plastic containers with peanut butter and honey that lived in white tubs. But our old containers once held feta and butter and applesauce, and the system bred disappointment. Later, looking for the bumpy sweetness of jam, you ended up with yogurt, mean and tart. Longing for yogurt, you gagged on ropy tahini.After my mother died, bread got crunchier and the house got messier and then we left Squamish, British Columbia, to see the country, driving east to Newfoundland until the edge and the water and then we turned around and went back west. We finally stopped at the Gambier Island compound, almost to the highway's end, a boat ride from Vancouver, where there ­wasn't a house at all but a monastery that resembled a roadside motel. A handful of soldiers had come back from the Second World War with Tibetan texts in hand, claiming a corner of the island. Unbothered by the farmers who lived there, they spent their mornings in walking meditation, barefoot up and down a beach so rocky their soles bled.Two decades later, the hippies marched in, crossing water to escape the city. The soldier-­monks packed boxes of burgundy robes and headed north, out of earshot of the rumble. To them, the Sixties must have sounded like a couple arguing down the street; the window's open and the noise gets closer and louder and closer and even though they swear it's just a friendly conversation, it sounds like yelling to you.The new arrivals made a compound out of the empty buildings and called it a commune. Our dinnertime, once set for three, became a long Formica table occupied by other people's children. We slept in monks' barracks, kids above and kids below in bunk beds and hammocks, swinging in space.My father faded out gradually, escaping to the woods for days at a time, though this was nothing new. He half-­built a yurt, then gave up on pastimes and slept a lot. I was schooled in the gutted prayer hall and sulked in the classrooms, which ­weren't classrooms at all but circles of stained throw pillows on cement floors. Other people's mothers passing out finger­paints and encouragement.
Bookclub Guide
1. How Happy to Be begins in the melancholy childhood aftermath of Maxime's mother's death but quickly switches to Maxime's present-day world of hangovers and men she calls "Ad Sales" and "Knee-Socks Steve," revealing how the character masks her unease and fear of intimacy as an adult. How does the tone differ between the two eras throughout the story, and how did the author transition between these two Maximes?2. On the surface, Maxime is a caustic, drug- and drink-dependent entertainment reporter, while the man from the past who reappears, Theo McArdle, is an outdoorsy, amiable physicist researching "what makes up the universe." (p.41) Their past attraction seems to rekindle itself. Maxime is impressed by Theo's work and by his teaching stint in Africa, but what impresses Theo about Maxime? Is his attraction to her based solely on the young woman he once knew at university? How can we read past Maxime's version of herself to see what Theo sees?3. What are the layers of meaning in the title How Happy to Be, and what does Maxime reveal to us when she says that she and her ex-boyfriend John "could never decide how happy to be"? (p.190) How do you interpret Maxime's reaction to the L.A. screenwriter's philosophy of unhappiness — that "all of us are shying away from intimacy … using clever cynical devices"? (p.233)4. How does Katrina Onstad manage to create an aura of vulnerability around the celebrities Maxime interviews, despite her character's seeming contempt or even pity for the rich and famous? How do you interpret Maxime's growing disillusion with the movies she reviews and the celebrities who star in them? In what ways does Maxime approach her own life as if it were a movie?5. The novel is set in both Toronto and a fictional island off Vancouver's coast, but does the story seem Canadian to you, for reasons other than geography? How does place play a role in the story, and what do you make of the author's depiction of Toronto, and the city's impact on Maxime? Why does Maxime say, towards the end of the book, that she misses the city?6. Katrina Onstad was herself a film critic at a newspaper and in this novel has both satirized her experiences during a particular era of journalistic trends and extrapolated from archetypes to create new fictional characters and situations. Writer and artist Douglas Coupland describes the novel as "the magic place between fact and fiction." What is the responsibility of a writer in finding that place?7. Maxime remembers that when her mother was dying, her father began "rebuilding her with his stories," and that this made him seem "like a liar" (p.142) in her child's perspective. However, throughout the novel, Maxime brings our attention to several embellishments of her own. How does the author shape this seeming contradiction? Why do you think Maxime continues to tell untruths about her past, even to Franny as the two of them talk about their dead parents? How is this an extension of how her father talked about her mother or how adults piece together the parent they knew only as a child? What does this reveal about how we all construct memory?8. One of the most heartbreaking passages in the novel involves the Guatemalan woman Mercy and her daughter Maria, who are strangers to Maxime. How is this story — so brief and yet so full — integral to the novel, and why do you think Maxime questions its veracity when Mercy leaves the streetcar? Can you find other passages in which Maxime cuts short a poignant moment? What do you think the author is showing us about Maxime's emotional state? How does trust feature in Maxime's life?9. Maxime tells us, "My mother … moved waterbug fast, but my father dove down deep into himself." (p.271) How is Maxime like each of her parents, and is she aware of the similarities?10. Maxime is impressed by Franny's capacity for forgiveness and realizes Theo and Elaine share this same elusive quality. Are there other characters you could group by strength or weakness?11. What is it that gives Maxime a special connection to Franny, long before she meets her? What is the significance of Maxime's father ending up with Dolores, Franny's mother?12. During her unhappy adolescence, Maxime steals away from school to a movie theatre, and is eventually found by her frantic father. Later in the book, the author pens a near-mirror scene, but how does Maxime's "escape" and the rescue by her father differ from the earlier scene? Beyond its physical risks, how is this last journey both dangerous and necessary for Maxime?13. How is the notion of home explored throughout the story? Think of Maxime's childhood homes, her apartment in Toronto, Sunera's mother's house, etc. Remember, too, that Maxime's father builds various dwelling-like structures throughout the book. How does the playhouse for Franny take on special significance, twice, as a container for a family?14. What do you think finally allows Maxime to come to terms with her past? Discuss the scene in which Max and her father take her mother's ashes to the water. (p.276-279) What surprises her about her father's behaviour? Similarly, what surprises her about her own behaviour when Theo arrives at Elaine's? Who do you think Maxime is addressing on the last page of the novel?
Editorial Reviews
"Katrina Onstad finds that magic place between fact and fiction and charms the reader with her discovery. A wonderful book." — Douglas Coupland"Pop culture geeks will go nuts for Onstad's brutal dissection of the life of a media whore. . . . A triumph." — NOW magazine"A deft meditation on nostalgia, grieving, and familial relations. . . . Fresh, compelling and flawless." — Toronto Star"[An] ambitious and impressive first novel . . . intelligent and arresting. An auspicious literary debut." — National Post"An acerbic, hilarious and culturally astute page-turner of a debut." — Flare