How Long Will They Mourn Me?: The Life and Legacy of Tupac Shakur
Mass Market Paperback

|

August 29, 2006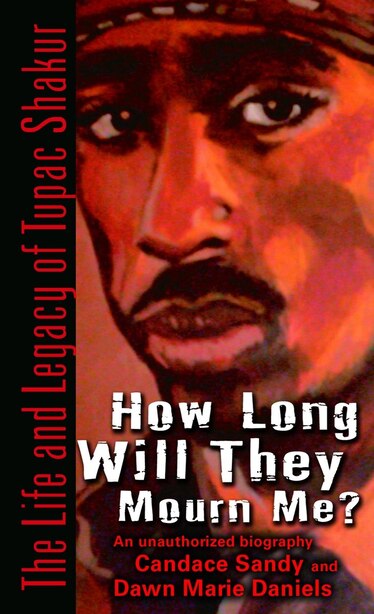 Prices and offers may vary in store
"Buried as a g while tha whole world remembers me"
–Tupac Shakur, from "Until the End of Time"

Tupac Shakur was larger than life. A gifted rapper, actor, and poet, he was fearless, prolific, and controversial–and often said that he never expected to live past the age of thirty. He was right. On September 13, 1996, he died of gunshot wounds at age twenty-five. But even ten years after Tupac's tragic passing, the impact of his life and talent continues to flourish. Lauded as one of the greatest hip-hop artists of all time, Tupac has sold more than sixty-seven million records worldwide, making him the top-selling rapper ever.

How Long Will They Mourn Me? celebrates Tupac's unforgettable life–his rise to fame; his tumultuous dark side marked by sex, drugs, and violence; and the indelible legacy he left behind. Although Tupac's murder remains unsolved, the spirit of this legendary artist is far from forgotten. How long will we mourn him? Fans worldwide will grieve his untimely death for a long time to come.
Title:
How Long Will They Mourn Me?: The Life and Legacy of Tupac Shakur
Format:
Mass Market Paperback
Dimensions:
192 pages, 6.9 X 4.3 X 0.5 in
Published:
August 29, 2006
Publisher:
Random House Publishing Group
Language:
English
The following ISBNs are associated with this title:
ISBN - 10:0345494830
ISBN - 13:9780345494832
Look for similar items by category:
Preview Your Review
Your Review Has Been Submitted
NO, I do not recommend this product.
Educational/Developmental Value:
Thank you. Your review has been submitted and will appear here shortly.
Read from the Book
ONE Part-Time Mutha   My mother was pregnant with me while she was in prison and a month after she got out of prison she gave birth to me. So I was cultivated in prison; my embryo was in prison. —TUPAC SHAKUR     Tupac Shakur's mother, Alice Faye Williams, grew up in North Carolina, with her sister Gloria (Glo). When her father Walter Williams, Jr., a truck driver, abruptly moved the family to Norfolk, Virginia, they were propelled into a hellish nightmare. As Alice recalls, "My daddy was a street nigga, and he was loved by the people in the street. He had principles, ethics, and he had a sense of himself. He was a small man, but unafraid. He was stubborn and arrogant." Alice's father had another side to him: He abused her mother behind closed doors. Things finally came to a head when one of his attempted assaults—this time in front of the girls, something her mother did not want her daughters to see—was met with a toss of hot grease straight from the skillet. Alice's mother made a quick relocation to the Bronx, New York, leaving her abuser behind.   "It was hard to hate your parents," Alice says. "It's hard to live with that kind of hatred, because they are a part of you. So in turn, hating them is hating yourself. All that hating hurts. As a girl child, I just hurt. Everything around me seemed hurtful. And, like I said, we had no protection. I never felt safe. Now, I see that I got a lot from my mother. I have learned how to appreciate her strengths and her quiet dignity."   Alice Faye attended New York City's High School of the Performing Arts. She recalls, "A lot of kids that went to PA were coming from private schools. They came to school in limos, and I hated them with a passion. I'd get high off Thunderbird wine before school even started just to deal with my hatred of them. I'd get fucked up with my friends and then go to school and watch them rich kids' limos, pretty clothes, just showing off. This is what my mind was telling me back then, that those kids were showing off. The worst part of the day was lunch because they did not have a cafeteria. No cafeteria. Kids would leave and go to Times Square or Nedick's or the Automat and buy their food. I didn't have money for lunch. My mother begged my bus fare off neighbors just to get me down to the damn place. I was trapped. I could not tell my mother we needed even more money to go to school. So, I'd just leave at lunchtime. Go to school, do my drama and dance classes, and then leave at lunch. I quit or got kicked out. One day I walked into the front door of the school and heard Bobby Kennedy was killed, and I walked out the back door. I figured what the fuck. I had just had it."   After the death of her best friend, Sandra, Alice was lost. Sandra had a botched hysterectomy, in which the surgeon removed only one tube. She became pregnant without realizing her condition until the fifth month. "So, me and Sandra, we just kept doing our thing: hanging out, doing dope, hittin' the clubs," Alice remembers. "And we tried heroin during this time. This white guy was takin' care of Sandra and he gave it to us. He was white on the outside but he was really black on the inside. He was a street dude and he was good to Sandra.   "Sandra was rushed to the hospital after collapsing on the bathroom floor. She died on the table and the baby lived. The nurses just let the baby die; they chose not to let it live. I was fucked up bad. I walked the streets for a day. She was my best friend and I will miss her … forever."   When Alice was around twenty years old she met a man named Shaheed at Manny's Bar on 169th Street in the Bronx, and her life began to change. Shaheed introduced Alice to the lessons of the Nation of Islam and Malcolm X, and even though she never joined the Nation, her search for self began: "… as I listened to Brother Shaheed, I began to like me. That's when the chemicals came out of my hair."   Alice's search led her to the Black Power Conference in Philadelphia at Father Paul Washington's Church of the Advocate. It was here that she first saw brothers and sisters in positions of power and authority—an event she says affected her like no other in her life.   In Harlem, around September 1968, at 125th Street and Seventh Avenue, Alice heard Bobby Seale speak at a Black Panther Party rally, and she was hooked.   She says, "It was all over for me then. I heard Bobby Seale recite the Ten Point Program and if you haven't heard that … not now when he's an older person, but when he was a young man, he could recite that and recruit a town full of black people just by saying it." Alice had evolved, and she was now and forevermore to be known as Afeni Shakur.   The late 1960s was the height of the Black Panther movement, a movement created by the young Huey P. Newton and led by Bobby Seale to promote a ten-point program of freedom, self-determination of the black and oppressed communities, full employment of black people, the end of the robbery of black and oppressed communities by capitalism, decent housing fit for the shelter of human beings, education that teaches true history and the role of black people in present-day society, free health care for black and oppressed people, an immediate end to police brutality, an immediate end to all wars of aggression, trials by juries of people's peers, and people's community control. The movement caught on in an environment where black people were being disenfranchised and disrespected.   Young Afeni Shakur heard the call and answered, doing whatever she could to help her people. She said to Jasmine Guy in her memoir, Afeni Shakur: Evolution of a Revolutionary, "I believed in them. The principles. The plan. I started the breakfast program to feed children on their way to school. I joined because I could use my mouth for speeches to raise money for the program. I joined 'cause I was fearless. I was a gangster, and I could do whatever was necessary to keep the party alive. I joined for free clinics. I joined for all that because it would have helped my momma if we had that kind of help from our community."   Shortly after Afeni joined the Black Panther Party she became involved with, and then married in a Muslim ceremony, the section leader of Harlem, Lumumba Shakur. As with any other organized group with opposition to the government, the Black Panthers were persecuted. During their brief marriage, Lumumba was arrested in Connecticut. During this time, Afeni rose to a position of power within the party. She flew to the West Coast to meet with Panther founder and leader Huey Newton, to discuss the East and West Coast disputes within the Black Panther Party.   Young Afeni, too, found herself arrested three short months after Lumumba was imprisoned, caught up in a governmental conspiracy charge of blowing up various buildings and landmarks in New York. Afeni had no money and no one to turn to, since her husband was still in jail. With the help of well-meaning white women from various churches, labor movements, and organizations she was able to make bail, not once but twice. While out on bail, Afeni became pregnant by a man she refuses to this day to identify, only saying it is not her then husband Lumumba Shakur.   Afeni was put back in prison after she was granted bail because of the twenty-one defendants she was standing trial with, three fled the country, causing all who were granted bail to forfeit the right. Now in prison and pregnant, Afeni boldly decided to represent herself rather than use one of the Panthers' many lawyers. It has been said that she chose not to accept the female lawyer assigned to her by Lumumba because she feared that the woman's voice was not strong enough to represent her to the fullest.   In the longest trial in New York City history, Afeni Shakur was acquitted of all charges. Newly divorced from Lumumba, Afeni gave birth to a baby boy on June 16, 1971, in Brooklyn, New York. She named him Lesane Parrish Crooks, only to later rename him Tupac Amaru Shakur. Afeni named her son after an Inca Indian revolutionary, Tupac Amaru, meaning "shining serpent." "Shakur" means "Thankful to God" in Arabic.   Afeni's affiliation with the Panther Party made it very difficult for her to find work. She struggled to make ends meet and often moved from house to house and lived sporadically in homeless shelters with her son. For a period of time Afeni and Tupac lived in Harlem. During that time, Tupac met a man who had a profound impact on his view of manhood and perhaps laid the foundation for the movement Tupac later created, T.H.U.G. L.I.F.E. "Legs" was said to be a drug dealer and a street hustler. Tupac later described Legs in an interview: "He didn't even care my moms had a kid. He was like, 'Oh, that's my son.' Took care of me, gave me money, but he was like a criminal, too." It has been said that Legs was arrested for credit card fraud and later died of a crack-induced heart attack. Losing Legs was perhaps one of the most devastating things that happened to Tupac in his young life, as he looked at the man as a father figure.