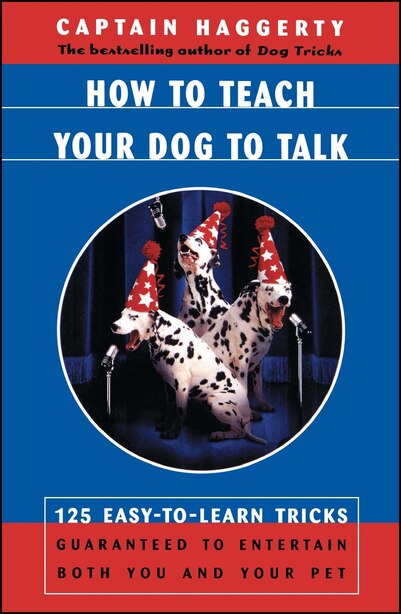 How To Teach Your Dog To Talk: 125 Easy-To-Learn Tricks Guaranteed To Entertain Both You And Your Pet
Paperback

|

May 5, 2000
Pricing and Purchase Info
$26.99
list price
save 9%
Prices and offers may vary in store
If you think you can''t teach an old dog new tricks, think again.
Captain Haggerty -- hailed by The New York Times as "the world''s most experienced dog trainer" -- proves that every dog can indeed have its day.
Not your everyday obedience or dog training guide -- designed for dogs who are ready for new challenges -- this presents instructions for 125 tricks, ranging from simple "bits" to spectacular acts worthy of a show business agent.

Safety tricks * Cute tricks * Retrieving tricks * Healthy tricks * Balancing tricks * Jumping tricks * Tricks emphasizing a dog''s sense of smell * Magic tricks * Tricks for the Show Biz dog * Tricks for the multidog family * Useful tricks * Tricks with props

There''s even a selection of tricks ideal for kids to teach the family pooch as well as notes on the breeds that excel at specific activities.
Title:
How To Teach Your Dog To Talk: 125 Easy-To-Learn Tricks Guaranteed To Entertain Both You And Your P...
Format:
Paperback
Product dimensions:
336 pages, 8.44 X 5.5 X 0.9 in
Shipping dimensions:
336 pages, 8.44 X 5.5 X 0.9 in
Published:
May 5, 2000
Publisher:
Touchstone
Language:
English
The following ISBNs are associated with this title:
ISBN - 10:0684863235
ISBN - 13:9780684863238
Look for similar items by category:
Preview Your Review
Your Review Has Been Submitted
NO, I do not recommend this product.
Educational/Developmental Value:
Thank you. Your review has been submitted and will appear here shortly.
Read from the Book
Chapter 1: How To Teach Your Dog To TalkDo you want a dog with whom you can have a light conversation over coffee? Or perhaps, during a quiet evening meal, you''d enjoy an in-depth debate on American foreign policy? Though you can certainly commune with your best friend now, you still lack the exciting give-and-take of a profound discussion of some arcane topic. Without the proper training, it''s just not going to happen! Hey, even with the proper training you''re not going to get that in-depth conversation. When you converse with your dog in a relaxed fashion, even if you''re dead wrong, he''ll still look at you with adoring eyes. This unquestioning adoration is the communication you''ll receive from him. That''s why dogs are better than people.First of all, you need to understand that there''s a difference between speaking and talking. It''s easy to teach a dog to speak. You say "Speak!" and the dog barks. But I''m here to tell you how to get your dog to talk. To actually form words.The theory is this: The reason the domestic dog barks -- as opposed to wild dogs, which merely whine, whimper and howl -- is because the dog is trying to mimic our speech. The Basenji, for instance, is a domesticated breed closer to the wild than most. These dogs are incapable of barking. Basenjis are so close to wild dogs that they, like the wild dog, come into season (estrus) only once a year. (The domestic dog normally comes into heat twice a year.) Interestingly, while this African breed is referred to as the "No-bark dog," I once trained one to speak (not talk) on command. With a little more time I''m sure I could have taught him to talk.Talk? Why bother? Well, to be honest, it''s mainly for you. But along the way, it helps you to understand and to bond with your dog. Any time I can assist someone to do that I want to sign up.In contrast to the Basenji, breeds such as the Rottweiler, for example, are more vocal than others. In general, dogs with a high activity level are better at speaking. When selecting a breed for talking we are interested in three main factors: the dog''s activity level, the predisposition to vocalize and the head type. The most important factors for success are your relationship with your dog and your willingness to work with your dog for short periods throughout the day. We''re going to give your dog a lot of chances to mimic your speech.Even if your dog''s mimicry is off by a country mile, it''s still an attempt to talk! The trick is to encourage any nondoglike sound. You encourage with praise, applause, touching, petting, cheering, clicking, jumping up and down, smiling, grinning and even aroma rewards to tell your prideful pooch how wonderfully he works. Food? What about food? Well, maybe food, but you know what your mother said about talking with your mouth full. We are cautious about stopping the sound, which happens when the dog eats.The quality of your relationship with your dog depends upon how eager you are to interact with him. Being able to "read" your dog is crucial. Reading means understanding your dog''s dog-ness as well as the ability to accurately interpret what he''s thinking and trying to communicate to you. This communication, silent though it may be, profoundly helps in bonding and in understanding one another. You are continually communicating with your dog and he with you. Believe me, he will pay more attention to you than you do to him, so the more you pay attention to your dog, the greater your success. Communication is happening all the time. To put it simply, "Robert" reads your mind and you read his. He starts moving around, and you know it is time to take him out. Does your significant other know you as well as Robert? That is communication. Not talking, but communicating.Dogs with a brachycephalic head (wide head, short muzzle), such as the Bulldog, Pit Bull or Bullmastiff, have a cavernous mouth, which produces rounder sounds. This is the preferred head type for talking dogs. The best brachycephalic choice of all is the Rottweiler. This breed, as I''ve said, while more inclined to vocalize than other breeds, doesn''t have a high energy level.Trail hounds, such as Foxhounds, Coonhounds and Beagles, have been bred to "give tongue" while they work. For this reason they too are more vocal than many other breeds. The sound they make is vocally different from the previously mentioned breeds'' and includes howling. Hounds were originally bred as pack dogs and were not meant for the household. Their propensity to bark and howl presented little problem because they were kenneled so far from their masters. In any event, nobody thought to breed for a quieter hound dog, because a nosier dog was easier to follow on the trail. Even now, hound-dog men cherish the "mountain music" of their dogs hot on a scent.An indoor dog is the best choice for talk training. As you''ll see, once I describe the training program, having your dog with you as frequently as possible helps a great deal.Northern breeds, such as the Siberian Husky, Malamute and Samoyed, are more inclined to howling, though it''s of a different type from the trail hounds''. Howling is difficult to control but relatively easy to start -- particularly with the northern breeds and the trail hounds. These tendencies offer a great deal of raw talent with which to work.Terriers, as a group, have a high activity level and for this reason can make excellent candidates. In the final analysis, there are numerous combinations of factors that enable a dog to talk, and this means that your dog can probably talk too.Getting StartedLet''s start off with the assumption that your dog Robert is never going to carry on a conversation with you regarding the President''s foreign policies. Even one word would be an accomplishment. Two or three words would be a major accomplishment. I''ll guarantee you that you''ll have the only dog on your block who talks. Heck, in your neighborhood! I''ve done a lot of jawing so far, and it''s time I started you on one trick. We''ll start slow and begin by teaching Robert to speak; talking will come later.Put Robert in a harness or nonslip collar and tie his leash to a stationary object. Stand three or four feet away from him with some scrumptious tidbits in your right hand and with your index finger raised. That is the hand signal to speak. Call Robert''s name. Excite and frustrate him. He wants to come to you. The split second he makes any sound, toss him a treat, tell him what a great dog he is and go up and ruffle his fur. Move away and repeat -- only this time you''re going to enthusiastically use the word "speak," calling to him and using his name. The first sound from him gets a treat and the same praise and petting as before. The next time, we want a little bit more of a bark. Repeat these steps until either six minutes has elapsed, or you''ve gotten eight barks (two barks in quick sequence before a reward count as one). You should have more sessions on successive days and demand a little more each time out (but more on that subject in chapter 8, section 2).Remember: I''m not promising you a rose garden. Training isn''t easy, and if you''re interested in teaching Robert to talk, you must be prepared to work at it. Six hours a day, seven days a week? No, better twenty-minute sessions throughout the day, seven days a week. Build up to the twenty minutes in two-minute increments. Really short sessions throughout the day help the dog maintain interest.Keep in mind that, initially, we''re going to take what we can get. Any sound is fodder for the talk trick. Any time you hear Robert make a unique sound, encourage and reward him. Semper paratus: always be prepared to reward your dog''s mumblings! Should he start to make actual, distinct sounds, read chapters 5, 6 and 7 of this book immediately! We want to avoid using a food reward in our speak-training method, because not only is your dog too polite to talk with his mouth full, he can''t talk with food in his mouth. Reward is crucial to training success; you just have to know how to pair the right kind of reward to the trick.A down-on-his-luck man and a little terrier walked into a seedy bar. The bartender told the man that dogs were not allowed in the bar. The man explained that Spike was a very special dog because he could talk. When the bartender demanded to see this amazing trick, the man countered with a request for a free drink if Spike actually talked. The bartender agreed, and the following conversation ensued:"Spike, what is this building covered with?" asked the man."Roof!" answered Spike."Get out of here!" ordered the burly bartender."No, no, give him another chance," said the man. "What is the texture of sandpaper?""Rough!" answered Spike"Out, out!""No! No! Give him another chance," pled the man. "Spike, who was the greatest ballplayer of all time?""Ruuuth!" was Spike''s prompt reply.The bartender came out from behind the bar, gripping a baseball bat, and chased man and dog out of his establishment.With his hands in his pockets and his head hung low, the man slowly walked away with Spike by his side.Spike looked up at him and said, "What''s the matter, boss? Should I have said DiMaggio?"There''s a point to this joke. In fact, there are three points. First and foremost, getting the "th" sound in the word Ruth. It''s not going to happen. Dogs cannot make the "th" sound. There are virtually no sounds that dogs make in the same way that we do. So we must aim for approximations.Point two is that your command (question) produces the interpretation of the dog''s response. There are two ways to handle your talking dog. One is to ask Robert to say someth
Table of Contents

Contents

1. How to Teach Your Dog to Talk

2. Making Those Sounds

3. Sing, Sing, Sing: The Sound of Music and Other Sounds

4. Motivating Your Dog

5. The Rewards

6. The Five Senses, Plus One

7. Clicker Training

8. Dog Training Techniques

9. Light and Fluffy

10. Tricks for the Urban Dog (Tricks I Hope You?ll Never Have to Use)

11. Tricks for the Suburban Dog

12. Tricks for the Rural Dog

13. Safety Tricks

14. Tricks to Exercise Your Dog with Minimum Effort

15. Balancing Tricks

16. Retrieving

17. The Knowing Nose

18. Tricks for the Showbiz Dog

19. Useful Tricks

20. Cute Tricks

21. Sending and Marking Tricks

22. Healthful Tricks

23. Jumping Tricks

24. Tricks with Kids

25. Magic Tricks

26. Tricks for the Multidog Family

27. Tricks with Props

28. An Open-and-Shut Case

29. Potpourri

The Breeds Indeed and the Tricks They Need

Index