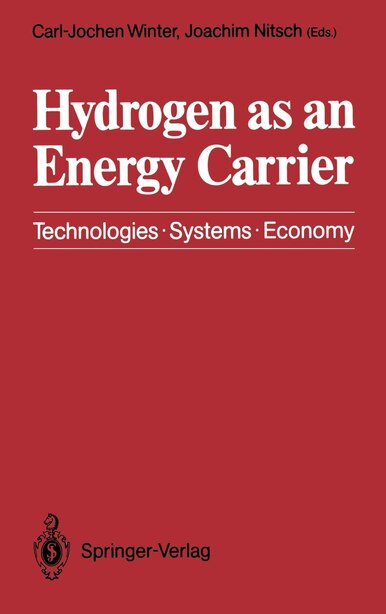 Hydrogen as an Energy Carrier: Technologies, Systems, Economy
Hardcover

|

November 14, 1988
Pricing and Purchase Info
$285.95
Prices and offers may vary in store
The technologies of hydrogen''s energetic utilization have been known for a long time. But aspects of system analysis, energy economics, and ecology that would come into play in introducing it into energy systems nave received much less attention. For those reasons, this book attempts to show the development path of a hydrogen economy, based on assured technological knowledge. One special concern has been to demonstrate, on one hand, how these developments would fit into existing energy supply structures, and, on the other, how they would contribute to further development of the energy system as a whole. With that goal in mind it is necessary to contrast the obvious advantages of hydrogen with the large efforts that would be required for its introduction. This total-systems approach led to a three-part organization of the book that also aids the reader in quickly identifying those parts that are of special interest to him. Section A essentially explains why it is necessary today to think about a new synthetic energy carrier. It also describes the irreplacable and growing role of hydrogen as a chemical raw material, and it explains technologies that al­ ready exist for its energetic use or that need further development. An attempt has also been made to prove that hydrogen''s safety characteristics indeed per­ mit its handling and use as an energy carrier. Hopefully, all this will show that hydrogen, together with electricity, could be the universally employable energy carrier of a future non-fossil energy supply system.
Title:
Hydrogen as an Energy Carrier: Technologies, Systems, Economy
Format:
Hardcover
Product dimensions:
396 pages, 9.21 X 6.14 X 0 in
Shipping dimensions:
396 pages, 9.21 X 6.14 X 0 in
Published:
November 14, 1988
Publisher:
Springer Berlin Heidelberg
Language:
English
The following ISBNs are associated with this title:
ISBN - 10:3540188967
ISBN - 13:9783540188964
Look for similar items by category:
Preview Your Review
Your Review Has Been Submitted
NO, I do not recommend this product.
Educational/Developmental Value:
Thank you. Your review has been submitted and will appear here shortly.
Table of Contents
Hydrogen as an Energy Carrier - A Guide.- A: Significance and Use of Hydrogen.- 1. Energy Supply Structures and the Importance of Gaseous Energy Carriers.- 1.1 Energy Demand Structures.- 1.2 The World Energy Consumption.- 1.3 The Energy User Structure and its Influence on Energy Usage.- 1.4 Energy Resources and their Range.- 1.5 Requirements on Future Energy Systems.- 2. Technologies for the Energetic Use of Hydrogen.- 2.1 Combustion of Hydrogen.- 2.2 Fuel Cells.- 2.3 Stationary Systems for Hydrogen.- 2.4 Hydrogen as a Fuel.- 3. Hydrogen as Raw Material.- 3.1 Present Situation and Future Development.- 3.2 Non-energetic Use in the Chemical Industry.- 3.3 Indirect-energetic Use of Hydrogen.- 3.4 Non-fossil Hydrogen as a Raw Material.- 4. Safety Aspects of Hydrogen Energy.- 4.1 Introduction.- 4.2 Safety Specific Properties and Characteristics.- 4.3 Behaviour in the Case of Deflagration and Detonation.- 4.4 Summary.- B: Production of Hydrogen from Nonfossil Primary Energy.- 5. Photovoltaic Electricity Generation.- 5.1 Physical Mechanism.- 5.2 Technology of Solar Cell Production.- 5.3 Solar Cell Moduls and Generators.- 5.4 Present Status of Photovoltaic Technology.- 5.5 Goals and Future Developments.- 6. Thermo-mechanical Electricity Generation.- 6.1 Thermodynamics of Solarthermal Energy Conversion.- 6.2 Production of High Temperature Heat by Means of Solar Energy.- 6.3 Production of Heat by Means of Nuclear Energy.- 6.4 Thermodynamic Cycles for Electricity Generation.- 6.5 Mechanical Energy Conversion for Electricity Generation.- 6.6 Indirect Possibilities of Solar Energy Utilization.- 6.7 Possibilities for Hydrogen Production.- 7. Water Splitting Methods.- 7.1 Survey.- 7.2 Thermodynamics of Water Splitting.- 7.3 Energy Balance of Chemo-technical Processes.- 7.4 Conventional Processes of Water Splitting with Hydrocarbons or Coal as Primary Energy Source.- 7.5 Water Splitting by Electrolysis.- 7.6 Water Splitting by Thermochemical Cycles.- 7.7 Economic Comparison of Different Water Splitting Methods.- 7.8 Further Methods of Water Splitting.- 8. Selected Hydrogen Production Systems.- 8.1 Survey and Selection of Systems.- 8.2 Technology and Electrolyser Plants.- 8.3 Electrolysis and Hydropower.- 8.4 Electrolysis and Nuclear Power.- 8.5 Electrolysis and Solar Thermal Power.- 8.6 Electrolysis and Wind Power.- 8.7 Electrolysis and Photovoltaic Power.- 9. Storage, Transport and Distribution of Hydrogen.- 9.1 Introduction.- 9.2 Storage Types and Storage Methods.- 9.3 Large Hydrogen Storage.- 9.4 Long-distance Hydrogen Transport.- 9.5 Short-distance Transport and Distribution.- 9.6 End-user Hydrogen Storage.- C: Design of a Future Hydrogen Energy Economy.- 10. Potential and Chances of Hydrogen.- 10.1 Future Contribution of Hydrogen.- 10.2 Sites for Hydrogen Production from Unlimited Energy Sources.- 11. Hydrogen in a Future Energy Economy.- 11.1 Hydrogen Production with Large Solar- and Wind-Stations.- 11.2 Development Strategy and Expenditures for the Production of Large Amounts of Hydrogen.- 11.3 Long-distance Transport Systems.- 11.4 Nuclear Energy and the Production of Large Amounts of Hydrogen.- 11.5 Characteristics of an Energy System with a Large Hydrogen Share.- 12. Concepts for the Introduction of Nonfossil Hydrogen.- 12.1 Introduction into Industrialized Countries.- 12.2 Decentralized Use of Hydrogen in Southern Countries.- 13. Energy-economic Conditions and the Cooperation with Hydrogen Producing Countries.- 13.1 Capital Requirements.- 13.2 Funding Possibilities.- 13.3 Cooperation with Hydrogen Producing Countries.- 13.4 Steps to Solar Hydrogen.