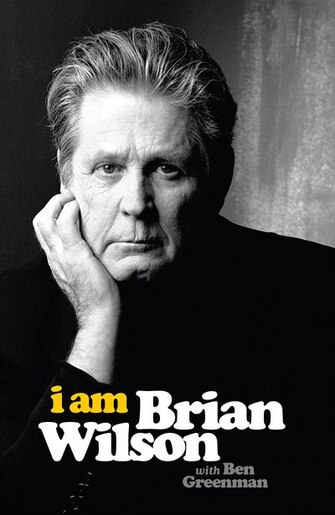 I Am Brian Wilson
Hardcover

|

October 11, 2016
Pricing and Purchase Info
Prices and offers may vary in store
For the first time in his own words, the legendary musical genius of The Beach Boys reflects on his tumultuous life and astonishing 21st-century comeback to live performance and renewed creativity.

Brian Wilson was the driving creative force behind The Beach Boys, a band that defined an era and charted nine consecutive gold albums and hit after unstoppable hit. But he was derailed in the 1970s by mental illness, drug use, and the shifting fortunes of the band he''d helped to create. In the late 1980s, while still under the thumb of a disreputable therapist, he reemerged as a solo artist, though his living conditions made that unsustainable. Amazingly, he persisted. He found the right support network, including his second wife, Melinda, the right doctors and the right medication and, with their help, he found his way back to the foundation of his creativity. In the 2000s, for the first time ever, Wilson became a viable solo performance artist. And he was at last able to complete Smile, the unfinished Beach Boys record that had become both the symbol of his genius and of his destabilization.

I Am Brian Wilson is the story of Brian Wilson''s life, told by Brian Wilson. But he''s not the same man who had a nervous breakdown on an airplane in 1964 or the one who ballooned to 300 pounds and couldn''t get out of bed in the 1970s. This Brian Wilson is older, calmer, filled with perspective regarding his extraordinary accomplishments and forgiveness for the people who complicated those accomplishments, and his life. Wiser, more measured, though still possessed of the youthful spark that helped him rise to the top of the rock and roll world, Wilson relates his life with a level of emotional honesty that has eluded authors of scores of previous works on Brian and The Beach Boys: "Telling my story honestly means remembering things I sometimes prefer to forget. I would like people to get to know what I''ve gone through, and I hope that my story will give them strength."
Title:
I Am Brian Wilson
Format:
Hardcover
Dimensions:
320 pages, 9.53 X 6.4 X 1.12 in
Published:
October 11, 2016
Publisher:
Random House of Canada
Language:
English
The following ISBNs are associated with this title:
ISBN - 10:0345813936
ISBN - 13:9780345813930
Look for similar items by category:
Preview Your Review
Your Review Has Been Submitted
NO, I do not recommend this product.
Educational/Developmental Value:
Thank you. Your review has been submitted and will appear here shortly.
Read from the Book
My life has been written about over and over again, and that's mostly okay with me. Other people can talk about my life. Sometimes they'll get it right and sometimes they'll get it wrong. For me, when I think back across my own life, there are so many things that are painful. Sometimes I don't like discussing them. Sometimes I don't even like remembering them.But as I get older, the shape of that pain has changed. Sometimes memories come back to me when I least expect them. Maybe that's the only way it works when you've lived the life I've lived: starting a band with my brothers that was managed by my father, watching my father become difficult and then impossible, watching myself become difficult and then impossible, watching women I loved come and go, watching children come into the world, watching my brothers get older, watching them pass out of the world. Some of those things shaped me. Others scarred me.Sometimes it was hard to tell the difference. When I watched my father fly into a rage and take swings at me and my brothers, was that shaping or scarring? When we watched him grow frustrated with his day job and take solace in music, was that shaping or scarring? Those are all memories but I can't get to them all at once. I've had a whole lifetime to take them in. Now I have a whole book to put them out there.
Editorial Reviews
"[This] book pulls no punches: Wilson openly discusses his five decades of mental issues, his struggles with an abusive father, drugs, alcohol and weight, his debilitating fears and his failures (and successes) as a husband, dad and bandmate. Principally he focuses on the creative juices that have proven his lifeblood, enabling him to prevail against towering odds. If there's a sad endnote, it's that Wilson has yet to fully accept the magnitude of his genius." —Maclean's"Brian Wilson's memoir is an unconventional but fascinating read. . . . [O]ne gets a terrific feel for Brian Wilson as a person and how he both thinks about and is affected by music. This is one true joy of the book. . . . In all, I Am Brian Wilson is as interesting a book as you'd want it to be. It's not a linear history. It's not a juicy tell-all. But it is a beautiful view into the brilliant and sometimes troubled mind of a true genius of American music." —Under the Radar"Brian Wilson's I Am Brian Wilson tells his story in all its guts and glory in a voice intimate enough to suggest you might be reading his diary. . . . [I]n I Am Brian Wilson, the erstwhile Beach Boy's personality shines through with conversational ease. . . . [H]ere we get a taste of Wilson as a headstrong survivor, a damaged musical genius who overcame insurmountable odds. . . . [H]is candor is . . . refreshing." —The Boston Globe"This is not a quick, nor easy read; it is meant to be savoured and read over a few days to get the full impact of this great man's life. Fans will love this book and if you are not a fan, you soon will be. So settle back with a cup of tea, or maybe a beer or a glass of your favourite wine and have Brian Wilson talk to you about his life, his successes, his failures, but most of all of his music." —Starts at 60 "Like many autobiographies, Wilson follows a generally linear approach, but he often skips around a straight chronological approach. This works well, as his mind connects sounds and visions across decades. . . . Hearing about the creation of such timeless music from his voice makes the music that much richer. . . . [A] wonderful insight into a troubled genius." —Forbes"I Am Brian Wilson is soulful and earnest—like spending quality time with a gentle sage. . . . Wilson is heartbreakingly blunt about his mental breakdowns and suffering at the hands of his father. He has startling insights into the music." —Rolling Stone "In this tell-almost-all memoir, Brian Wilson candidly reflects on his struggles . . . illness and digs deep into the inspiration and meaning behind his music. It's a must-read for any fan of The Beach Boys—or the '60s pop scene, in general—with big-name music icons of the era . . . featuring in many of the stories." —Canadian Living "[E]ssential for any Beach Boys fan." —Kirkus Review"Wilson gives a thoughtful overview on his life." —NME