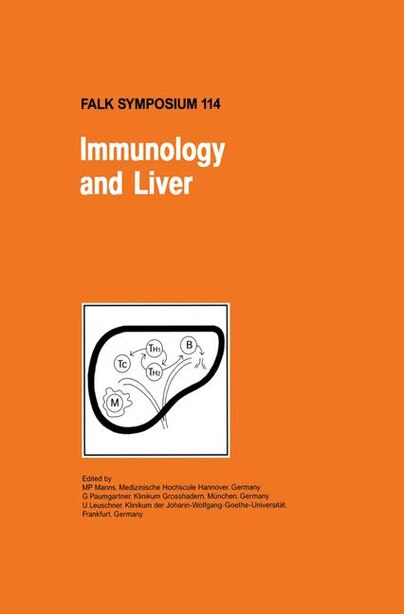 Immunology and Liver
Paperback

|

November 22, 2012
Pricing and Purchase Info
$255.95
Prices and offers may vary in store
In 1992, the Falk Symposium No. 70 dealt with the topic `Immunology and Liver''. At that time basic mechanisms of immunology as well as immunopathogenetic mechanisms in viral and autoimmune liver diseases were discussed. Now, 7 years later, the Falk Symposium No. 114, held in Basel, Switzerland, October 20-21 1999 (Part I of the Basel Liver Week 1999), focused on immunology in autoimmune liver diseases. In the first section basic mechanisms of autoimmunity are presented, including the relevance of superantigens and the role of apoptosis. A further topic is the latest developments concerning animal models for autoimmune diseases. Recently the International Autoimmune Hepatitis Group newly defined and reclassified the syndrome of autoimmune hepatitis. Autoimmune hepatitis is now identified and studied in all parts of the world, including Asia and South America. A special variant of autoimmune hepatitis was identified as one organ manifestation of the autoimmune polyendocrine syndrome type 1, a genetic disease caused by mutations in a single transcription factor. Drug- and hepatitis-virus induced immune mediated liver diseases may serve as models for nonhepatic immune mediated disorders. DNA technology has increased our knowledge of the immunogenetic background of autoimmune liver diseases. Among the cholestatic immune mediated liver diseases, significant progress has been made concerning primary biliary cirrhosis, in particular regarding the identification of mitochondrial antigens and the characterisation of the immune reactions directed at them. The involvement of infectious agents in PBC as well as the definition of overlap syndromes is a particular focus for basic and clinical research in this area.
Concerning the therapy of autoimmune liver diseases, corticosteroids and azathioprin remain the state of the art for autoimmune hepatitis, while bile acids have become well established in treatment of primary biliary cirrhosis as well as primary sclerosing cholangitis. New drugs in the future will include topical steroids such as budesonide and new immunosuppressive agents like mofetil/mycophenolate. Liver transplantation is the treatment of choice for end stage liver diseases; all autoimmune liver diseases are among the best candidates for liver transplantation. Hopefully, new therapeutic strategies based on the results obtained from experimental models will become everyday clinical practice in the next decade. Therefore this symposium concludes with a discussion.
Title:
Immunology and Liver
Format:
Paperback
Product dimensions:
400 pages, 9.25 X 6.1 X 0 in
Shipping dimensions:
400 pages, 9.25 X 6.1 X 0 in
Published:
November 22, 2012
Publisher:
Springer Nature
Language:
English
The following ISBNs are associated with this title:
ISBN - 10:9401057680
ISBN - 13:9789401057684
Look for similar items by category:
Preview Your Review
Your Review Has Been Submitted
NO, I do not recommend this product.
Educational/Developmental Value:
Thank you. Your review has been submitted and will appear here shortly.
Table of Contents
Section I: Basic Mechanisms of Autoimmunity.- 1 Autoimmunity and autoaggression.- 2 Autoantibodies to insulin-like growth factor II mRNA-binding proteins in hepatocellular carcinoma.- 3 Migration of microsomal autoantigens to the hepatocyte plasma membrane.- 4 Caspase-10 mutations in the autoimmune lymphoproliferative syndrome type II.- 5 Mechanisms of virus-induced autoimmune disease.- Section II: Definition and Spectrum of Autoimmune Hepatitis.- 6 Definition and classification of autoimmune hepatitis 1999.- 7 Autoimmune hepatitis in Asia.- 8 Autoimmune hepatitis in South America.- 9 Autoimmune hepatitis in children.- 10 Hepatitis in the polyendocrine syndrome type I.- Section III: Pathogenesis of Autoimmune Liver Diseases.- 11 Genetics of autoimmune liver disease.- 12 The role of T cells in autoimmune hepatitis.- 13'' ANCA in liver diseases''.- 14 Reactivity of autoimmune hepatitis sera with glutathione S-transferase.- Section IV: Drug and Hepatitis Virus Induced Autoimmunity.- 15 The cytochrome P450 supergene family: genetic organization and function.- 16 Uridine diphosphate 5''-glucuronosyltransferases (UGT): genetic organization and function.- 17 Allergic and autoimmune reactions to xenobiotics: how do they evolve?.- 18 Immune (T cell) response in viral hepatitis.- 19 Autoimmune response in hepatitis C and D.- Section V: Primary Biliary Cirrhosis, Primary Sclerosing Cholangitis and Overlap Syndromes.- 20 Histological classification of autoimmune cholestatic liver diseases.- 21 Clues to the aetiology of primary biliary cirrhosis.- 22 Nuclear protein antigens in primary biliary cirrhosis.- 23 Thoughts on the infectious aetiology of primary biliary cirrhosis.- 24 Primary sclerosing cholangitis as an autoimmune disease: pros and cons.- 25 Overlap syndromes and changing diagnoses.- 26 Autoimmune liver disease and malignancy.- Section VI: Therapy of Autoimmune Liver Diseases - State of The Art.- 27 Therapy of autoimmune diseases - state of the art.- 28 Therapy of primary biliary cirrhosis.- 29 Therapy of primary sclerosing cholangitis.- 30 New steroids and new immunosuppressive drugs in autoimmune liver disease.- 31 Transplantation for autoimmune liver disease.- Section VII: Therapy of Autoimmune Liver Diseases - The Future.- 32 T cell vaccination as potential therapy for autoimmune hepatitis.- 33 Gene therapy for autoimmune diseases.