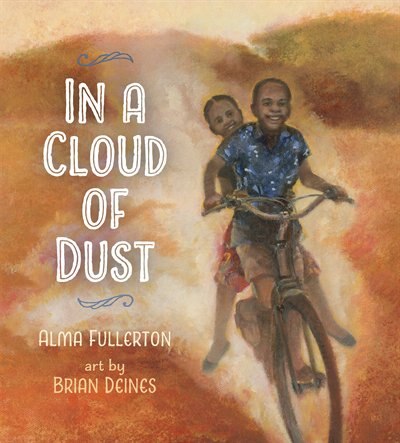 Find In Store
Prices and offers may vary in store
A celebration of bicycles, cooperation, and the resourcefulness of children everywhere
In a Tanzanian village school, Anna struggles to keep up. Her walk home takes so long that when she arrives, it is too dark to do her homework. Working through the lunch hour instead, she doesn't see the truck from the bicycle library pull into the schoolyard. By the time she gets out there, the bikes are all gone. Anna hides her disappointment, happy to help her friends learn to balance and steer. She doesn't know a compassionate friend will offer her a clever solution—and the chance to raise her own cloud of dust.
Brought to life by Brian Deines' vivid oil paintings, Alma Fullerton's simple, expressive prose captures the joy of feeling the wind on your face for the first time. Inspired by organizations like The Village Bicycle Project that have opened bicycle libraries all across Africa, In a Cloud of Dust is an uplifting example of how a simple opportunity can make a dramatic change in a child's life.
"Soaked in warm golds and oranges, Deines's oil paintings glow with a sense of promise as the children race around the schoolyard on their bikes. Fullerton says quite a bit with few words in her verselike prose, and a detailed author's note discusses the vital role bicycles play in communities across Africa and supplies information about bicycle donation organizations."—Publishers Weekly
Product dimensions:
32 pages, 10.26 X 9.4 X 0.41 in
Shipping dimensions:
32 pages, 10.26 X 9.4 X 0.41 in
Publisher:
Pajama Press Inc.
Appropriate for ages:
6 - 8