In The Pleasure Groove: Love, Death, And Duran Duran
Paperback

|

September 24, 2013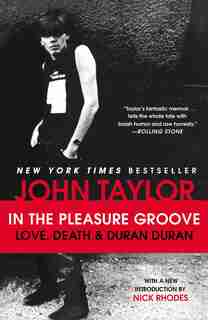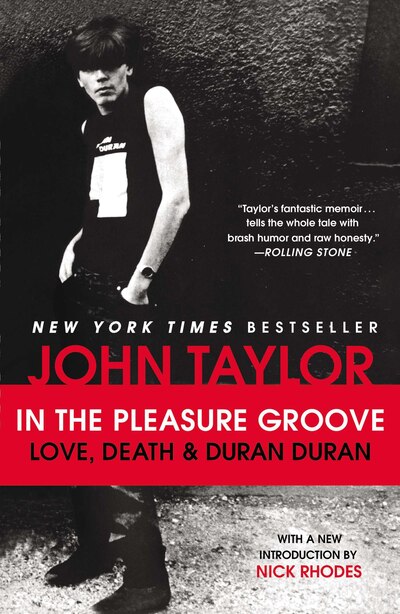 $24.00
list price
save 6%
Prices and offers may vary in store
With a new introduction by Nick Rhodes

The talent. The charisma. The videos. From their 1981 hit "Planet Earth" to their latest number-one album, All You Need Is Now, John Taylor and Duran Duran have enchanted audiences around the world. It''s been a wild ride, and—for John in particular—dangerous. John recounts the story of the band''s formation, their massive success, and his journey to the brink of self-destruction. Told with humor, honesty—and packed with exclusive pictures—In the Pleasure Groove is an irresistible rock-and-roll portrait of a band whose popularity has never been stronger.
 
Title:
In The Pleasure Groove: Love, Death, And Duran Duran
Format:
Paperback
Product dimensions:
400 pages, 8 X 5.35 X 0.9 in
Shipping dimensions:
400 pages, 8 X 5.35 X 0.9 in
Published:
September 24, 2013
Publisher:
Penguin Publishing Group
Language:
English
The following ISBNs are associated with this title:
ISBN - 10:0142196940
ISBN - 13:9780142196946
Look for similar items by category:
Preview Your Review
Your Review Has Been Submitted
NO, I do not recommend this product.
Educational/Developmental Value:
Thank you. Your review has been submitted and will appear here shortly.
Read from the Book
INTRODUCTION Today, I am comfortable to admit that I was a little unnerved when John Taylor formed a band before I had left school. You see, we met when I was ten years old and he was twelve—both only children, liv­ing in the Hollywood hood, we swiftly adopted each other as brothers, so I always imagined we would do this together. Fortunately for me, his first group, Shock Treatment, didn't last for more than a season. The Assassins followed briefly, and then Dada, despite such a gloriously pretentious name, were rapidly destined for obscurity in the post-punk Birmingham music scene. I remain personally grateful for John's early setbacks.In 1978, through immaculate correction, everything fell into place: we reverted to our original plan and set off on a mission to realize our childhood dreams. Fueled by the power of unbridled naïveté and ambition, we formed Duran Duran version 1.0. From this time onward, we were aboard a one-way, nonstop roller coaster, which traveled exceedingly fast.I don't often reflect upon the past because we are always too busy trying to invent our future, but it does seem strange, if I look over my shoulder for a moment, that somehow we went from being a couple of kids who loved music and went to endless concerts together, to creating a band that has shaped our lives in entirely unforeseen ways.You must all be wondering what will be revealed in the pages ahead. I certainly know that John has a plentiful supply of captivating tales to tell . . .I admire John's determination and tenacity. When we played our first show, he designed and printed the posters. We couldn't afford fancy lighting, so we projected his school geography field-trip slides over the stage. We have always tried to find a way to make things work. Practicality has served us well. Little has changed; I know today that if John and I have a vision, we can rely upon each other to make it happen.I could tell you a lot of secrets about John: I was there to witness his first girlfriend, his first concert, and the first time he picked up a bass guitar. We figured it all out together—we made music, made mistakes, made some friends and lost a few, too, learning to deflect scandals in newspapers when they sold their stories; but we always found our way. You will see what John chooses to unravel from the exquisitely frivolous to the profound. Perhaps he'll mention the time when he had just acquired the second of his three Aston Martins, and invited me out for a quick spin around London. Being a nondriver and easily susceptible to luxury, I willingly accepted the invitation. He picked me up and we glided smoothly into the late afternoon; but our trip soon came to an abrupt standstill, directly in front of Harrods, when the car broke down during rush hour. John looked at me and calmly announced, "It's stalled for some reason, we'll have to get out and push . . ." This wasn't ex­actly what I had in mind, but, needless to say, there were no other options readily available. A line of cars was building up behind us, and exasperated drivers were sounding their horns, which of course focused more attention on John and me, as we sheepishly climbed out of the car, trying not to look conspicuous with our newfound fame and brightly colored hair. Soon a small crowd had gathered, and startled onlookers began to ask for autographs, as we tried to maneuver the car out of traffic. We were shaken but not stirred. Maybe John has forgotten this incident, or more likely chosen to omit it, because there are many more significant episodes for him to recollect. It particularly resonated for me at the time, however, because in that snapshot I recognized just how much our lives had changed over twenty-four months.Although we have both been on the same trajectory with Duran Duran for more than three decades, it is the choices we have faced and decisions we made in our personal lives that set the course for our individual pathways. It would be hard to find five people in the same band who have lived such di­verse lifestyles in parallel. I have seen John at the top of the mountain. We had number one records, sold-out tours, and performed to audiences who screamed so loud we couldn't hear what we were playing. He got the cars, he got the girls, and always received sackfuls more fan mail than anyone else in the band. Each of us reacted and adapted differently to our circumstances. John burned very bright, and then spiraled out of control in a spectacular fashion. It is no secret that he has struggled with addiction. We first noticed signs early on, but never grasped that things were getting serious. We all lived in a bubble of chaos, moving from limo to plane to hotel room to venue, then back to the hotel. So when someone didn't go to bed all night, or surface until the following evening, it was not particularly unusual. Somehow we managed to keep functioning as a band. It never occurred to me how close to the edge John had gone, until the late nineties, when he announced to us that he needed to take action to confront his problems. Simon and I were shocked. We had no idea that he was still haunted by drugs and alcohol, because al­though John can be an open book, he also has the capacity to be private and guarded.In 1996, as a consequence of John's decision to change his life, he and I had a difficult phone call, during which he told me that he was leaving the band. I was numb, and although I had been feeling his presence slowly waning, with increasingly extended trips to LA, for me, it did not seem like the right time to give in. His mind was made up. He wanted to go, which left us with no remain­ing Taylors—an unthinkable predicament for Duran Duran! In the aftermath, I wrote a lyric for a song called "Buried in the Sand" about our conversation, but it didn't change the fact that things now felt completely different. John left a gaping hole in the personality and sound of the band; we lost our focus and a crucial part of our identity. Simon and I missed him terribly.After this, John and I continued to drift further apart. We had precious little contact for a couple of years, which seemed so alien, having spent virtu­ally every day together since our childhood. Then, a few scenes later, like most Hollywood productions, just when you think it's all over, something dramatic happens to save the universe: the Reunion. John came striding back into town, triumphantly flanked by the other missing Taylors. I will leave him to paint the scene, but suffice to say, our time apart made us better appreciate the chemistry we have together. John can be fragile and sensitive, yet equally strong and determined. He turned around his addictions and now concen­trates his energy on helping others with similar issues. John is the real deal. I have known him longer than any of my other friends. There is no one I would have rather shared this journey with. He's also my favorite bass player.Finally, I should confess that I have not yet read this book, only resisting the temptation thus far, because I, too, hope one day to deliver my version of the events we encountered along the way, and I don't want to borrow what I don't remember.I am inordinately curious to hear John's perspective, and to understand how he saw everything. What he thought. How he felt. What he went through. And ultimately what became important. I know for John, that writ­ing his autobiography was a process of catharsis, involving many hours on the couch, laying bare character flaws, trawling through transcendent mem­ories, and reliving painful experiences. I am sure his story is heartfelt and delivered with candor and panache, which is John's style.Enjoy the ride, but be warned, it may get a little bumpy at times.—Nick RhodesTo look backward for a while is to refresh the eye, to restore it, and to render it the more fit for its prime function of looking forward. —Margaret Fairless BarberBut I won't cry for yesterday, there's an ordinary world Somewhere I have to find And as I try to make my way to the ordinary world I will learn to survive —Duran Duran, "Ordinary World"Crisis = Opportunity —Chinese proverbBrighton, June 29, 1981 It's a Monday night at the Brighton Dome, two weeks before our third single, "Girls on Film," is due out. It's a week after my twenty-first birthday. The lights go down and "Tel Aviv" strikes up. We have chosen the haunt­ing, Middle Eastern–inspired instrumental track from our new album to function as a curtain-raiser, to let the audience know the show is about to begin.But something strange is happening. None of us can hear the music. What is going on out there? The sound of an audience. Getting louder. Larger. Chanting.Screaming.And then, out onto the stage, behind the safety curtain we go. A frisson of fear. We look to each other with nervous glances. Faces are made. "Is that for real?"We plug in; bass working, drums beating, keyboards and guitars in tune.Ready."Tel Aviv" reaches its coda. Here we go.And the curtain rises on our new life.The power of our instruments, amplified and magnified by PA stacks that reach to the roof, is no match for the overwhelming force of teenage sexual energy that comes surging at us in unstoppable waves from the audi­torium.The power of it is palpable. I can feel it take control of my arms, my legs, my fingers, for the duration of the opening song. It is unrelenting, waves of
Editorial Reviews
"Unlike most cred-obsessed rockers, the Duran Duran bassist presents his (and the band''s) story as one of substance in the service of style. And his natural raconteur''s wit lends Duran''s ruthless ambition some crucial charm."—LA Times "Taylor''s honest and heartfelt style makes for a highly worthwhile and entertaining read whether you are a fan of the band or not. In the Pleasure Groove is, quite simply, a fascinating tale of very interesting man who has jammed one hell of a lot of living into his 52 years."—Huffington Post "Taylor's insightful, entertaining memoir, the inside story of the seminal '80s band, Duran Duran."—Publishers Weekly "The book is a familiar tale of rock 'n' roll, sin and redemption, but Taylor's capable voice make this a more nuanced and intriguing memoir than might be expected."—Kirkus