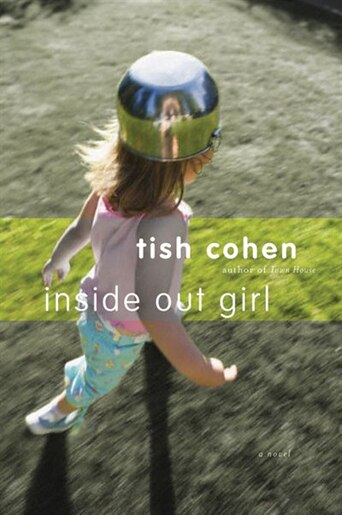 Inside Out Girl
Paperback

|

August 11, 2008
Pricing and Purchase Info
$15.95
Prices and offers may vary in store
Rachel''s life is anything but calm. She''s a single mother of two and publisher of a sinking parenting magazine left to her by her father. Although she tries to be easygoing, she''s all too aware of the statistical dangers lurking around every corner: Unintentional injuries are the leading cause of death in children between the ages of one and 21. So it is out of character (to say the least) when she pulls over on the side of a busy highway to help a man and his quirky daughter change a tire.
    The daughter, Olivia, has an NLD (non-verbal learning disorder) and is known to Rachel''s children as the most made-fun-of student at school. Her nickname is the "inside out girl" since she often shows up to class with her clothes on wrong. It is to the great dismay of Rachel''s children that their mother begins dating the inside out girl''s widowed father, Len. When Rachel finds herself falling in love with him, she realizes she has to reassess her notions of the ideal family. But it''s not until Len learns of a sudden illness that will alter his future that Rachel begins to change as well. She finds herself revisiting a mystery from her past and learning to love and respect every aspect of her children''s lives-including her daughter''s crush on the girl next door.
    As she did in her hit debut novel, Town House, Tish Cohen perfectly captures the idiosyncrasies and charms that make up our lives, bringing us flawed characters that are nevertheless memorable, lovable and endearing.
Title:
Inside Out Girl
Format:
Paperback
Dimensions:
272 pages, 8.25 X 5.6 X 0.89 in
Published:
August 11, 2008
Publisher:
HarperCollins Publishers Ltd
Language:
English
The following ISBNs are associated with this title:
ISBN - 10:1554681200
ISBN - 13:9781554681204
Look for similar items by category:
Preview Your Review
Your Review Has Been Submitted
NO, I do not recommend this product.
Educational/Developmental Value:
Thank you. Your review has been submitted and will appear here shortly.
From the Author
HarperCollins Canada's Cathi Bond spoke with Inside Out Girl author Tish Cohen via Prosecast. Here we present a partial transcription of the interview. Cathi Bond: Can you tell us about the main character, Rachel? Tish Cohen: Well, Rachel is loosely based on my own parenting style. I'm an over-protective mother of two skateboarding boys who have been sent to the hospital more than a few times with concussions, broken bones and that sort of thing. And, in spite of all of my efforts to keep them safe, I warn them every time they go off to bike ride or anything that they're not allowed to get hurt. Usually it's something I could never have anticipated. So, Rachel's nature definitely came from my own parenting with my kids. Cathi Bond: What attracted you to this character? Was it just your own experience? Or was there something more universal that you saw? Tish Cohen: I have a girlfriend who's a family therapist and I'd heard from her about the trouble some families have in blending. Two single parents meet and they both have kids and sometimes it's difficult for parents to really understand the other one's children. [I wondered] what would it be like to have a child come into your family, and to your life, who is almost completely unmanageable [and], at times, hard to love because she causes so much stress and there's such a huge communication gap no matter how hard you try. Yet this child needs love more than anything. I just thought that was sort of an interesting situation to set up. Cathi Bond: The child you're talking about is Olivia. She has something that I'd never head of before, non-verbal learning disorder. Can you tell us about that? Tish Cohen: Non-verbal learning disorder (NLB) is a condition that is so similar to Asperger's disorder that it's often misdiagnosed and a huge percentage of children with Asperger's also have NLB. It's usually a complete inability to understand any communication cues that are not verbal. The child can understand your words but they can't understand any hidden meaning behind them. These kids tend to be sort of uncoordinated as well and they tend to not do well with direction, they have special problems. They may get lost in their own school, they may have attended the school for five years and they still can get lost trying to find the office. They are kids who tend to walk around school with their sweat pants pulled too high. They may be running around in the liner of their winter boots because that's what's most comfy and they can't manipulate laces and that sort of thing. So, they tend to be branded by the other kids as nerds or dummies and that's really not the case. What made this condition so poignant for me was the similarity with Asperger's. Asperger kids tend to be, you know, sort of in the same trap but with Asperger's, because it's on the autistic spectrum, the kids tend to be in their own little social bubble, they tend to self-isolate and they're not looking for contact with other kids. Kids with NLB, they desperately want to be liked and accepted by the other kids, so to me, I found that unbelievably poignant that these kids want that more than anything and generally don't achieve it. Heartbreaking for a parent as well, and that's what I wanted to examine with Len. What would it be like to be the parent of such a child? I mean, how heartbreaking every day to have that child come home and talk about how they were bullied. Cathi Bond: I remember reading somewhere that you really felt that autism, which is an extraordinarily challenging disorder but that people really needed to know more about NLD and that's one of the reasons you wrote about it. Tish Cohen: Yes, I mean Asperger's and autism get a lot of press and it's deserved, but this condition, it's funny, this conditions has sort of been overlooked and it's every bit as socially crippling as Asperger's. And I think for the parents of the kids with NLD and for the kids themselves, life would be a lot easier if society understood, these kids aren't stupid, they can be gifted in areas. Olivia's gifted in her knowledge about rodents. They can be brilliant kids in other ways. You wouldn't bully a kid with autism -- the kids know better than to do that. They've been taught at school what autism is, yet they haven't been taught about this condition. Cathi Bond: Back to Rachel for a second, she's on the way to a meeting. She's a single mom with two kids. She sees this guy at the side of the road and then suddenly these two are thrust into her life. It seems that she has an awful lot to balance. Tish Cohen: But I think that every single parent does. I mean, my sister is a single parent, and I watch what she's going through and there's no one there to help with, even to take out the trash. And just the little things that when there's two of you it really helps to simplify life -- I think she's typical of so many people in today's world.
Read from the Book
CHAPTER 1 Four Days of Stink The stench in his daughter's darkened room nearly brought Len to his knees. Nothing quite pierced the nostrils like the harsh tang of death. Especially death four days later. Len held his breath as he threw back the curtains and leaned down over the bed. "Olivia," he said, shaking the sweaty ten-year-old's shoulder. "Time to get up and get ready for school, princess. It's Thursday. Drama and music class." Olivia groaned. Tangled in a mass of The Incredibles bedsheets and twisted pajamas, she rolled over – long, reddish-brown snarls strewn across her pale face like a net; doughy stomach, with impossibly deep belly button, luminous in the morning sun. Half of a bandage dangled uselessly over a scratch nearly healed on her forearm. As usual, she'd refused to allow her father to count to three and yank. She rubbed her eyes and stretched. Squinting into the daylight, she grumbled, "Wish it was Saturday," and slithered off the bed, knocking to the floor her beloved Birthday Wishes Barbie, who, like Olivia's other Barbies, had long been stripped of the finery she arrived in – sky-blue gown, wrist-length gloves, dainty shoes – and been obliged to endure a perpetual state of nakedness ever since. The child stumbled across the room to her gerbil cage, the source of the rotting stench. "Need to feed Georgie Boy." Yawning, she reached her hand inside and unclipped the water bottle, holding it up in the sun. She groaned. "Empty? The pet store lady said we should access to water him daily." "Give him access to clean water," Len said. "But it's a little late for that." He could see the gerbil on its back, stiff as Indian rubber. The concept of death was not coming easily to his daughter. Her mother died when she was too young to understand, and this gerbil was Olivia's first conscious experience dealing with the intangible reality of someone, something, being there one minute and gone the next. So when they'd found the little rodent claws-up on Sunday afternoon, Olivia flatly refused to bury him. In the supposed five stages of grief, the child was besotted by the first – denial – and her fidelity showed no signs of waning. Len moved closer, sank into her desk chair, and wondered if the air might actually be alive with stink. A soupy fog of putrefaction so strong he was near certain he could taste it. He glanced at his watch. He wasn't late for anything in particular. The senior partners of Standish, Bean and Roche could, theoretically, stroll in when they pleased. Trouble was, they didn't. By the time Len jogged in at nine thirty each morning, desperate for a coffee, the other partners were already elbow-deep in divorce and custody files, calling out to their assistants or mollifying jilted spouses on the phone. There had been a time when Len prided himself on being the one to flick on the office lights each morning. He'd arranged his life in such a way that dedication to his family and his career were perfectly balanced. Until his wife died. A widowed parent loses the luxury of balance. And on this particular morning, confronted with a festering rodent, family won. Taking Olivia's free hand, Len said, "It's never easy to say good-bye to our loved ones. Do you remember that song that used to make you cry? What was it called ... 'The Circle of Life'?" Her silver eyes, far too big for her delicate face, shone. She nodded. "From The Lion King." Good. We're getting somewhere, he thought. "Yes. The Lion King. Do you know what that means?" Blinking furiously, Olivia looked up to the ceiling and concentrated. "It means he was king of the jungle." "No. I mean, yes," Len said. "But, do you know about the circle of life?" Olivia had already lost interest. She poked Georgie Boy in the stiffened haunch and watched him rock like a tiny, stuffed, upsidedown moose. Then she stopped. "Hey!" she squeaked. "I can see his vagina." "Where did you learn that word?" "From Callie Corbin and Samantha. I tell them stuff about rodents, they tell me stuff about vaginas." He'd have to speak to Olivia's teacher. Again. "Do me a favor, sweetheart, stay away from those girls. They're bullies." Olivia reached for the chipped antique milk bottle on her dresser and, squinting, held it up to the window. Pebbles shimmered in the morning sun – some smooth and round, some pitted and veined, others pure black – filling the bottle by more than a third. "Callie Corbin called me 'Inside Out Girl' again. Everybody laughed. I hate her." "Where was Jeremy?" Jeremy Knight, the scruffy- faced teacher's aide in Olivia's classroom, had made it his personal objective to shield her, as best he could, from the taunts of other children. He'd come up with a way for Olivia to stand up for herself, if only in private, by encouraging her to write the bully's name on the chalkboard when the other kids were at recess, then erase it with all her might. By the time she'd wiped out any trace of the offender, Olivia was usually giggling, drunk with power. Ineffectual, after-the-fact power – not much more than an expired salve, really – never quite soothing the underlying pain, but doing a decent job of drying the tears. She called Jeremy her "special person." "He wasn't at school that day," she said. "Is Jeremy going to be there today?" "I'm sure he will, sweetheart. You know, I'm wondering if maybe I could help you get dressed before school each day ..." "I DON'T need help!" What was better – derailing his special-needs daughter's critical attempts at independence or watching her march toward her classroom wearing her T-shirt backward, knowing full well the kids would eat her alive? It was a question for her therapist, Dr. Kate. From Inside Out Girl. Published by HarperCollins Publishers Ltd. Copyright © 2008 by Tish Cohen. All rights reserved. Reprinted by permission of HarperCollins Publishers Ltd.
Editorial Reviews
?Inside Out Girl had me from the very first page. Each character is richly drawn and the story poignant and tender. Olivia is a memorable character who will stay in my heart for a long, long time.? (Patricia Wood, bestselling author of Orange Prize-shortlisted Lottery)