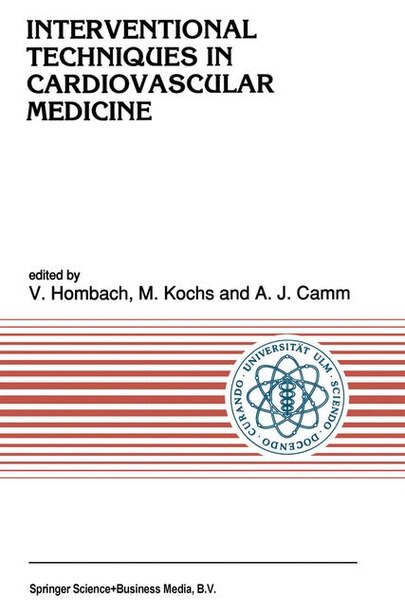 Interventional Techniques in Cardiovascular Medicine
Paperback

|

October 31, 2012
Pricing and Purchase Info
Prices and offers may vary in store
Since the introduction of balloon angioplasty for the relief of coronary artery stenoses and of anginal symptoms in patients with coronary artery disease by Andreas Griintzig in 1977, the field of interventional technology and treatment strategies has grown enormously. For the reduction of hemodynamically significant coronary artery stenoses balloon angioplasty is the standard and reference method with a high primary success and low complication rate. Because of the relatively high recurrence rates of 30-40% of balloon angioplasty a whole family of different angioplasty techniques has been developed since then. Among those are atherectomy devices, laser angioplasty, radiofrequency angioplasty, high and low speed rotational angioplasty and stenting of stenosed vessels. Balloon angioplasty has been extended to aortic and mitral valve stenoses, and supraventricular and ventricular tachycardias can now be treated by catherter ablation techniques. In 1989 an International Symposium on standard and newer inter­ ventional techniques has been held at the University of Ulm. This volume contains the essential parts and presentations of the international faculty of experts in the field. In four chapters the principles, advantages, pitfalls and future developments of coronary angiopiasty, angioplasty of peripheral arteries, balloon valvuloplasty and of catheter ablation of supraventricular and ventricular tachycardias are described in detail. We hope that this ''State-of-the-Art'' representation will be of great value for both the non­ expert reader and the active researcher in the fields addressed within the book. V. Hombach, M. Kochs and A. J. Camm ix List of contributors U. U.
Title:
Interventional Techniques in Cardiovascular Medicine
Format:
Paperback
Dimensions:
332 pages, 23.5 X 15.5 X 0 in
Published:
October 31, 2012
Publisher:
Springer Nature
Language:
English
The following ISBNs are associated with this title:
ISBN - 10:9401056919
ISBN - 13:9789401056915
Look for similar items by category:
Preview Your Review
Your Review Has Been Submitted
NO, I do not recommend this product.
Educational/Developmental Value:
Thank you. Your review has been submitted and will appear here shortly.
Table of Contents
One: Coronary angioplasty.- 1. Medical interventions for regression of coronary atherosclerosis.- 2. Digital coronary angiography.- 3. Balloon angioplasty for stable and unstable angina.- 4. Radiofrequency coronary angioplasty.- 5. Laser angioplasty - technical aspects.- 6. Excimer laser coronary angioplasty: preliminary clinical experience.- 7. Result of a pilot study on percutaneous coronary excimer laser ablation in patients with coronary artery disease.- 8. Excimer-laser coronary angioplasty: clinical experience with high-grade stenosis and recanalization of chronic occlusions.- 9. High speed arteriosclerotic lesion ablation for treatment of coronary artery disease.- 10. A new balloon-expandable coronary tantalum stent in atherosclerotic minipigs: angiographic and histologic findings 4 weeks after implantation.- 11. Autoperfusion catheter for preservation of myocardium during coronary artery obstruction after failed PTCA.- Two: Peripheral vessel angioplasty.- 12. Balloon angioplasty.- 13. Symptomatic occlusion of the subclavian artery: treatment by balloon angioplasty.- 14. Rotational atherectomy: current use in vascular disease with specific focus on the Simpson device.- 15. Increased growth rates of percutaneously and surgically extracted plaque cells from human restenosing tissue in vitro.- 16. Effect of propranolol on growth of cultured human smooth muscle cells derived from non-atherosclerotic and atherosclerotic vascular tissue.- 17. Excimer laser angioplasty: efficiency and damage.- 18. Current problems of excimer laser angioplasty.- 19. Laser angioplasty.- 20. Preliminary experience with the implantation of Strecker-stents in peripheral arteries.- 21. Angioplasty of peripheral vessels: surgical aspects.- Three: Balloon valvuloplasty.- 22. Balloon pulmonary valvoplasty.- 23. Mitral valvuloplasty.- 24. Balloon aortic valvuloplasty.- 25. Surgical aspects of balloon valvuloplasty (BVP).- Four: Catheter ablation of tachycardias.- 26. DC-ablation of the atrioventricular conduction system in patients with supraventricular tachyarrhythmias.- 27. Localization and catheter ablation of accessory atrioventricular pathways.- 28. Radiofrequency ablation of supraventricular and atrioventricular tachyarrhythmias.- 29. The role of the surgeon in the management of supraventricular arrhythmias.- 30. Catheter mapping of ventricular tachycardia.- 31. Catheter ablation of ventricular tachycardia by direct current.- 32. Catheter ablation of ventricular tachycardia using radiofrequency current.- 33. Catheter ablation for arrhythmias using lasers.- 34. Chemical ablation in the pig heart by subendocardial injection of ethanol via catheter.- 35. Long-term results of antitachycardia electrotherapy in ventricular tachyarrhythmia.- 36. Implantable cardioverter-defibrillators: patient selection, devices and results.- 37. Surgical ablation of ventricular tachycardias.