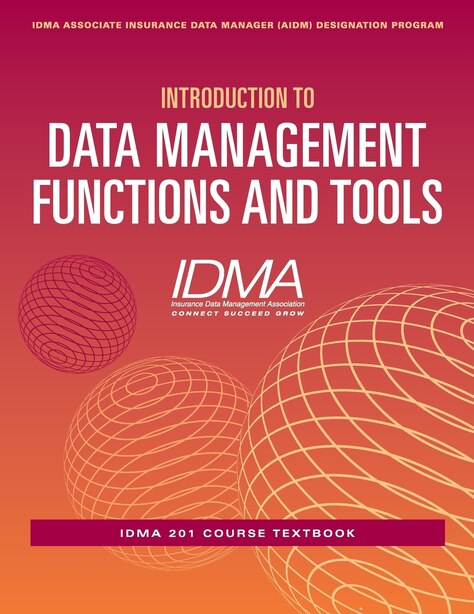 Introduction to Data Management Functions and Tools: IDMA 201 Course Textbook
Paperback

|

July 18, 2017
Pricing and Purchase Info
$195.99
Prices and offers may vary in store
This textbook is for the IDMA 201 course in the IDMA Associate Insurance Data Manager (AIDM) designation program.
This course defines data management, describes the functions of data managers, provides the business case for data management and introduces the student to concepts and tools used by data managers.
Whether you are an actuary, a claims professional, business analyst, or almost any of the other key functions, knowledge of data management can help you do your job better and help you prepare, understand, and protect the raw material—the data—so critical to your organization.
IDMA courses, workshops, and forums are highly recommended for a broad audience including new hires, IT and data modeling professionals who want to broaden their knowledge of the business side of insurance data management, anyone who manages and governs data in the industry (statistical, or management information data), and anyone who needs to use or communicate good quality data/information – from actuaries to underwriters, and claims and analytics professionals.
Students who complete the four IDMA-developed courses and successfully pass the examinations are awarded an Associate Insurance Data Manager (AIDM) designation. The IDMA courses may be taken in any order; there are no prerequisites. However, the courses are numbered to indicate a recommended sequence.
For details on the designation requirements, please refer to the IDMA Website at www.IDMA.org.
Title:
Introduction to Data Management Functions and Tools: IDMA 201 Course Textbook
Format:
Paperback
Product dimensions:
258 pages, 11 X 8.5 X 0.54 in
Shipping dimensions:
258 pages, 11 X 8.5 X 0.54 in
Published:
July 18, 2017
Publisher:
Technics Publications, Incorporated
Language:
English
The following ISBNs are associated with this title:
ISBN - 10:1634622421
ISBN - 13:9781634622424
Look for similar items by category:
Preview Your Review
Your Review Has Been Submitted
NO, I do not recommend this product.
Educational/Developmental Value:
Thank you. Your review has been submitted and will appear here shortly.
Table of Contents
Introduction 9 Using this Textbook 10 Exam Information 10 Student Resources 11 Contributors 12 ASSIGNMENT 1: Data, Information, and Knowledge 13 Educational Objectives 13 Data, Information, and Knowledge 14 Data and Information as Assets 15 How Managers Use Information 16 Organizational Change 20 Data Quality 22 The Data Lifecycle 26 Defining Data Architecture 28 Defining Organizational Memory 30 The Components of Organizational Memory 30 Summary 31 Bibliography 31 ASSIGNMENT 2: Introduction to Data Management 35 Educational Objectives 35 Data Management 36 Data Management Functions 38 Roles of Individuals in Data Management 43 Groups Involved in Data Management 45 Organizational Behavior and Data Management 46 Enterprise Data Management 47 Data Managers 48 Data Management Best Practices 52 Summary 53 Bibliography 53 ASSIGNMENT 3: Data Standards 57 Educational Objectives 57 Standards 58 Standards Development Organizations (SDOs) 61 Reporting and Sharing Data 67 Electronic Data Interchange (EDI) 69 Standard Data Element Names 70 Standard Data Element Rules 72 Summary 75 Bibliography 75 ASSIGNMENT 4: Data and Information Integrity 77 Educational Objectives 77 Data and Information Integrity 78 Introduction to Relational Databases 78 Data Integrity Issues 81 Transaction Management 83 Maintaining Data Integrity 85 Disparate Data 91 Integrated Data Resources and Common Data Architecture 92 Summary 93 Bibliography 94 ASSIGNMENT 5: Metadata and Metadata Management 95 Educational Objectives 95 Defining Metadata 96 Metadata Management and Associated Challenges 98 Semantics and Taxonomy 99 Categories of Metadata 100 Metadata Examples 102 Metadata Quality 103 Data Lineage 104 Using Metadata 105 Metadata Strategy 108 Accessing Enterprise Metadata 109 Summary 116 Bibliography 117 ASSIGNMENT 6: Reference Data and Master Data Management 119 Educational Objectives 119 Reference Data and Master Data 120 The Golden Record 125 Drivers of Reference Data and Master Data Management 126 Reference Data and Master Data Management Activities 127 Principles in Implementing Reference and Master Data Management 133 Data Integrity and Quality 133 Summary 134 Bibliography 135 ASSIGNMENT 7: Data and Information Governance 137 Educational Objectives 137 "Lumpers" and "Splitters" 138 Governance 139 Data and Information 139 Data Governance and Information Governance 140 The Importance of Data Governance and Information Governance 141 Data and Information Governance within Corporate Governance 142 Information Technology (IT) Governance 143 Implementing a Governance Program 143 Data Governance Roles 144 Data Stewardship and Information Stewardship 146 The Importance of Data and Information Stewardship 149 Challenges in Implementing a Governance Program 149 Responsibilities for Data Governance Decisions 150 Summary 151 Bibliography 152 ASSIGNMENT 8: Information Security 155 Educational Objectives 155 Classifying Information 156 Personally Identifiable Information (PII) 157 Laws and Regulations Regarding Personally Identifiable Information (PII) 158 Implications of Poor Data and Information Security 164 Loss of Data and Information 164 Instituting a Data and Information Security Program 165 Security Controls 167 Backup and Recovery Procedures 168 Roles and Responsibilities 169 Summary 171 Bibliography 172 ASSIGNMENT 9: Data Modeling Fundamentals 173 Educational Objectives 173 Basic Data Modeling Concepts 173 Data Modeling 174 Types of Relationships 176 Understanding Relationships Among Entity Types 177 Conceptually Illustrating Relationships Between Entity Types 178 Judging Data Model Quality 187 Summary 188 Bibliography 189 ASSIGNMENT 10: Document and Content Management 191 Educational Objectives 191 Document and Content Management 192 The Document Management Lifecycle 194 Document