L. Ron Hubbard Presents Writers Of The Future Volume 37: Bestselling Anthology Of Award-winning Science Fiction And Fantasy Short Stories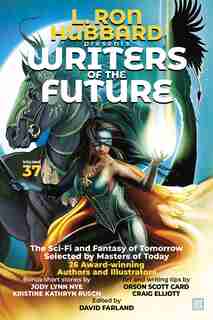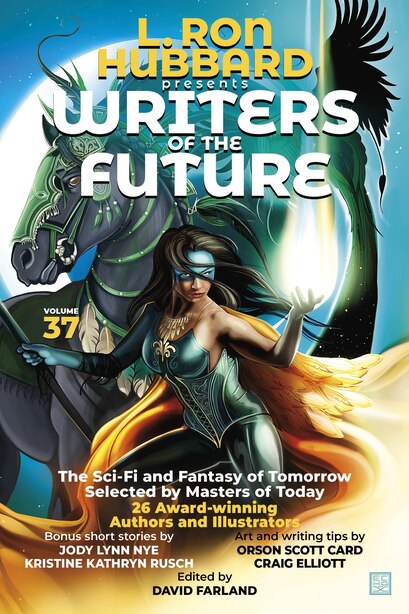 Buy In Store
Prices and offers may vary in store
The Sci-Fi and Fantasy of TomorrowSelected by Masters of Today
26 Award-winning Authors andIllustrators
Get ready to get carried away … to placesno one has ever gone before.
Turn the page … from dark fantasy to dystopian nightmare, from magical realism tomilitary science, from paranormal urban fantasy to post-apocalyptic power trips… and beyond.
Take flighton a starship powered by a godlike being, willing to go to any length to knowwhat it is to be human. Delve into the psyche of a scientist who must choosebetween ambition and compassion while compelled to participate in a secret andsadistic government project. Get lost in the chilling Museum of Modern Warfare,where one woman is about to discover life-changing secrets. Experience thestories that challenge our sense of self—and our sense of the world. And that'sjust the beginning of your journey.…
Discover themesmerizing power of these new stories, thought-provoking new ideas, brilliantnew horizons, and astounding new writers and illustrators—the chosen ones,selected by today's bestselling science fiction and fantasy authors andartists.
3 Bonus Short Stories by
L. Ron Hubbard • Jody Lynn Nye • KristineKathryn Rusch
"The Dangerous Dimension" by L. RonHubbard:
Meek Dr. Henry Mudge has a dramaticpersonality change after discovering a mathematical equation that transportshim to any place in the universe he can think of.…
"The Phoenixes' War" by Jody Lynn Nye:
When a lover's gift to her king turns outto be a perilous trap, the Phoenixes and their priestess face a test that willdecide the fate of two realms.…
"Museum of Modern Warfare" by KristineKathryn Rusch:
When anambassador is asked to inspect the controversial Museum of Modern Warfare, shediscovers life-changing secrets.…
Art and Writing Tips by
L. Ron Hubbard • Orson Scott Card •Craig Elliott
"Magic Out of a Hat" by L. Ron Hubbard: From a challenge to write a story inspired by a completelyuninspiring wastebasket, Ron provides timeless insight on generating a solidstory idea and also reveals a bit of the effusive spirit that he brought to themagic of writing.
Title:
L. Ron Hubbard Presents Writers Of The Future Volume 37: Bestselling Anthology Of Award-winning Science Fiction And Fantasy Short Stories
Product dimensions:
448 pages, 9 X 6 X 1.5 in
Shipping dimensions:
448 pages, 9 X 6 X 1.5 in
Published:
November 2, 2021
Publisher:
Galaxy Press (CA)
Appropriate for ages:
All ages