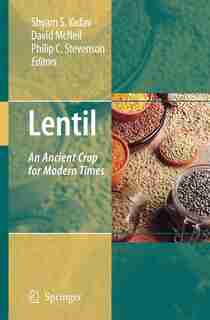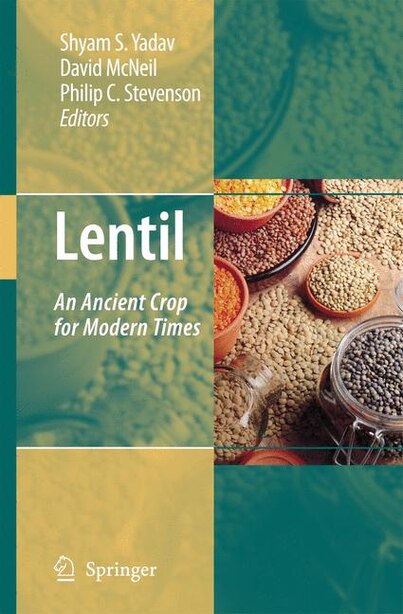 Lentil: An Ancient Crop for Modern Times
Paperback

|

October 19, 2010
Pricing and Purchase Info
$344.95
list price
save 17%
Prices and offers may vary in store
On behalf of the United States Department of Agriculture, I am pleased to introduce the book Lentil: An Ancient Crop for Modern Times. The articles and essays in this volume, submitted by nearly 100 researchers, educators, and other experts, contain comprehensive information on a variety of topics of significance for lentil growers, researchers, and consumers worldwide. Cultivated lentils (Lens culinars), an annual legume crop, have been grown as an important food source for over 8,000 years. They come in two main varieties: macrosperma (with large seeds and little pigmentation), and microsperma (with small seeds and some pigmentation). Depending on their variety and breed, however, lentil seeds can range in color from red-orange, to yellow, green, brown, or black. They are cultivated and consumed throughout the world, with Canada, Turkey and India being the top producers. Although the production of lentils and other pulse legume crops lags far behind cereal production in most nations, including the United States, production remains highly important because of its benefits for producers and consumers alike. Lentil seeds provide high levels of protein and, when consumed in combination with cereals, they provide adequate amounts of essential amino acids for the human diet. Their relatively short cooking time provides an additional advantage. Lentil production is equally beneficial for producers, as lentils have a high tolerance for extreme environmental conditions such as drought and hot temperatures, and can be grown in semiarid regions without irrigation.
Title:
Lentil: An Ancient Crop for Modern Times
Format:
Paperback
Dimensions:
461 pages, 23.5 X 15.5 X 0 in
Published:
October 19, 2010
Publisher:
Springer-Verlag/Sci-Tech/Trade
Language:
English
The following ISBNs are associated with this title:
ISBN - 10:9048176050
ISBN - 13:9789048176052
Look for similar items by category:
Preview Your Review
Your Review Has Been Submitted
NO, I do not recommend this product.
Educational/Developmental Value:
Thank you. Your review has been submitted and will appear here shortly.
Table of Contents
Contents: About the Editors: List of Contributors: Preface: 1. History and Origin; J. S. Sandhu and S. Singh.- 2. Biodiversity Management; B. Redden, N. Maxted, B. Furman and C. Coyne.- 3. Adaptation and Ecology; M. Andrews and B. A. McKenzie.- 4. Uses and Consumption; S. S. Yadav, A. H. Rizvi, M. Manohar, S. Gailing, G. Mateljan, R. Shrestha, M. Yadav, P. N. Bahl and G. Bejiga.- 5. Nutritional Value; G. Urbano, J. M. Porres, J. Frías, and C. Vidal-Valverde.- 6. Global Production and World Trade; D. McNeil, G. D. Hill, M. Materne, B. A. McKenzie.- 7. Lentil-Based Cropping Systems.- H. S. Sekhon, G. Singh and H. Ram.- 8. Rhizobium Management and Nitrogen fixation; D. McNeil and M. Materne.- 9. Nutrient Management; B.A. McKenzie, M. Andrews and G. D. Hill.- 10. Weed Management; J. Brand, N.T. Yaduraju, B. G. Shivakumar and L. McMurray.- 11. Irrigation Management; B.A. McKenzie, G.D. Hill and M. Andrews.- 12. Commercial Cultivation and Profitability; M. Materne and A. R. Reddy.- 13. Genetics and Cytogenetics; S. K. Mishra, B. Sharma and S. K. Sharma.- 14. Mutation Breeding; C. Toker, S. S. Yadav and I. S. Solanki.- 15. Wild relatives and biotechnological approaches; P. A. Davies, M. M. Lülsdorf and M. Ahmad.- 16. Breeding Methods and Achievements; M. Materne and D. McNeil.- 17. Varietal adaptation and Plant Type; I. S. Solanki , P. N. Bahl and S. S. Yadav.- 18. Lensomics: Advances in genomics and molecular techniques; R. Ford, B. Mustafa, P. Inder, R. Shaikh, M. Materne and P. Taylor.- 19. Quality Seed Production; Z. Bishaw, A. A. Niane and Y. Gan.- 20. Abiotic Stresses; M. Materne, D. McNeil, K. Hobson and R. Ford.- 21. Diseases Management; P. Taylor, K. Lindbeck, W. Chen and R. Ford.- 22. Insect Pests and Their Management; P. C. Stevenson, M. K. Dhillon, H. C. Sharma, and M. El Bouhssini.- 23. Drying and Storage; P. K. Ghosh, D. S. Jayas, C. Srivastava, A. N. Jha.- 24. Lentil Growers; S. S. Yadav, A. H. Rizvi, M. Manohar, R. Shrestha, C. Chen, G. Bejiga, W.Chen, M. Yadav and P. N. Bahl.- Index.