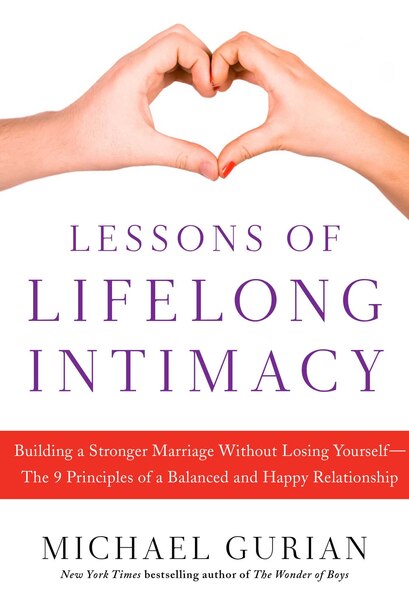 Lessons of Lifelong Intimacy: Building a Stronger Marriage Without Losing Yourself-The 9 Principles of a Balanced and Happy Relat
Hardcover

|

May 26, 2015
Pricing and Purchase Info
$34.00
Prices and offers may vary in store
New York Times bestselling author Michael Gurian offers a groundbreaking plan for couples seeking to build a healthy relationship, work through past hurts, and create greater intimacy.

Become separate from your partner yet also become closer—sounds counterintuitive, doesn't it? With twenty-five years of family and marital counseling practice, Michael Gurian shows that "intimate separateness" is the key to creating a healthy partnership in life.

Recent university studies show that the most frequent reason relationships dissolve is not abuse, alcoholism, money, or even infidelity, but rather a lack of emotional fulfillment. Most books on love and marriage focus on teaching communication and conflict skills, but neglect to help couples with the "other half" of intimacy—separateness. In this practical yet personal guide to love, Gurian details the benefits of creating a lifelong balance of closeness and separateness. He outlines a twelve-stage model created for his own private practice, which provides long-term goals and focal points for dialogue that can help couples work through arguments. Gurian also delves into differences in white and gray matter between the male and female brain (which may explain the varying needs for intimacy and separateness), differences in verbal- emotive development, and the effects these all have on relationships.

Rich with examples and case studies, this book presents strategies for communication and conflict that build more emotional balance, while showing how intimate separateness can be the key to lifelong happiness.
Title:
Lessons of Lifelong Intimacy: Building a Stronger Marriage Without Losing Yourself-The 9 Principles...
Format:
Hardcover
Product dimensions:
368 pages, 9 X 6 X 1.2 in
Shipping dimensions:
368 pages, 9 X 6 X 1.2 in
Published:
May 26, 2015
Publisher:
Atria Books
Language:
English
The following ISBNs are associated with this title:
ISBN - 10:147675604X
ISBN - 13:9781476756042
Look for similar items by category:
Preview Your Review
Your Review Has Been Submitted
NO, I do not recommend this product.
Educational/Developmental Value:
Thank you. Your review has been submitted and will appear here shortly.
Read from the Book
Lessons of Lifelong Intimacy Chapter 1 The Intimate Separateness Paradigm A BALANCE OF INTIMACY AND SEPARATENESS CREATES A HAPPY MARRIAGE Angela, forty-five, and Harry, forty-seven, came to see me about their son Mark, twelve. As they told me about Mark's issues I found the couple to be friendly and forthright but distressed. Mark had been evaluated for ADHD and anxiety, and the specialist concluded: "I don't think he has ADD/ADHD and I don't think he has a clinical condition on the anxiety issues that needs medication right now, but let's watch this. He is definitely more anxious that his siblings." Given that Angela's father and Angela herself had both been treated for anxiety, Angela and Harry knew that this vulnerability fit with the family genetics. My first session with the couple—which mainly involved discussions about Mark—revealed that this was a family of high performers. Angela had a master's degree in history and now worked in the software world. "As a woman and a black woman," she said, "there is a lot of pressure. I want to model to my kids how strong a black woman can be." Harry was clearly very proud of her accomplishments. He said, "Angela is a dynamo. Nothing holds her back." Harry was an engineer in fiber optics. He traveled for his work more than Angela did, but also confessed to enjoying being home more now than before—his company had moved its headquarters to another city, but allowed him to remain in town and work remotely for most of the week. Angela complimented Harry, mentioning that Harry wouldn't admit it, but as a black man there was also a lot of pressure on him as a father and husband. "But we're not here about either of us or our marriage," Angela said, "we're here about Mark." She reported that they had a younger son and a daughter older than Mark, and all three siblings were doing pretty well, but Mark had begun, over the last couple years, to fight with both his younger brother and, especially, with Angela. "I don't know if it's just his anxiety, or what," Harry agreed, "but something's getting worse and worse in the family. Mark's sucking everyone down into his moods. It's creating issues for me and Angie." Angela summed up the situation this way: "What's going on between Mark and his younger brother could just be sibling rivalry, you know, Mark wanting my attention, all that; but what's going on with Mark and me is crossing the line. He's screaming at me, always angry at me, and . . . well . . . sometimes . . . acting kind of like his dad." In this comment emerged a new topic of conversation, a topic appearing as a thin seam of light under an important doorway. Harry, as one would expect, responded defensively. "Now wait a minute, I don't scream at you, I'm not a rager, don't go in that direction; I just get angry, and I get intense." Angela admitted he didn't rage, but now, as the discussion continued, his anger became a topic, so much so that Harry did ultimately admit that he had been getting more irritated over the last year at both his son Mark and his wife, Angela. This admission meant a great deal to Angela. "Now," she suggested, "we can get to the heart of what's going on." She confessed that she was worried for the couple's marriage, worried that Harry would just keep getting angrier and make the marriage untenable. Harry said to Angela in response, "I get angry, dammit, because of what's going on with you. You and Mark both make me the bad guy all the time. If you're at work or not around, Mark and I are great together and there's no tension in the family. I tell him, 'Look, life's gonna knock you down harder than I ever can, so you need resilience and accountability, not overprotection.' I'm hard on him that way, but he gets it. Then you come home and you and Mark get all weird together, and I try to get some boundaries set again, and I'm the bad guy! You even make me the bad guy right now, saying I'm gonna ruin our marriage. It's not right!" Angela sat silently for a minute with that comment. Then all of us remained silent, looking into the possibility that our counseling might move toward other rooms of this family's house than Mark's. After this brief silence, Angela made a courageous admission: "Yes, Harry has become the bad guy." She agreed that she did know from talking to all three children that when she wasn't home, things were calmer. This admission, like the whole conversation thus far, raised my antennae not only regarding Mark but also the bond between Angela and Harry. I saw a pattern I see in many couples, one that creates a lead-in for the concepts and benefits of the intimate separateness paradigm. Separateness and the Psychology of Attachment To understand intimate separateness as a working paradigm for your relationships, it is important to begin the process (one I will support with new insights and strategies throughout this book) of "mind-expanding" about love. This new thinking is especially needed in our era because, if you read popular-culture offerings on relationships, marriage, and love, you may notice that books, programs, magazine articles, and TV shows often tend to look at the "intimacy" side of relationships with an eye toward teaching better communication and conflict skills that directly increase intimacy. While this is invaluable and essential work, and while the book you are reading could not have been written without all the previous work done on intimacy and attachment in the field, you do not tend to hear the word "separateness" used nearly as much as the word "intimacy." This lack is killing our marriages. "Separateness" is, as we'll show in this chapter, at least one-half or more of attachment and intimacy. In working as a culture to give people tips for feeling more intimate with one another in the short term, we have neglected to discuss the other half of attachment; this other half needs to be activated at some time before the two-year mark of a bond and kept active through the couple's life together. It is the second part of the intimate-separateness paradigm, the one we tend to know the least about. Attachment Theory and Intimate Separateness If you are a parent and haven't yet run across attachment theory in your exploration of your adult/relational love, you will have undoubtedly come across it in books about raising your children. Mary Ainsworth, Margaret Mahler, Louise Kaplan, John Bowlby, T. Berry Brazelton, Melanie Klein, and others have taught us that humans attach to people we love by bonding intimately with our "bonding-object" (our child) while the child goes through all the stages of the parent-child pair-bond with us (and we with him or her), including the other half of attachment—when the child compels us gradually into the separateness required for successful adult life. As attachment pioneer Louise Kaplan, author of Oneness and Separateness, notes, both oneness and separateness equally, not one or the other, collaborate to give the growing individual child "rein to discover his (her) place in the world." With oneness alone, the child will be psychologically engulfed and can't develop well; with separateness alone, the child will be neglected and also, thus, undeveloped. From the healthy experience of both oneness and separateness come the resilience and passion to be an individual in the world who can find happiness and success while retaining the family love and connection that give security and unconditional love. Try to recall how this relates to your experiences with your own children or in your own childhood. If you do not have children, remember as far back as you can to your bond with your mother or father. If you have children, remember your infant's utter connection to you, then recall the terrible twos, when the child separated from you psychologically to explore the world and begin developing a self. Recall adolescent-parent relationships—how the child separated even further from you. Many parents come to realize—sometimes, unfortunately, not until children are grown—that if, in a child's childhood or adolescence, one or both parents "hold on too tight" (remain too close), they may lose the child's respect, love, and attention—the child may even come to "hate" the parents. At the same time, in the parent-adolescent attachment, if parents pull too far away from the toddler or adolescent—if they don't provide adequate presence and connection with the child—that young adult may be traumatized by the neglect, get into moral and behavioral trouble, and even, perhaps, become so distant as to rarely speak to his or her parents again later in life. The Science of Pair-Bond Attachment in a Nutshell Contemporary science of the human brain has taken the early work of attachment theorists to new places, opening up even deeper possibilities for people in marriage and coupled relationships to understand what the heck is going on when we love as adults. Without this new science, I would not have been able to develop the intima
Editorial Reviews
"Lessons of Lifelong Intimacy explores the hidden depths of marriage and relationship. Michael Gurian utilizes leading edge neuroscience to help couples experience happy and balanced love. This is an important and powerful book."