Listen, Learn, Love: How to Dramatically Improve Your Relationships in 30 Days or Less!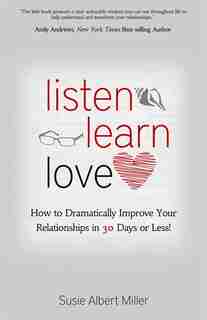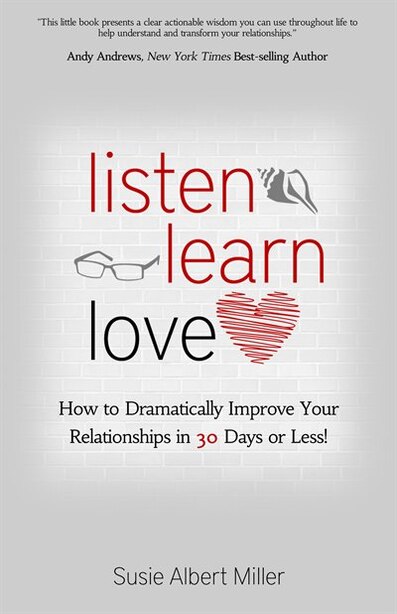 Find In Store
Prices and offers may vary in store
You can stop feeling overwhelmed, frustrated, alone, unbalanced, tense, stressed, desperate, stuck or even bored in your relationships!  This book shows how to make changes quickly even if the other person isn''t willing or engaged.
Similar to the age old question "How do you eat an elephant? One bite at a time;" Listen, Learn, Love takes the huge issue of improving relationships and puts it into one bite at a time steps that can make significant differences fast! 
Whether your relationship is mediocre, and you want to make it better or if you are at your wits end and ready to throw in the towel, and you wonder if you can you make improvements quickly. The answer is yes!  You can get unstuck in your relationships!
This user friendly guide is filled with practical suggestions and basic skills anyone can use to create better relationships and who doesn''t have at least one relationship in their life they would like to be better!
Listen, Learn, Love may seem pretty basic.  However, Miller focuses on three simple, elegant and effective ways to teach and practice these skills that actually improve relationships quickly. 
Simple:  because they are small tweaks to basic and common skills.
Elegant: because they are nuanced, subtle and timeless, yet can make a huge impact.  Like a little black dress that steals the show on the red carpet, elegance goes a long way.
Effective:  because they are foolproof and work!
Listen, Learn, Love, as taught in this book, are the basic building blocks to dramatically improve any relationship quickly.  Basic does not mean simplistic, these skills that are complex and have depth as they address the most important part of relationships.  Miller writes with insight and vulnerability using personal anecdotes and practical ways to learn and implement.
In Listen, you will learn how often we hear words, but don''t really understand what others are seeking to communicate and how to remedy this fact.  In Learn, you will be invited on a treasure hunt that leads to deeply knowing the important people in your life and how using this simple process of discovery can improve your relationships! 
Miller discusses Love as a skill in a unique and intuitive way, from years of experience helping others improve their relationships. Love as a skill will cause you to evaluate your interactions through a new lens and see how small adjustments can make all the difference.  Love is often cheaply used, overused and has lost a depth of meaning.  But you will discover there are ways to love someone and dramatically improve your relationships that will surprise you.
Listen, Learn, Love applied in all your relationships according to Millers definition, may be a new concept but the practical steps and exercises will make these skills  come alive in context of your relationships with your spouse, significant other, kids, family, friends and even clients and coworker.
Miller has intertwined a powerful message with success stories and truth so that each person who reads this book, should buy one for a friend and watch for the positive changes to occur.
Wanting a good relationship is only the beginning! Building great relationships requires a few skills.  Miller shares concise and actionable tips with clarity, humor and authenticity.  Read this book, do the steps and watch your relationships improve.
Title:
Listen, Learn, Love: How to Dramatically Improve Your Relationships in 30 Days or Less!
Product dimensions:
128 pages, 8.51 X 5.49 X 0.44 in
Shipping dimensions:
128 pages, 8.51 X 5.49 X 0.44 in
Appropriate for ages:
All ages