Little People, Big Dreams: Earth Heroes: 3 Books From The Best-selling Series! Jane Goodall - Greta Thunberg - David Attenborough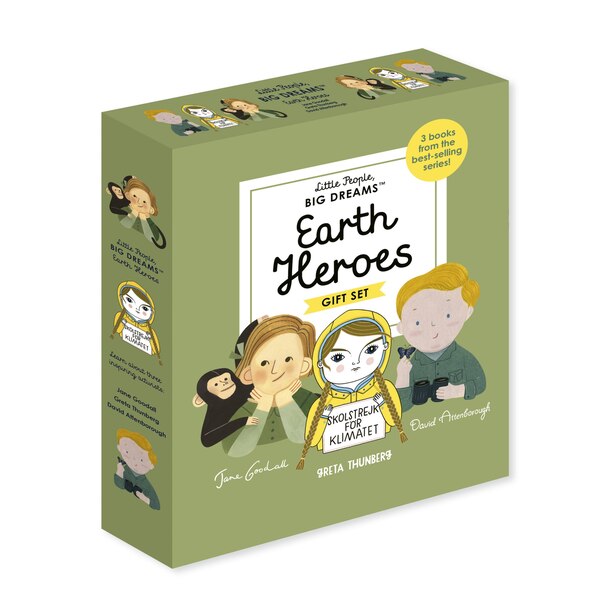 Special Offer
Buy 2, Get the 3rd Free Select Kids Bibles and Non-Fiction Favourites
Buy In Store
Prices and offers may vary in store
Meet three inspirational Earth Heroes whose love of the natural world inspires them to make a difference: Jane Goodall, Greta Thunberg, and David Attenborough! This boxed gift set of three hardback books from the internationally best-selling Little People, BIG DREAMS series introduces little dreamers to the lives of these incredible people who work to understand and protect this amazing planet.
Jane</STRONG>was little, her father gave her a toy chimpanzee named Jubilee. This inspired her lifelong love of animals, and after living with chimpanzees in their natural habitat, she now educates the public on animal rights. When youngGretalearned of the climate crisis, she couldn''t understand why people in power were not doing anything to save our Earth. But her "School Strike for Climate" has now inspired millions, and taught everyone her valuable message: "No one is too small to make a difference." As a child,Davidspent hours in the science library, collating his own specimens and creating a mini animal museum. Now, he is loved all over the world for telling the untold stories of these animals. Each of these moving books featuresstylish and quirky illustrationsandextra facts at the back, including abiographical timelinewith historical photos and a detailed profile of the Earth Hero''s life.
Little People, BIG DREAMSis abest-selling series of books and educational gamesthat<STRONG>explore the lives of outstanding people, from designers and artists to scientists and activists. All of them achieved incredible things, yet each began life as a child with a dream.
inspiring messages to children of all ages, in a range of formats</STRONG>. The board books are told in simple sentences, perfect for reading aloud to babies and toddlers. The hardcover versions present expanded stories for beginning readers. Paper dolls, learning cards, matching games, and other fun learning tools provide even more ways to make the lives of these role models accessible to children. Also available to collect are boxed gift sets, includingLittle People, BIG DREAMS: Women in Science, with hardcover editions ofAda Lovelace,Amelia EarhartandMarie Curie, andLittle People, BIG DREAMS: Women in Arts,with hardcover editions ofCoco Chanel,Frida KahloandAudrey Hepburn.
Inspire the next generation of outstanding people</STRONG>who will change the world with Little People, BIG DREAMS!
Title:
Little People, Big Dreams: Earth Heroes: 3 Books From The Best-selling Series! Jane Goodall - Greta Thunberg - David Attenborough
Product dimensions:
96 pages, 9.41 X 7.24 X 0.98 in
Shipping dimensions:
96 pages, 9.41 X 7.24 X 0.98 in
Publisher:
Frances Lincoln Children's Books