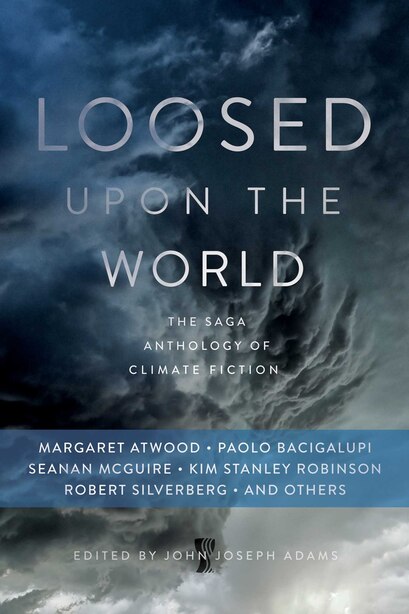 Loosed Upon the World: The Saga Anthology of Climate Fiction
Paperback

|

September 15, 2015
Pricing and Purchase Info
$21.99
Prices and offers may vary in store
Is it the end of the world as we know it? Climate Fiction, or Cli-Fi, is exploring the world we live in now-and in the very near future-as the effects of global warming become more evident. Join bestselling, award-winning writers like Margaret Atwood, Paolo Bacigalupi, Kim Stanley Robinson, Seanan McGuire, and many others at the brink of tomorrow. Loosed Upon the World is so believable, it''s frightening.
Title:
Loosed Upon the World: The Saga Anthology of Climate Fiction
Format:
Paperback
Product dimensions:
592 pages, 8.25 X 5.5 X 1.5 in
Shipping dimensions:
592 pages, 8.25 X 5.5 X 1.5 in
Published:
September 15, 2015
Publisher:
Saga Press
Language:
English
The following ISBNs are associated with this title:
ISBN - 10:1481450301
ISBN - 13:9781481450300
Look for similar items by category:
Preview Your Review
Your Review Has Been Submitted
NO, I do not recommend this product.
Educational/Developmental Value:
Thank you. Your review has been submitted and will appear here shortly.
Read from the Book
Loosed upon the World SHOOTING THE APOCALYPSE PAOLO BACIGALUPI If it were for anyone else, he would have just laughed in their faces and told them they were on their own. The thought nagged at Timo as he drove his beat-up FlexFusion down the rutted service road that ran parallel to the concrete-lined canal of the Central Arizona Project. For any other journo who came down to Phoenix looking for a story, he wouldn't even think of doing them a favor. All those big names looking to swoop in like magpies and grab some meaty exclusive and then fly away just as fast, keeping all their page views and hits to themselves . . . he wouldn't do it. Didn't matter if they were Google/NY Times, Cherry Xu, Facebook Social Now, Deborah Williams, Kindle Post, or Xinhua. But Lucy? Well, sure. For Lucy, he'd climb into his sweatbox of a car with all his camera gear and drive his skinny brown ass out to North Phoenix and into the hills on a crap tip. He'd drive this way and that, burning gas trying to find a service road, and then bump his way through dirt and ruts, scraping the belly of the Ford the whole way, and he still wouldn't complain. Just goes to show you're a sucker for a girl who wears her jeans tight. But it wasn't just that. Lucy was fine, if you liked a girl with white skin and little tits and wide hips, and sometimes Timo would catch himself fantasizing about what it would be like to get with her. But in the end, that wasn't why he did favors for Lucy. He did it because she was scrappy and wet and she was in over her head—and too hard-assed and proud to admit it. Girl had grit; Timo could respect that. Even if she came from up north and was so wet that sometimes he laughed out loud at the things she said. The girl didn't know much about dry desert life, but she had grit. So when she muttered over her Dos Equis that all the stories had already been done, Timo, in a moment of beery romantic fervor, had sworn to her that it just wasn't so. He had the eye. He saw things other people didn't. He could name twenty stories she could still do and make a name for herself. But when he'd started listing possibilities, Lucy shot them down as fast as he brought them up. Coyotes running Texans across the border into California? Sohu already had a nine-part series running. Californians buying Texas hookers for nothing, like Phoenix was goddamn Tijuana? Google/NY Times and Fox both had big spreads. Water restrictions from the Roosevelt Dam closure and the drying-up of Phoenix's swimming pools? Kindle Post ran that. The narco murders that kept getting dumped in the empty pools that had become so common that people had started calling them "swimmers"? AP. Fox. Xinhua. LA Times. The Talisha Brannon Show. Plus the reality narco show Hard Bangin'. He kept suggesting new angles, new stories, and all Lucy said, over and over was, "It's been done." And then she'd rattle off the news organizations, the journos who'd covered the stories, the page hits, the viewerships, and the click-thrus they'd drawn. "I'm not looking for some dead hooker for the sex and murder crowd," Lucy said as she drained her beer. "I want something that'll go big. I want a scoop, you know?" "And I want a woman to hand me a ice-cold beer when I walk in the door," Timo grumped. "Don't mean I'm going to get it." But still, he understood her point. He knew how to shoot pictures that would make a vulture sob its beady eyes out, but the news environment that Lucy fought to distinguish herself in was like gladiatorial sport—some winners, a lot of losers, and a whole shit-ton of blood on the ground. Journo money wasn't steady money. Wasn't good money. Sometimes, you got lucky. Hell, he'd got lucky himself when he'd gone over Texas way and shot Hurricane Violet in all her glory. He'd photographed a whole damn fishing boat flying through the air and landing on a Days Inn, and in that one shot he knew he'd hit the big time. Violet razed Galveston and blasted into Houston, and Timo got page views so high that he sometimes imagined that the cat 6 had actually killed him and sent him straight to Heaven. He'd kept hitting reload on his PayPal account and watched the cash pouring in. He'd had the big clanking cojones to get into the heart of that clusterfuck, and he'd come out of it with more than a million hits a photo. Got him all excited. But disaster was easy to cover, and he'd learned the hard way that when the big dogs muscled in, little dogs got muscled out. Which left him back in sad-sack Phoenix, scraping for glamour shots of brains on windshields and trussed-up drug bunnies in the bottoms of swimming pools. It made him sympathetic to Lucy's plight, if not her perspective. It's all been done, Timo thought as he maneuvered his Ford around the burned carcass of an abandoned Tesla. So what if it's been motherfucking done? "There ain't no virgins, and there ain't no clean stories," he'd tried to explain to Lucy. "There's just angles on the same-ass stories. Scoops come from being in the right place at the right time, and that's all just dumb luck. Why don't you just come up with a good angle on Phoenix and be happy?" But Lucy Monroe wanted a nice clean virgin story that didn't have no grubby fingerprints on it from other journos. Something she could put her name on. Some way to make her mark, make those big news companies notice her. Something to grow her brand and all that. Not just the day-to-day grind of narco kills and starving immigrants from Texas, something special. Something new. So when the tip came in, Timo thought what the hell, maybe this was something she'd like. Maybe even a chance to blow up together. Lucy could do the words, he'd bring the pics, and they'd scoop all the big-name journos who drank martinis at the Hilton 6 and complained about what a refugee shit hole Phoenix had become. The Ford scraped over more ruts. Dust already coated the rear window of Timo's car, a thick beige paste. Parallel to the service road, the waters of the Central Arizona Project flowed, serene and blue and steady. A man-made canal that stretched three hundred miles across the desert to bring water to Phoenix from the Colorado River. A feat of engineering, and cruelly tempting, given the ten-foot chain link and barbed wire fences that escorted it on either side. In this part of Phoenix, the Central Arizona Project formed the city's northern border. On one side of the CAP canal, it was all modest stucco tract houses packed together like sardines stretching south. But on Timo's side, it was desert, rising into tan and rust hill folds, dotted with mesquite and saguaro. A few hardy subdivisions had built outposts north of the CAP's moat-like boundary, but the canal seemed to form a barrier of some psychological significance, because for the most part, Phoenix stayed to the south of the concrete-lined canal, choosing to finally build itself into something denser than lazy sprawl. Phoenix on one side, the desert on the other, and the CAP flowing between them like a thin blue DMZ. Just driving on the desert side of the CAP made Timo thirsty. Dry mouth, plain-ass desert, quartz rocks, and sandstone nubs with a few creosote bushes holding onto the dust and waving in the blast furnace wind. Normally, Timo didn't even bother to look at the desert. It barely changed. But here he was, looking for something new— He rounded a curve and slowed, peering through his grimy windshield. "Well, I'll be goddamned. . . ." Up ahead, something was hanging from the CAP's barrier fence. Dogs were jumping up to tug at it, milling and barking. Timo squinted, trying to understand what he was seeing. "Oh, yeah. Hell, yes!" He hit the brakes. The car came grinding to a halt in a cloud of dust, but Timo was already climbing out and fumbling for his phone, pressing it to his ear, listening to it ring. Come on, come on, come on. Lucy picked up. Timo couldn't help grinning. "I got your story, girl. You'll love it. It's new." *  *  *  * The dogs bared their teeth at Timo's approach, but Timo just laughed. He dug into his camera bag for his pistol. "You want a piece of me?" he asked. "You want some of Timo, bitches?" Turned out they didn't. As soon he held up the pistol, the dogs scattered. Animals were smarter than people that way. Pull a gun on some drunk California frat boy and you never knew if the sucker was still going to try and throw down. Dogs were way smarter than Californians. Timo could respect that, so he didn't shoot them as they fled the scene. One of the dogs, braver or more arrogant than the rest, paused to yank off a final trophy before loping away; the rest of the pack zeroed in on it, yipping and leaping, trying to steal its prize. Timo watched, wishing he'd pulled his camera instead of his gun. The shot was perfect. He sighed and stuffed the pistol into the back of his pants,