Love in Springtime: A Regency Romance Easter Collection: 5 Delightful Regency Easter Stories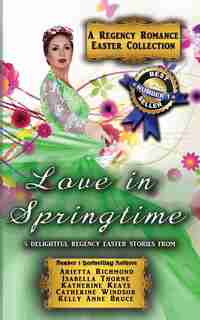 Find In Store
Prices and offers may vary in store
Being Lady Harriet's Hero
A determined Lady, a heroic Lord, a treasonous plot, a daring rescue, an enduring love. Lord Geoffrey Clarence heroically saved his best friend, Charlton Edgeworth, Viscount Pendholm, and others. Recruited to spy for crown and country, he received an estate from the Prince Regent, along with a dangerous mission. Lady Harriet Edgeworth decided, a year ago, that Lord Geoffrey was to be hers, her hero, and nothing has changed her mind. When Lord Geoffrey moves nearby she finds a way to assist with the inventory of his property. Can Lord Geoffrey keep his mission secret, with Lady Harriet ever present? Can Lady Harriet get Lord Geoffrey to see her as a woman, not just Charlton's sister? And, if he does, can he keep her safe in the midst of a treasonous conspiracy?
Trusting the Earl
An Earl needing a wife, an impoverished Lady, an unfortunate deception, a love saved. Estranged from her family, Lady Arabella, granddaughter of the Earl of Compton, is unused to the nobility. Upon her father's death, Arabella sought help from Lady Marianne, to find a governess position to support herself. Lord Lucas Stanthorpe, Earl of Rothglen, must marry quickly, else lose his inheritance. Lady Elizabeth, wife of the reclusive Marquis of Vale, suggests that Arabella will suit, Lord Lucas agrees. Love is the least of his concerns. But winning over Arabella is not simple. When Lord Lucas deceives her, she threatens to break off their engagement. Can Lady Elizabeth reunite the couple? And why does she care?
Love Springs Anew
A lady with a temper, a scandal, a lonely Duke, a new chance for love. Gregory Burrowes, Duke of Chesney, lost his fianc to scandal, then married, but his wife died from fever. Lonely, and lacking an heir, he finds most eligible young women childish. Miss Philippa Dunn once publicly lambasted her then fianc , when he was caught in a compromising position with another woman. The ton forgave him, but has not forgotten her unladylike deportment. She is labelled a shrew, and shunned. No one will offer for her, so she is relegated to the job of chaperone for her pretty young cousin... But when Miss Dunn and the Duke meet again, who is chaperoning them?
The Duke's Easter Proposal
An unmarried Duke, a talented girl, a chance meeting, a sweet temptation. Joshua Goodrich, the Duke of Falmouth, invites ladies, his potential brides, to Mrs. Fairway's coffee house in search of Mrs Fairway's astute assessments of the Ladies he entertains, as well as for the delicious cakes, which are made by her daughter. As Lent approaches, the two women look set to endure lean times. At the Duke's next visit, the coffee house mostly empty, he notices, for the first time, Mrs. Fairway's daughter Bridget. Will he persist in looking for a girl of the ton, or will he follow his heart and indulge in the sweet girl who makes the finest pastries in London?
The Baron's Secret Love
A Baron's heir, a genteel orphaned girl, a mystery of heritage, an impossible love, an unexpected conclusion. Mr William Barnes, heir to the Baron of Mowbourne, is used to attention from eligible young ladies, none of whom he likes. At a country Ball, he meets a fascinating young woman - whose heritage is unknown, and who is disparaged by his peers. Miss Grace Fillmore falls in love with William and believes that he feels the same for her. Sadly, no matter their love, she will never be his wife, for he cannot marry an orphan like her, he must marry an equal, or risk being disinherited. When she decides to unravel the mystery surrounding her past, could things change?
Title:
Love in Springtime: A Regency Romance Easter Collection: 5 Delightful Regency Easter Stories
Product dimensions:
572 pages, 8 X 5 X 1.16 in
Shipping dimensions:
572 pages, 8 X 5 X 1.16 in
Publisher:
Smithfield Park Enterprises Pty Ltd T/A Dreamstone
Appropriate for ages:
All ages