Ménandre, t. 02: le héros, l'arbitrage, la tondue, la fabula incerta du Caire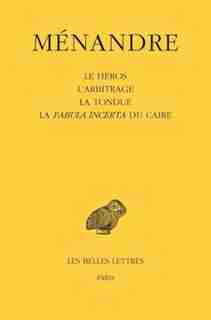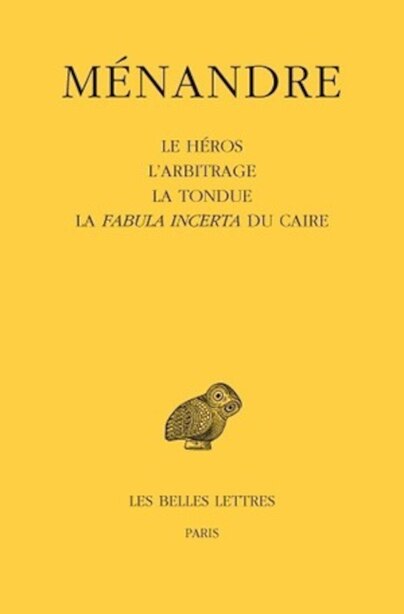 Prices and offers may vary in store
Ce tome II de l'édition de Ménandre dans la « Collection des Universités de France » comprend les pièces dont une partie plus ou moins importante a été conservée grâce au papyrus du Caire, exception faite de la Samienne déjà publiée dans le premier tome par le regretté Jean-Marie Jacques comme l'une des trois pièces transmises avant tout par le Papyrus Bodmer. Tel, en effet, avait été le plan voulu jadis, après l'apparition du Dyscolos en 1958, par Alphonse Dain, et que Jean-Marie Jacques, après la mort de ce dernier en 1964, a entrepris de mettre en ouvre. Mais s'il a pu ainsi publier, en trois volumes séparés formant le tome I, les trois pièces du Papyrus Bodmer, le travail occasionné par la publication de ses très riches et savantes éditions, en 2002 desThériaques, en 2007 des Alexipharmaques de Nicandre, puis sa mort survenue le 2 novembre 2008, l'ont empêché de satisfaire son grand désir d'éditer les pièces restantes du Papyrus du Caire, ne serait-ce que l'Arbitrage. Jean Martin, savant éditeur de l'Atrabilaire aux PUF, aurait pu, lui aussi, publier ce tome II, mais là encore d'autres projets (Aratos, Libanios) l'en ont détourné, et sa mort, survenue le 9 janvier 2007, a tout arrêté. C'est un Français, Gustave Lefebvre qui, en juillet 1905, a découvert à Kôm Ishkaou ces fragments papyrologiques de Ménandre qu'il a édités avec une traduction en 1907 et repris en 1911 : une découverte et une édition qui ont marqué la véritable « résurrection » de Ménandre, selon le terme employé par Philippe-Ernest Legrand en 1908 dans la Revue de Paris. Dès 1908 également, Maurice Croiset a tenu à présenter une édition avec traduction et notes du joyau déjà reconnu qu'était l'Arbitrage. Pour la Tondue (sous le titre plus élégant mais trompeur de la Femme aux cheveux coupés), il faudra attendre 1927 pour que le Belge Marcel Hombert en donne une traduction française à peu près complète et soigneusement revue par Octave Guéraud, grand déchiffreur du papyrus du Caire et premier pressenti pour éditer le Ménandre de la « Collection des Universités de France ». Plus tard enfin, en 1954, le Suisse Gorges Méautis contribuera à faire connaître en France les pièces du Papyrus du Caire en les traduisant dans son Crépuscule d'Athènes et Ménandre. Citons enfin les Extraits d'Aristophane et Ménandre, dus à Louis Bodin et Paul Mazon et qui, depuis 1908, ont donné sans cesse aux jeunes générations une première approche de ces trésors de la Comédie nouvelle. Sans cesse et jusqu'à une époque très récente, bien des papyrus, originaires en particulier d'Oxyrhynchos, sont venus compléter les fragments du Caire, essentiellement ceux de l'Arbitrage, posant parfois plus de problèmes qu'ils ne permettaient d'en résoudre. Ils ont fait et continuent de faire l'objet d'un immense travail international, comme déjà en leur temps les textes édités par Lefebvre. Ce sont les résultats de ce travail qui sont ici présentés. Cette édition est précédée d'une biographie de Ménandre qui manquait au tome I et que Jean-Marie Jacques aurait sans doute écrite si l'occasion lui en avait été donnée.
Title:
Ménandre, t. 02: le héros, l'arbitrage, la tondue, la fabula incerta du Caire
Format:
Paperback
Product dimensions:
8.75 X 6.35 X 0.68 in
Shipping dimensions:
8.75 X 6.35 X 0.68 in
Published:
August 5, 2013
Language:
French
The following ISBNs are associated with this title:
ISBN - 10:2251005781
ISBN - 13:9782251005782
Look for similar items by category:
Preview Your Review
Your Review Has Been Submitted
NO, I do not recommend this product.
Educational/Developmental Value:
Thank you. Your review has been submitted and will appear here shortly.