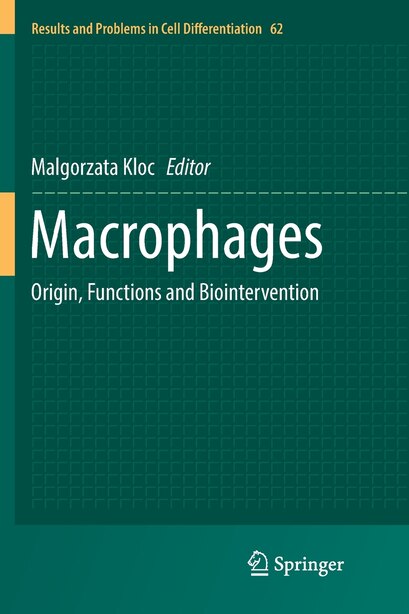 Macrophages: Origin, Functions And Biointervention
Paperback

|

July 25, 2018
Pricing and Purchase Info
$312.50
list price
save 6%
Prices and offers may vary in store
This volume gives a state-of-the-art overview on macrophage functions in various invertebrate and vertebrate systems and diseases. It also covers various aspects of macrophage development and formation, behavior and response to nano- and biomaterials, the latter of which have become very important components of modern medicine. 
Macrophages are evolutionarily conserved phagocytotic cells. In recent years macrophages have emerged as one of the most versatile cells of immune system, which, depending on the milieu and circumstance, participate in development or inhibition of cancer, regeneration, wound healing, inflammation, organ rejection and interaction between mother and a fetus.
This book will be of particular interest to researchers working in immunology, cancer research, developmental biology, or related fields.
Title:
Macrophages: Origin, Functions And Biointervention
Format:
Paperback
Product dimensions:
376 pages, 9.25 X 6.1 X 0 in
Shipping dimensions:
376 pages, 9.25 X 6.1 X 0 in
Published:
July 25, 2018
Publisher:
Springer Nature
Language:
English
The following ISBNs are associated with this title:
ISBN - 10:3319853147
ISBN - 13:9783319853147
Look for similar items by category:
Preview Your Review
Your Review Has Been Submitted
NO, I do not recommend this product.
Educational/Developmental Value:
Thank you. Your review has been submitted and will appear here shortly.
Table of Contents
A. Evolution, origin and fate of macrophages
1. Title: Evolutionary aspects of Macrophages polarization
Authors: Eva-Stina Edholm, Kun Hyoe Rhoo, Jacques Robert
Corresponding author: Jacques Robert
e-mail: Jacques_Robert@urmc.rochester.edu
2. Title: Development and functional differentiation of tissue-resident vs. monocyte-derived macrophages in inflammatory reactions
Authors: Paola Italiani and Diana Boraschi
      Corresponding author: Paola Italiani
e-mail: p.italiani@ibp.cnr.it
3. Title: Hofbauer cells - placental macrophages of fetal origin
Authors: Leticia Reyes, Bryce Wolfe, Thaddeus Golos
Corresponding author: Leticia Reyes
e-mail: Lreyes@wisc.edu
4. Title: Mesenchymal stem cells direct the immunological fate of macrophages
Authors: Patricia Luz-Crawford, Christian Jorgensen, Farida Djouad
Corresponding authors: 
Patricia Luz-Crawford
e-mail: patricia.luzc@gmail.com
Farida Djouad
e-mail: farida.djouad@inserm.fr
        5.  Title: Monocyte/Macrophage - NK cell Cooperation: Old Tools for New Functions
             Authors: Elżbieta WÅajtys-Rode and Jolanta M. Dzik
             Corresponding authors:
Elżbieta WÅajtys-Rode
e-mail: ewalajtys@ch.pw.edu.pl
Jolanta W Dzik
e-mail: jolanta_dzik@sggw.pl
6. Title: Macrophages in non-vertebrates: from insects and crustaceans to marine bivalves
Authors: Prasad Abnave, Xavier Muracciole and Eric Ghigo 
Corresponding author: Eric Ghigo
e-mail: eric.ghigo@univ-amu.fr
B. Immunobiology of macrophages 
7. Title: F4/80 as a Major Macrophage Marker: The case of the Peritoneum and Spleen
Author: Alexandra dos Anjos Cassado
Corresponding author: Alexandra dos Anjos Cassado
e-mail: alecassado@hotmail.com
8. Tile: Immunobiology of Nitric Oxide and Regulation of Inducible Nitric Oxide Synthase
Authors: Martin Lee, Kevin Rey, Katrina Besler, Christine Wang, Jonathan Choy
Corresponding author: Jonathan Choy
e-mail: jonathan.choy@sfu.ca
9. Title: Role for mechanotransduction in macrophage and dendritic cell immunobiology
Authors: Svenja F. B. Mennens, Koen van den Dries, Alessandra Cambi
Corresponding author: Alessandra Cambi
e-mail: Alessandra.Cambi@radboudumc.nl
C. Role of macrophages in disease
10. Title: Macrophages'' Role in Tissue Disease and Regeneration
Authors: Lewis Gaffney, Paul Warren, Emily A. Wrona, Matthew B. Fisher, Donald O. Freytes
Corresponding authors: 
Matthew B. Fisher
e-mail: mbfisher@ncsu.edu
Donald O. Freytes
             e-mail: dofreyte@ncsu.edu
dfreytes@unc.edu
11. Title: Macrophages and their contribution to the development of atherosclerosis
Authors: Yuri V. Bobryshev, Nikita G. Nikiforov, Natalia V. Elizova, Alexander N. Orekhov 
Corresponding author: Yuri V. Bobryshev
e-mail: y.bobryshev@mail.ru
y.bobryshev@unsw.edu.au 
12. Title: Macrophage Dysfunction in Respiratory Disease
Authors: Kylie B. R. Belchamber, Louise E. Donnelly
Corresponding author: Louise E. Donnelly
e-mail: l.donnelly@imperial.ac.uk
&
D.  Macrophages as a target for biointervention
     13. Title: Activation of macrophages in response to biomaterials
          Authors: Jamie E. Rayahin, Richard A. Gemeinhart
&          Corresponding author: Richard A. Gemeinhart
          e-mail: rag@uic.edu
     14. Title: Macrophage differentiation in normal and accelerated wound healing
Authors: Girish J. Kotwal, Sufan Chien
Corresponding authors:
Girish J. Kotwal
e-mail: GJKOTW01@gmail.com
Sufan Chien
e-mail: Sufan.Chien@louisville.edu
     15. Title: Macrophages and RhoA pathway in transplanted organs
         Authors: Yianzhu Liu, Jacek Z Kubiak, Xian C. Li, Rafik M Ghobrial, Malgorzata Kloc
Corresponding author: Malgorzata Kloc
e-mail: mkloc@houstonmethodist.org