Making It Work! How to effectively manage maternity leave career transitions: An Employer's Guide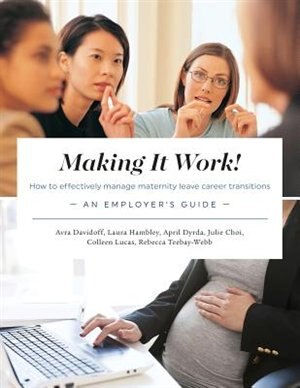 Find In Store
Prices and offers may vary in store
Making It Work How to Effectively Manage Maternity Leave Career Transitions: An Employer's Guide was developed for anyone who employs, leads, manages, trains, coaches, or otherwise supports pregnant, adoptive, and parenting women in the workplace; including, but not limited to, Human Resource (HR) professionals and practitioners, managers and leaders, business owners, consultants, coaches, and career development practitioners. Whether you have been supporting women on maternity leave for years or you are doing so for the first time, this guidebook is a comprehensive manual that accommodates the diverse needs of all employers.
As an employer, it can be difficult to set aside sufficient time, or find relevant information, to assist employees with maternity leave career transitions, other than information which is typically obtained through an organization's policies and procedures. However, these resources are often guided by legislation and while useful, this information does not provide organizations with information to help guide employee development. This manual will provide you with both convenient and user-friendly information, which will equip you to adopt a proactive and positive approach in managing maternity leave career transitions. By taking the initiative to effectively manage these transitions, you are setting yourself and your employees up for success.
Written by a team of workplace psychologists and career development experts at Canada Career Counselling and published by the Canadian Education and Research Institute of Counselling (CERIC), the goal of this guidebook, along with the employee version (Making It Work How to Effectively Navigate Maternity Leave Career Transitions: An Employee's Guide) is to allow you to understand and address existing or potential obstacles that prevent your organization and working mothers from realizing their potential. This resource provides you with an opportunity to determine leading and promising practices for handling maternity leave transitions, and women's career development as a whole.
"What has long been a taboo topic between employer and employee, and an often angst ridden journey for expectant mothers and employers alike, now for the first time has a playbook. Not only that, it hits on every note. You need not look any further for how to handle a maternity leave, and run your human capital, with the best information out there. This is progress."
- Carolyn Lawrence, Leader, Gender Diversity and Inclusion, Deloitte Canada
"After reading through the Canadian Women's Maternity Leave Career Transitions guidebook, I wish I could have read this before I went through my own maternity leaves a few years ago. It's a well-researched, well-written guide not only for employers to consider but also for women taking maternity leave. This is an excellent resource for any leave, not just maternity leave. The helpful checklists and definitions are going to provide much needed support for any organization hoping to do better in how maternity leaves, or any leave, is managed."
- Michelle Beck, VP People & Culture, ATB Financial
Title:
Making It Work! How to effectively manage maternity leave career transitions: An Employer's Guide
Product dimensions:
112 pages, 11 X 8.5 X 0.3 in
Shipping dimensions:
112 pages, 11 X 8.5 X 0.3 in
Appropriate for ages:
All ages