Manage To Engage: How Great Managers Create Remarkable Results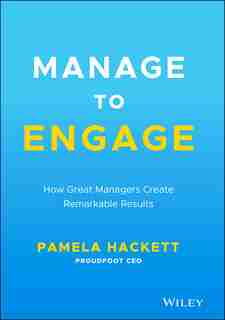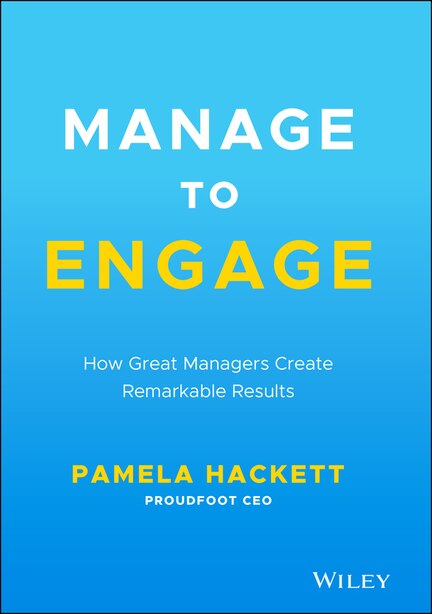 Find In Store
To check store inventory,
Prices and offers may vary in store
The CEO of highly respected global consultancy Proudfoot shares her secrets to achieve your leadership license to operate and create businesses fit for people
Manage to Engage: How Great Managers Create Remarkable Results provides leaders with a practical, business-proven approach for building stronger organizational ecosystems that achieve exceptional results and long-term prosperity. Packed with innovative tools and exercises that can be immediately applied in any management setting, in-person or virtually, this invaluable guide shows you how to create a movement of energized and enabled people who are truly engaged in their work.
For decades companies have said that 'people are their greatest asset.'' Pamela argues that if there was ever a more opportune time to bring people to the top of the leadership agenda it is now, a post pandemic world with a new reality. She contends that people are the link between strategy and execution and that we must create a new era supercharged by workplaces and cultures fit for people. Manage To Engage clearly outlines how managers at every level can deliver success through engaged teams; it transcends the concept of work for the sake of work and dives into the how of engagement and the role of a manager to not just fulfill our basic human needs but help people achieve personal gratification as well. The book crosses the boundaries of work to become a guide on how to elevate people to achieve remarkable results for your business, and achieve personal growth. It enables leaders at every level.
Author Pamela Hackett has advised, led, and supported people through major change for some of the world''s most prominent companies and brands throughout her 35 years in management consulting. In this must-read book, Pamela shares with you the one factor that underpins all performance improvement and transformation goals - be they operational, financial, cultural, or ultimately driven by your customer. It is to have a fully engaged workforce. She shares her passionate commitment to "people solutions" in business and operations improvement by teaching you how to place engagement at the center of both your leadership and your entire organization. Designed to infuse engagement into every part of your day-to-day role, this vital resource will help you:
Raise your head from your technology, connect with people, and build strong relationships by following simple yet powerful concepts like the "HeadsUP High 5"
Leverage active management and other behavior models to change the way your teams work with you, and motivate them strive for 'best possible' instead of 'best practice'
Use the innovative "1.5.30 Connect" performance improvement framework to bring about measurable and meaningful change through engagement and replace your outdated annual performance review system
Recognize and rapidly adapt to the post-COVID world of work where more people are working remotely— and connectivity and engagement is more crucial than ever before
Manage to Engage: How Great Managers Create Remarkable Results should be required reading for anyone wanting to create great relationships at work, be genuinely connected to people, and power-up engagement levels to new highs.
Title:
Manage To Engage: How Great Managers Create Remarkable Results
Product dimensions:
256 pages, 9.2 X 6.2 X 1.2 in
Shipping dimensions:
256 pages, 9.2 X 6.2 X 1.2 in
Appropriate for ages:
All ages