Me and You and the Red Canoe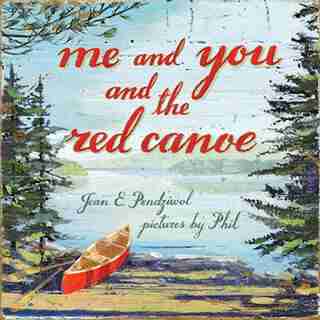 Find In Store
Prices and offers may vary in store
"A true gem that invites contemplation and reflection in children, who are often too busy to notice the beauty of everyday life." — School Library Journal, STARRED REVIEW
In the stillness of a summer dawn, two siblings leave their campsite with fishing rods, tackle and bait, and push a red canoe into the lake. A perfect morning on the water unfolds, with thrilling glimpses of wildlife along the way.
The narrator describes the experience vividly. Trailing a lure through the blue-green depths, the siblings paddle around a point, spotting a moose in the shallows, a beaver swimming towards its home and an eagle returning to its nest. Suddenly there is a sharp tug and the rod bends to meet the water. A few heart-stopping moments later, the pair pull a silvery trout from the water, then paddle back to the campsite to fry up a delicious breakfast.
The poetic text is accompanied by stunningly beautiful paintings rendered on wood panels that give a nostalgic feeling to the story.
Correlates to the Common Core State Standards in English Language Arts:
CCSS.ELA-LITERACY.RL.1.7
Use illustrations and details in a story to describe its characters, setting, or events.
CCSS.ELA-LITERACY.RL.2.5
Describe the overall structure of a story, including describing how the beginning introduces the story and the ending concludes the action.
Title:
Me and You and the Red Canoe
Product dimensions:
32 pages, 8.75 X 8.75 X 0.25 in
Shipping dimensions:
32 pages, 8.75 X 8.75 X 0.25 in
Publisher:
Groundwood Books Ltd
Appropriate for ages:
3 - 5