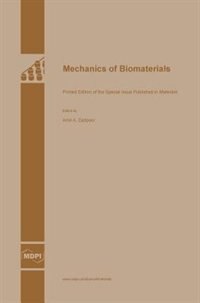 Mechanics of Biomaterials
Hardcover

|

November 20, 2015
Pricing and Purchase Info
Prices and offers may vary in store
The mechanical behavior of biomedical materials and biological tissues are important for their proper function. This holds true, not only for biomaterials and tissues whose main function is structural such as skeletal tissues and their synthetic substitutes, but also for other tissues and biomaterials. Moreover, there is an intimate relationship between mechanics and biology at different spatial and temporal scales. It is therefore important to study the mechanical behavior of both synthetic and livingbiomaterials. This Special Issue aims to serve as a forum for communicating the latest findings and trends in the study of the mechanical behavior of biomedical materials.
Title:
Mechanics of Biomaterials
Format:
Hardcover
Product dimensions:
286 pages, 9.61 X 6.69 X 0.94 in
Shipping dimensions:
286 pages, 9.61 X 6.69 X 0.94 in
Published:
November 20, 2015
Publisher:
MDPI AG
Language:
English
The following ISBNs are associated with this title:
ISBN - 10:3038421286
ISBN - 13:9783038421283
Look for similar items by category:
Preview Your Review
Your Review Has Been Submitted
NO, I do not recommend this product.
Educational/Developmental Value:
Thank you. Your review has been submitted and will appear here shortly.
Table of Contents
Preface Mechanics of Biological Tissues and Biomaterials: Current Trends Chapter 1: Mechanics of Biological Tissues Benjamin Weed, Sourav Patnaik, Mary Rougeau-Browning, Bryn Brazile, Jun Liao, Raj Prabhu and Lakiesha N. Williams Experimental Evidence of Mechanical Isotropy in Porcine Lung Parenchyma Sterling Nesbitt, Wentzell Scott, James Macione and Shiva Kotha Collagen Fibrils in Skin Orient in the Direction of Applied Uniaxial Load in Proportion to Stress while Exhibiting Differential Strains around Hair Follicles Hadi Taghizadeh, Mohammad Tafazzoli-Shadpour, Mohammad B. Shadmehr and Nasser Fatouraee Evaluation of Biaxial Mechanical Properties of Aortic Media Based on the Lamellar Microstructure Chapter 2: Mechanics of Biomaterials Wei Li, Tomas Lucioni, Xinyi Guo, Amanda Smelser and Martin Guthold Highly Stretchable, Biocompatible, Striated Substrate Made from Fugitive Glue Manfred M. Maurer, Barbara Röhrnbauer, Andrew Feola, Jan Deprest and Edoardo Mazza Prosthetic Meshes for Repair of Hernia and Pelvic Organ Prolapse: Comparison of Biomechanical Properties Martha Geffers, Jürgen Groll and Uwe Gbureck Reinforcement Strategies for Load-Bearing Calcium Phosphate Biocements Hong-Jiang Jiang, Jin Xu, Zhi-Ye Qiu, Xin-Long Ma, Zi-Qiang Zhang, Xun-Xiang Tan, Yun Cui and Fu-Zhai Cui Mechanical Properties and Cytocompatibility Improvement of Vertebroplasty PMMA Bone Cements by Incorporating Mineralized Collagen Sabine Weiss and Bojan Mitevski Microstructure and Deformation of Coronary Stents from CoCr-Alloys with Different Designs Seyed Mohammad Ahmadi, Saber Amin Yavari, Ruebn Wauthle, Behdad Pouran, Jan Schrooten, Harrie Weinans and Amir A. Zadpoor Additively Manufactured Open-Cell Porous Biomaterials Made from Six Different Space-Filling Unit Cells: The Mechanical and Morphological Properties Yuqi Teng, Yuqi Zhang, Liping Heng, Xiangfu Meng, Qiaowen Yang and Lei Jiang Conductive Polymer Porous Film with Tunable Wettability and Adhesion Oihana Moreno-Arotzena, Johann G. Meier, Cristina del Amo and José Manuel García-Aznar Characterization of Fibrin and Collagen Gels for Engineering Wound Healing Models Kai Wang Chan, Hoi Man Wong, Kelvin Wai Kwok Yeung and Sie Chin Tjong Polypropylene Biocomposites with Boron Nitride and Nanohydroxyapatite Reinforcements Juan Wang, Dongsong Li, Tianyi Li, Jianxun Ding, Jianguo Liu, Baosheng Li and Xuesi Chen Gelatin Tight-Coated Poly(lactide-co-glycolide) Scaffold Incorporating rhBMP-2 for Bone Tissue Engineering Mahmoud Baniasadi and Majid Minary-Jolandan Alginate-Collagen Fibril Composite Hydrogel Shengmao Lin and Linxia Gu Influence of Crosslink Density and Stiffness on Mechanical Properties of Type I Collagen Gel Flávia Gonçalves, Ricardo Bentini, Mariana C. Burrows, Ana C. O. Carreira, Patricia M. Kossugue, Mari C. Sogayar and Luiz H. Catalani Hybrid Membranes of PLLA/Collagen for Bone Tissue Engineering: A Comparative Study of Scaffold Production Techniques for Optimal Mechanical Properties and Osteoinduction Ability